I've had a really good week (or so) for toys. It started on our anniversary – as a gift, my wife got me the Wal-Mart exclusive Avengers Hulk that has been eluding me for some time. And she didn't even blink when I told her that I was planning to Frankenstein him with some other Hulks to make the best Hulk ever (maybe some day). And it's kept going since then:
Hasbro Return of Marvel Legends – BigBadToyStore let me know that my pre-order of Wave 3 was in.
3A Toys Action Portable – My most-anticipated figure, the Fighting JC, was announced in 1/12 scale, and on order day I also scored an AP blue-suited Zomb for a great price on eBay and the secret Dark Sarge Zomb on bambalandstore.com, right as the JC sale was closing up.
Hot Toys The Dark Knight – I missed out on the pre-order window for the SWAT version of Jim Gordon, but Sideshow just let me know that they found one for me (I had put myself on the wait list).
With all this good stuff happening to me (aside from now being completely broke :)), I figured I should spread the good toy karma around with a Free Stuff giveaway. Here's what's up for grabs and how to get up to three chances to win.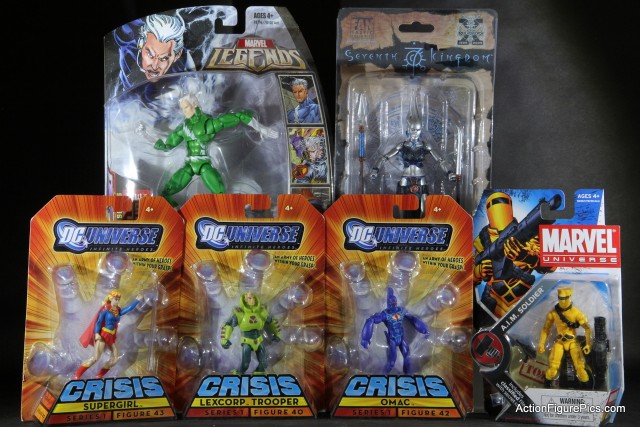 Good Karma Giveaway Prize Pack
Marvel Legends Quicksilver (green variant)
Fwoosh Exclusive Seventh Kingdom Kromius by the Four Horsemen
DC Universe Infinite Heroes Supergirl, LexCorp Trooper, and OMAC
Marvel Universe A.I.M. Soldier
All this can be yours, shipped free to anywhere in the continental United States!
How to Enter (Three Chances to Win)

Add your feel good toy story in the "Leave a Reply" section below. Replies are moderated so if it's your first time commenting it will appear after I've had a chance to read it. Toy whining will be expunged!
Head to our AFP Facebook page, press the Like button, and leave a comment on this post about your best toy week ever.
Follow our AFP Twitter feed (@ActionFigPics) and retweet this giveaway to your followers.
That's it – easy, right?
The Mumbo Jumbo
The entry period will end at 11:59:59 pm PST on Saturday, September 15, 2012. No entries will be accepted after that time.
You must be over 18 to enter.
This contest is open to participants with valid shipping addresses in the continental United States. Shipping costs will be covered by ActionFigurePics.com – sorry, I can't ship internationally.
Winner will be selected at random from eligible entries.
I'll contact the winner via email and he/she will have 24 hours to respond with their shipping information. If the winner does not respond within 24 hours, I will randomly select another winner. If the winner has an address outside the continental United States, I will randomly select another winner.
Staff members at ActionFigurePics.com and TheFwoosh.com and employees of Hasbro, Mattel, and the Four Horsemen are not eligible for this contest (sorry guys!)
By accepting the prize, the winner agrees to hold ActionFigurePics.com, TheFwoosh.com, Hasbro, Mattel, and the Four Horsemen and their respective directors, officers, employees and assigns harmless against any and all claims and liability arising out of the use or redemption of the prize.
Good luck, and thanks for participating in this AFP Free Stuff giveaway!