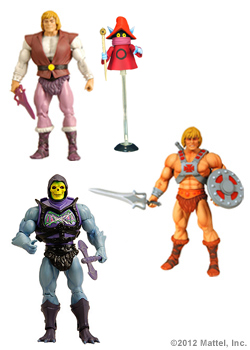 Mattel is making spirits bright by offering Masters of the Universe Classics and Ghostbusters multi-packs for sale starting today and running through January 4 or while supplies last.
The deals aren't quite as rich as the MattyCollector Black Friday / Cyber Monday sale, but with each pack you will be getting $10 off a set of 3 MOTUC figures and $5 off of 2 Ghostbusters – more if you consider the prices were bumped up from $20 to $22 this year.
For the Masters of the Universe Classics figures, I wonder how long these will manage to stay in stock – a month seems like a long time. If they do manage to last it out, then I suppose Mattel has got a lot of inventory of the figures they decided to keep in stock all the time, like He-Man and Skeletor. And I'm still confused about the concept of day of stock and reserve stock – I don't know if variant figures like Battle Armor Skeletor and Hordak were overproduced, because they sold out just like all the rest of them, or if there's just a lot of figures left that were held in reserve for defects / replacement.
And Ghostbusters… with the subscription not moving forward this line suffered a long and slow end. I wonder if the performance of Ghostbusters has had anything to do with why we haven't seen a figure line for Back to the Future. But then, we're talking about a limited cast with characters that have even less potential for reuse. Still, it makes you wonder how NECA can keep churning out Predators.
Who knows? Maybe BTTF will be the surprise this coming Toy Fair. Anyways, happy shopping!