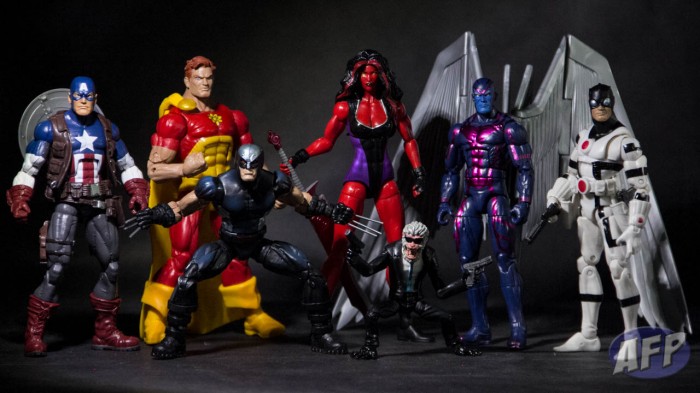 Marvel Legends 2013 is here, and with your indulgence, I'm going to drop the "(Return of)" label – while the Build-A-Figure has shrunk to mini-proportions, the figures are exceptional. Dare I say that we're seeing Legends at its best ever?
I'm hard-pressed to come up with a former Legends wave as good as this. Sure, we've got extensive re-use, including two completely recycled figures in Wolverine and Archangel (from the most excellent San Diego Comic-Con Uncanny X-Force exclusive 3-pack), but the new decos are awesome on two already great figures. We've also got the introduction of two new brawler bodies in Hyperion and Red She-Hulk – my first impressions on both are really favorable. With Ultimate Cap and Protector, we're getting re-used bodies with some nice add-on parts to make them unique. Of the bunch, Protector is the low point for me, mostly because I'm not a fan of the costume.
And Hit Monkey? For a mini-BAF, he's pretty damn cool. As a smaller figure, he's got a couple fewer points of articulation, but you'd hardly notice it – he can hold lots of very dynamic poses. He's got the new ankles, giving him a lot wider range of stable positions. I think you'll like the Hit Monkey mini-BAF, even if you hate the character (because he's the product of hack writer Daniel Way.)
I've just got packaged pics for this update, so stay tuned for more pics of the individual figures. One great packaging thing for this wave – no rubber bands. This was an easy set of figures to open. They were all held securely in their inner plastic trays, but without anything to hinder them, they pop right out. Fastest unboxing for me yet.
The artwork by Clayton Crain is clear and vibrant, and the cards are unencumbered by a lot of text. Some folks will miss the bios – Hasbro has continued with the minimalist approach with a one-liner for a description. This leads to some pretty generic ones for the figures that will have running changes – Hyperion (to Sentry), Protector (to Iron Fist), and Red She-Hulk (to Lyra). Those three figures are the ones that contain the parts for Hit Monkey. Archangel, Cap, and Wolvie are sans BAF – those of you who have the 3-pack or don't feel like buying another Wolverine or Captain America can skip them and still build Hit Monkey.
I'm happy to get them all. But I did end up with an extra Wolverine and Cap, since I bought a case. I'll have details later on how you can get both from me as part of a Free Stuff giveaway.