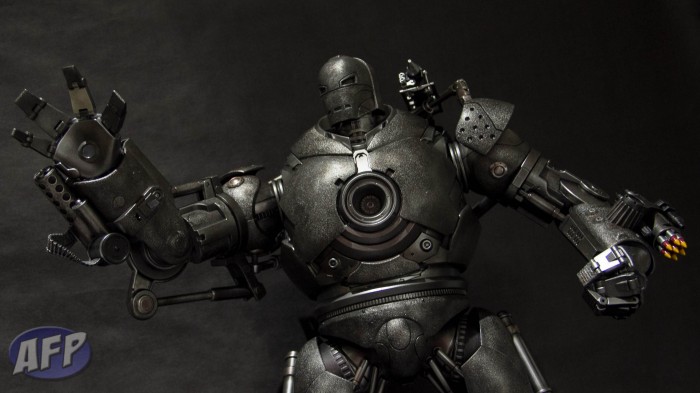 You don't think I post Steals and Deals here but don't partake, do you? When the 25% off plus free shipping deal at the Marvel Store was here last weekend, I picked up an Iron Monger. I had it on pre-order a while back, but had second thoughts, primarily about the price. But this sale tested my willpower, and I'm sad to say I'll never become a Green Lantern. But frankly, I don't care, because the Hot Toys Iron Monger was a steal at 25% off, and if you pay full price it's worth every penny.
I'm telling myself I must have hurt myself at the gym (picture Ron Burgundy doing curls in his office), because this sucker was heavy. As packaging goes, it's not the most exciting I've seen, but with Iron Monger the fun is inside the box.
Impressive doesn't begin to describe this figure. There's something about articulated pistons on a mech-based action figure that really gives it some wow factor. All those hydraulics (well, they're simulated) are hooked up and work. The instructions warn not to move the arms into extreme poses as the hydraulics may separate, but that didn't deter me from moving them around. Iron Monger has a missle that is stored in his back on the left side – you can open up the panels and extend it out. It even rotates for better aiming. The machine gun on his right forearm also extends, but it's not quite as dramatic.
There's quite a lot of moving parts here, even jointed fingers, but the one I was surprised not to find was knees. Perhaps with the bulk of the figure knees would be a likely contributor to spills. But I missed knees on this figure and bet a lot of folks who own Iron Monger feel the same way. He does get good movement in the hips and ankles (including flying poses) but you can't replace that with bendable knees. Even Jeff Bridges knows what I'm talking about.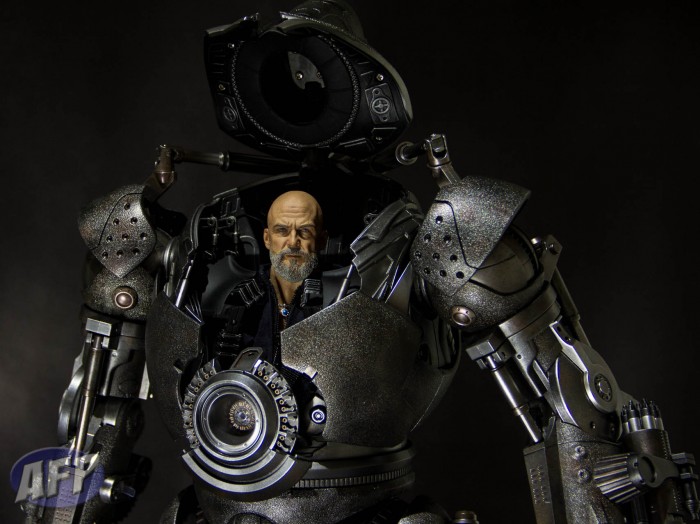 Speaking of him, here's Obadiah Stane. He comes with his necklace – a nice touch – and a warning after you insert the head that you need to be careful flipping the helmet back down to avoid scratching. One day I'll want to pick up a spare body in a business suit and pop his head on there.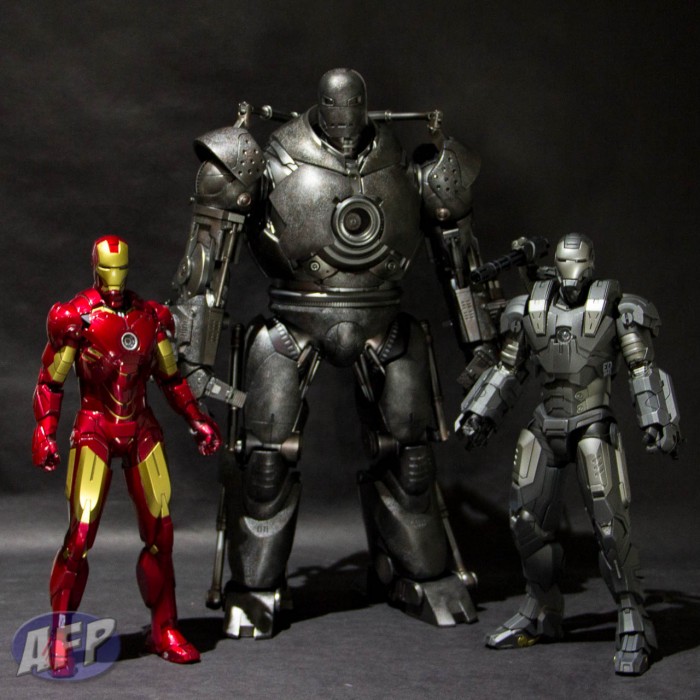 He's ginormous. Those are the Hot Toys Iron Man Mark IV and War Machine being absolutely dwarfed by this behemoth. Despite the straight leg syndrome, I'm glad I picked him up.
Now I can't wait for the next big monster on my list – Avengers Hulk shall be mine!