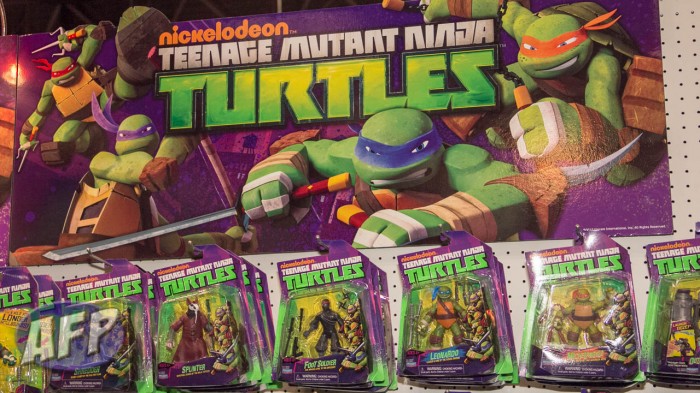 I've got to hand it to Playmates – they've really taken the license for Nickelodeon's Teenage Mutant Ninja Turtles and made a toyline that caters to kids and collectors alike. In its second year, the TMNT line is still kicking.
The longevity of the line will be determined by kids, and Playmates continues with basic and deluxe figures. They've got new large format figures that carry accessories in their shelves. And I'm not sure if it was serendipity or really great product planning, but they've got ooze now, and it figures prominently across the line, including older products. The ooze cannisters come with a baby turtle, and kids will want to keep buying it to get all four. That ooze will get everywhere, thanks to ooze-flinging Turtles that are on shelves now.
There's new vehicles and playsets too, and they also participate in the ooze-fest. The additions have ooze-flinging action features, and even the big Sewer Lair from last year gets in on the ooze action – pour ooze down one of the drain pipes and is oozes out at the bottom. I'm not sure if ooze mixes with the new RC Shellraiser, though.
One thing about the Sewer Lair – it's been picked up by the other mass market retailers. Last year it was exclusive to Toys R Us, and with the aftermarket driving prices up to double the retail price, Playmates saw that there was still good demand for it. It's pretty amazing that a playset with this price point can exist in this market. It's a real testament to how well this line is doing. Playmates has added a few more smaller playsets that have a pop-up feature. The first is a pizza box that transforms into a pizza kitchen.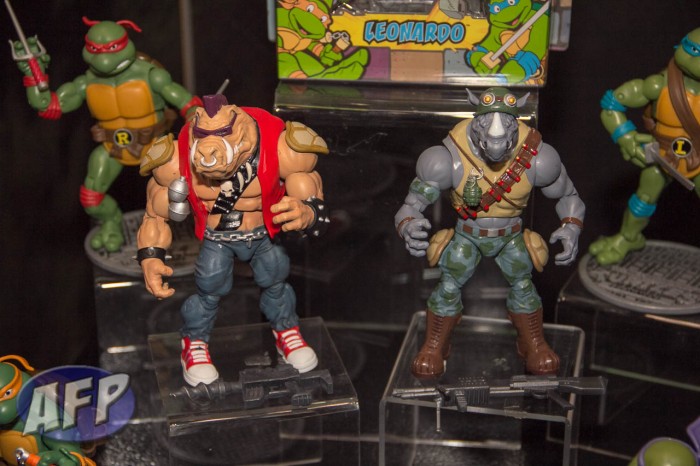 And, of course, the Classics line targeted at adults has been successful enough to warrant the additions of Rocksteady and Bebop. It's long-term thinking that gives us these two instead of a more sure thing with Shredder and a Foot Ninja, for example. In that vein I'd kill for a Casey Jones. The best thing we can hope for to keep this line going (in addition to collectors buying it, of course) is that the cartoon itself continues to have an audience. So far, so good!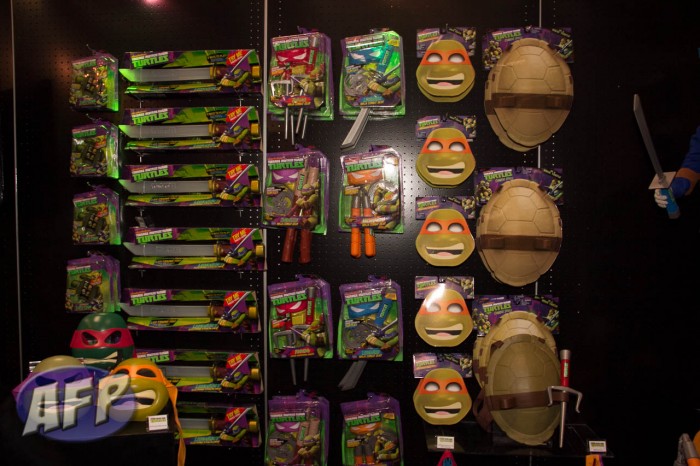 No TMNT line would be complete without role play toys. The new addition this season is the turtle shell – and again, showing the long-term thinking, if you previously picked up weapons, they'll fit into the weapon holders on the back of the shell. Oh, to be a kid again!
One last thing – we will be seeing another exclusive TMNT offering at San Diego Comic-Con. No hints as to what it was (last year was the shadow Leonardo), but the Playmates guys say it will be awesome! Cowabunga!