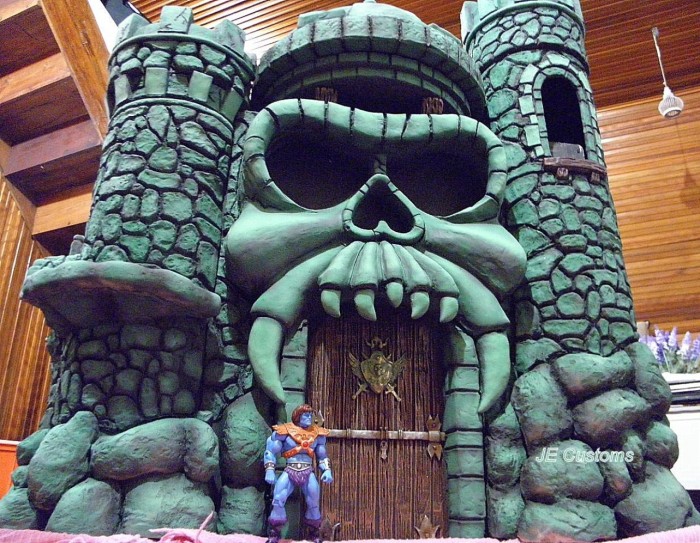 When Jaime Einloft posted his Castle Grayskull custom on the Fwoosh, I felt more than a twinge of jealousy. Sure, I still have a pre-order in for Mattel's Masters of the Universe Classics version (for now, at least), but this massive display piece is everything I could have hoped for from the source of Eternia's power. Too bad it's one of a kind.
Jaime took inspiration from the Castle Grayskull statue from Icon Heroes, and sculpted on top of a frame built out of wood, plastic pipes, and even one of those big water bottles. His Castle can be disassembled so it can be stored and moved more easily – something I will take advantage of when I head to Brazil to appropriate it, by force if necessary. 😉
Here's what Jaime had to say about his masterpiece:
When I started collecting MOTUCs, I wanted to do a diorama to display the collection. I spent a long time thinking about it but was not sure what to do.

When it came to SDCC 2012 and was presented the Castle Icon Heroes, the excitement is back! I still did not know what was the size of their castle, but I found it perfect!

On August 1, 2012, I started building my castle, but I wanted something big, to stay proportional to the collection. So I searched the internet photos of the front door made by Neca and from that point I calculated all the other measures of the castle I would.

I used the castle Icon Heroes as inspiration to carve my course, not wanting to copy their work. That was before even disclose that Mattel would launch a castle too.

My biggest question at the beginning was how to give the stones and stone texture to them. I had to create a technique to it, using a tool I invented, with pen tube and metal clips.

When Mattel announced that it would make a castle, I thought about quitting to do mine and I thought about buying them, but I needed to know their project, to see if I'd like, especially in size.

How are the Four Horseman esculpiriam that, I figured it would be a great work. When the video came from Toy guru Scott showing the model of the castle on paper, I saw that the size was not suitable for my purpose, so I decided not to buy the castle Mattel and proceed with mine.

This year, as shown in the model of the castle Toy Fair, even smaller than the previously presented model on paper, I thought "I'm glad I continued with my project, because buying a castle where the figures no pass height of the door, not worth it. "

Mattel did a beautiful castle and a lot of fun with your accessories, but it is too small, disproportionate collection. I hope they rethink the project and increase the size, but I find it difficult to happen because a company thinks about profit and that causes them to not think so much in collector.