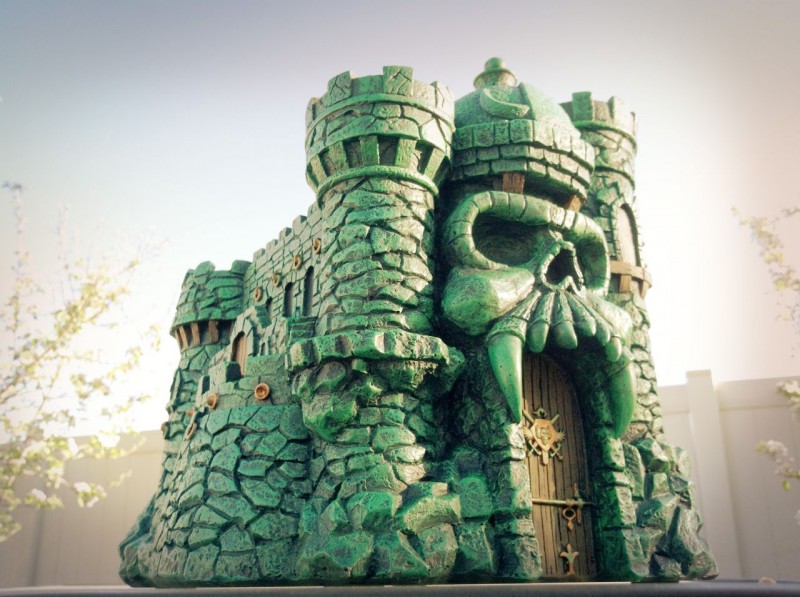 You may know him as Baena at many of the toy and collectible forums, but Nate Baertsch is also an accomplished illustrator, and happens to be one of the designers behind the Icon Heroes Castle Grayskull Polystone Environment. Nate recently got one of the Icon Heroes Castles off the production line, shared these pictures, and kindly answered some of our questions.
AFP: How did you get involved with Icon Heroes for this project?
Nate: Dumb luck! Okay, that's not entirely true. I've had a good working relationship with the Four Horsemen since somewhere around 2007? I started out doing packaging art for their Seventh Kingdom line. Ramathorr was the first painting I did for them, and to this day still one of my favorites.  Over time my work with them has increased from packaging artwork for their figures, to occasional design sketches and concepts for figures for the variety of lines that they work on. Over time, and meeting up with them when I could at conventions, we've established a good working relationship and friendship, as we all love all things MotU and general super fantastical spacey geeky goodness. A lot of "geeking out" about MotU lore, Seventh Kingdom, their other properties, Outer Space Men and now Power Lords!
The Four Horsemen have a good relationship with Icon Heroes, who got the license to do environmental statues for MotU, so they went to the Horsemen to see how any of them could help. Being busy as you can imagine with their own work, and all that they do with Mattel, they gave them my name as someone that would love to work on something like this. Simple as that I think. Icon Heroes then contacted me, and the rest is history.
You're keeping illustrious company with Eric Treadaway and the Four Horsemen – you've mentioned that you've collaborated with them before. What portions of this project were you responsible for, and what did you work on together?
Anything I work on with Icon Heroes, I work together with at least Eric.
My expertise and profession currently is being an illustrator and concept artist. I'm also a mega MotU nut, have been since 1982. Eric and I very much are in synch with each other when it comes to what we like a lot and what we like less in MotU. We are both known fans of the early stuff, the 8-back figures, the Alcala mini-comics, etc. On one trip when I was out there with the guys, we geeked out a bit over what a Castle Grayskull could be like with today's toy makin' capabilities. 
So for this environmental project for Icon Heroes, we knew upfront it wasn't a play set, but an opportunity to explore the whole castle's exterior! (It broke Eric's heart to not be able to sculpt this due to his schedule… But Mattel made up for that as we all know!)
Since Eric wasn't able to sculpt it, my job then, was to draw up the control art for the sculptors that would work on this overseas. Eric and I worked together on the design of the castle overall. We wanted to be sure to include elements for all the fans of the various incarnations that the castle had over time. The early mini-comic and Mark Taylor influences are seen on the front and both sides. Filmation nods lie with the spine coming down the back and the, as we interpreted it, fossilized fleshy vines around the spine mimicking that material seen prominently on the Filmation renderings of the Castle. We will be seeing even more Filmation influences in an upcoming product from Icon Heroes for Castle Grayskull!  I constantly had Rudy Obrero's original box art painting there for reference along with Alcala's work in the minicomics. That new "right side" of the Castle very much pulls from Mark Taylor's early concept sketches.  You can see where we directly pulled walls off his concept art to make up the structure on the right side. It was all about respecting the Castle itself in its various incarnations, not to throw Nate's or Eric's thumbprints on it.  We were both excited to be able to give some life now to the right side, back, and roof. We were like two little kids playing in the sandbox together, and the end result had us wishing we could shrink ourselves down and run around the Castle swinging swords and axes at the demons and monsters of imagination.
Now, the nitty gritty of the work was to help art direct the sculptors overseas, going over correction sheets to refine the sculpt and do our best to make sure it matched the initial design sheets I had done that were approved.
Finally, I was privileged to get to paint the box art for this icon. An opportunity to see Grayskull from a new angle with it's new side, and harken back to the early days of MotU with war torn red skies and the threat of death himself (Skeletor) potentially taking control of the Mysterious Castle.
I will always remember with joy the year 2012, as the "Year of Castle Grayskull."
Now that you have the Castle, how did it turn out? Any surprises? What features do you find you like the best?
I can't say I was surprised by much as I was so intimately involved with it's production the whole way through? Other than, it's always better to hold something like this in your hands, sit with it a while, look over the details. I love the weight of it. I like the fine touches like the rubber grips on the bottom that keeps it sturdy on a shelf or a desk. 
One favorite feature is that I can set it on a shelf! I have a small handful of the vintage gum ball machine He-Man figures that are still slightly big in scale in my opinion to this Castle? But close enough! I think they look great with it. I really love that we can see the exterior of the castle as a whole now, not as a half-castle play set. Don't get me wrong, I love the play set coming out! But this gives us a unique and full view that can be appreciated in a more accessible fashion than a play set can do?
You can also mix and match and use this Castle for a backdrop to other small figures. I know the Glyos community often will build MotU-esque builds that would look great with this Castle! Maybe it's a gathering place for the OMFG figures by October Toys? And while they look a little big, the mini 200X MotU figures look okay with it too.
I also love that the Grayskull Business card holder can be displayed with it if you turn it around to show the back side… Like it could be sort of a relic from Grayskull's ancient kingdom.
I'm really excited for fans everywhere to see what is in development right now for not just this Castle Grayskull, but also for other environments of the world of Eternia! Icon Heroes has already hinted at Snake Mountain, let me tell you, it's a mountain!!! Along with other important Eternian locations.
This isn't the only Castle Grayskull you've helped develop – what did you do for Mattel with the upcoming Masters of the Universe Classics Castle Grayskull?
As Toyguru said at New York Toy Fair, numerous Horsemen were called upon to help make that Castle happen in the time it was given.
I was yet again, extremely lucky and blessed to be able to work on this icon, this time as a full fledged play set! 
Again, Eric and I went back and forth a little on what we wanted to see in it, and I went right to the drawing board. The exterior was set already, more or less. Now it was time to figure out how to make it a cool play set! We wanted to fill it with as many cool features as possible like hidden doors, a new floor, update anything we could from the old play set, seeking also to keep to the aesthetic that has already been established with MotU Classics, respecting the source material. I sent my drawings off to the Horsemen who then sent them off to Mattel, and their in-house team cleaned up my sketches and turned them into presentable "blueprints".
The REAL work was done at Mattel and the Four Horsemen studios. Everyone there and then some had a hand in making it a reality by Toy Fair. I have the greatest respect and love for everyone that gave substantial time and Herculean efforts for this iconic play set. 
For the final prototypes I was asked to come help again with graphics for the flags, tapestries, computer monitors, anything that needed an illustrator's brush.
Now I, like the rest of you, look forward to seeing how it all comes together from the production factories. 
December can't come soon enough for me.
What do you think of some of the fan-made Castles out there? I am thinking of Mat O'Toole's Castle of Power and Jaime Einloft's, which was modeled after the Icon Heroes Castle Grayskull.
Both examples you've cited there are outstanding! The passion these guys have is obvious, and their craftsmanship is absolutely to be applauded! These guys and the many other fans that get their hands dirty with paint, clay, epoxy, resins, whatever it takes is a spirit that is found abundantly in the MotU fandom. I don't ever see that dying.
 It's a property that hits us at our core, it's primal, it connects to our soul somehow and gives a place for the imagination to play. So many creators spring from this property, I'm happy to just be one of them. Sure it's fun to be a part of something official like I have been? But there's equal satisfaction to be had in customizing your own stuff, building your own stuff, at the core of it, being a creator in the world of Eternia, making your own mark on a canvas that is open for all.
I thank the Four Horsemen (CB, Eric, Jim, Shane, Owen, and Sherri) for letting me be a part of this, Pat for his patience with me and being so great to work with, Scott for letting us play. And especially to all the fans that are supporting it, I hope they love it as much or more than I loved working on it.
In addition to the Castle Grayskull Polystone Environment, Icon Heroes also has a Castle Grayskull Business Card Holder (used as an extra tower with the larger Castle above). Both items are available at online retailers like Entertainment Earth (with a free shipping deal), BigBadToyStore, and ActionFigureXpress. The business card holder is available now, and the polystone environment is targeted to be available sometime this month.
Many thanks to Nate for his time these past couple of days!