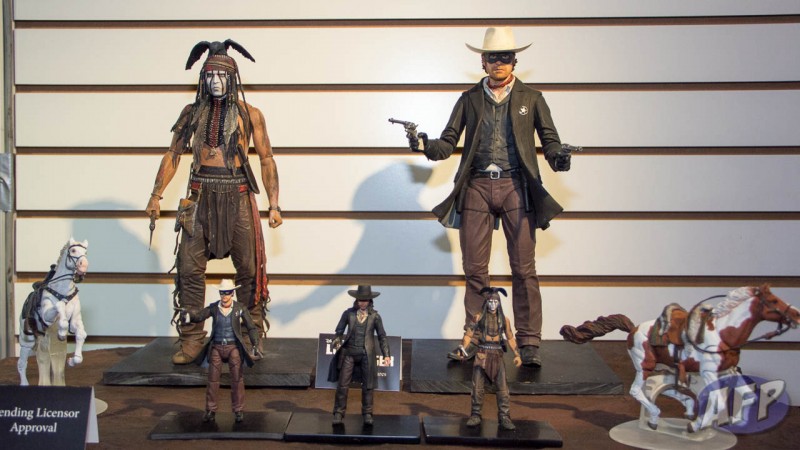 Yes, I still have Toy Fair pictures, and I need a break from all the Iron Man hoopla. And what could be a better respite from hi-tech armor than an old-fashioned gunslinger and his faithful Indian companion? I'd hoped by now to hear more about NECA's Lone Ranger toys, but I suppose with the movie pushed back to a July 3 opening, we still have a couple of weeks before we should start to see some product hit retail shelves.
At Toy Fair, NECA promoted two lines – one in 7-inch scale and one in 1/4 scale (like the NECA 1/4 scale Batman figures). What they had on display, however, was a bit confusing. I don't think the larger figures are the 1/4 scale figures – they looked a little too small for that to me. I actually think those are 2-ups for the 7-inch figures. Entertainment Earth and BigBadToyStore have the 7-inchers estimated to arrive some time in May.
These smaller figures look more like 3.75-inch scaled figures to me. I am not sure if these were sculpted digitally, but if so they would be able to leverage a single sculpt across 3 different scales with just a little more incremental effort above the two that have been announced. And I think the 3.75-inch scale would be a better fit for big box retailers. Still, no news yet on that.
Of course, the biggest benefit to a 3.75-inch line is the ability to add Silver and Scout to the line – they look like they have some awesome articulation. And as fans of the original serials will know, the horses were almost as important as their riders.
We'll just have to see if the coming weeks have more Lone Ranger announcements. Hi yo, Silver…