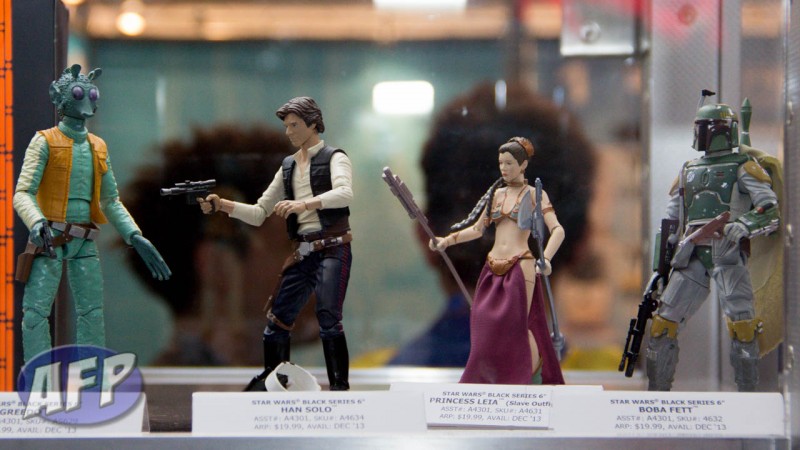 My excitement for the 6-inch Hasbro Star Wars Black Series figures continues unabated – and this is without even having opened and played with a single figure. Sure, I was lucky enough to be able to score an exclusive Boba Fett, but even though my buddy Hiro Nagano took a peek inside the box, I didn't have the chance to take the bounty hunter out of his cardboard prison before my wife took him to UPS with the rest of our loot from the first couple of days to ship home.
Wave 2 was announced at the Hasbro Star Wars panel today (video to go up shortly) – I had said it would be crazy if Han Solo weren't in this wave, after Entertainment Earth first revealed Greedo in the wave – I'm glad the Hasbro team isn't crazy. Slave Leia was also a huge want for so many. And folks who don't have a shot at the SDCC Boba Fett exclusive will be able to get him in wave 2, with no deco chances.
These slides from the panel show the lead-up to the figure reveals. They had a number of slides for Leia like the Entertainment Earth ones for Greedo, showing some of the back and forth between Hasbro and Gentle Giant as they worked on all the miniscule details. The final reveal for the Black Series was a teaser for a biker scout / speeder bike combo for next year – I'm glad to see Hasbro dipping their toes in the motor pool for this line.
I like that Hasbro is re-releasing Boba Fett as a single-carded figure with no deco change – I had thought that maybe they'd go for the slight changes from Return of the Jedi. Sure, the Han Solo in Carbonite is a great accessory, but if you don't have a friend with one and another friend with a pressure pot and some casting mats, it won't be the end of the Death Star, right?
I think the whole wave looks great – the attention to detail is paying off. If they move as well as they look (Sandman has one issue with Boba Fett), then all my hopes will be realized… as long as they keep making great character choices. What do you think of these reveals?