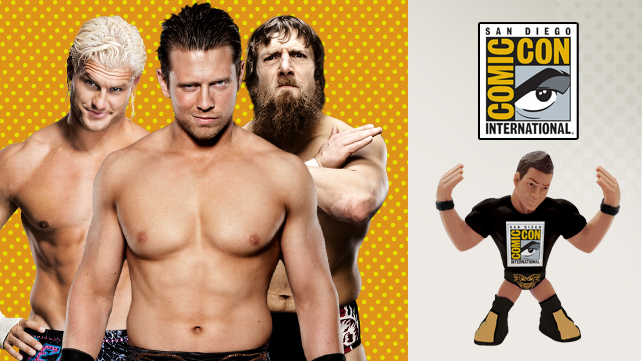 To be honest, I've lost interest in Mattel's WWE since the classic superstars were relegated to a limited number of slots within the main WWE line. And even when they do include a classic superstar, it's a reminder that I'm old, because the old warhorses getting into the line are guys that came on after I stopped following WWE (F at the time). It's kind of like when you hear a song, from when you first started feeling old, playing in the elevator of a department store.
Even so – that didn't stop me from really enjoying this panel, thanks mainly to the antics of the WWE superstars on hand – The Miz, Dolph Ziggler, and surprise guest Mick Foley. Not that Bill Miekina and Michael Kadile were slouches – they also got in some good ones!
Here's your chance to attend Miz TV with special guest Dolph Ziggler! The Miz hosts as Mattel toy designers Bill Miekina and Michael Kadile and manager of marketing Mitchell Cameron discuss the latest in WWE action figure news and give sneak peeks at upcoming product. You never know what surprises are in store!