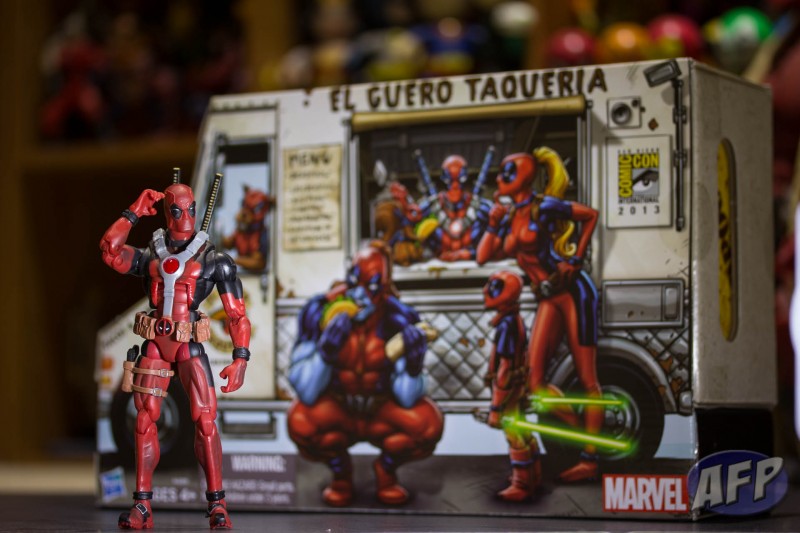 If you've been following AFP for a while, you probably know that I love Deadpool – so when I had a chance, I bought the San Diego Comic-Con exclusive Marvel Universe Deadpool Corps that comes ingeniously packaged in a taco truck. But as cool as the taco truck is, I've found that I just can't get by my low regard for the comic book mini-series that spawned this 6-pack of of Deadpool, Lady Deadpool, Kidpool, Dogpool, Squirrelpool, and the Champion of the Universe. I mean, just typing that in has me shaking my head with disdain. So, instead of keeping this exclusive, I've decided to put it up for grabs in a special AFP Free Stuff giveaway.
(Note: Marvel Legends Deadpool, who is confused at my decision to buy something just to decide to give it away, is not part of this giveaway. Him, I'm keeping!)
It's easy to enter, so while there can only be one winner of this contest, I hope that my dislike of a comic book will result in you getting your hands on a sold-out San Diego Comic-Con exclusive. And if you're already a fan of the AFP Facebook page or follow the AFP Twitter account, you can un-like and un-follow and then re-like and re-follow using the contest widget, for those extra shots at winning this giveaway. Spread the word and good luck!
The Fine Print
You must be over 18 to enter.
Winner will be randomly selected from entries meeting the entry criteria.
Shipping costs within the continental United States will be covered by ActionFigurePics.com. If the winner is outside the continental United States, they can select the method of shipment and are responsible for covering the shipping costs. ActionFigurePics.com will not be held responsible for lost shipments.
I'll contact the winner via email and he/she will have 24 hours to respond with their shipping information. If the winner does not respond within 24 hours, I will randomly select another winner.
Staff members at ActionFigurePics.com are not eligible for this contest (sorry guys!)
By accepting the prize, the winner agrees to hold ActionFigurePics.com, and their respective directors, officers, employees and assigns harmless against any and all claims and liability arising out of the use or redemption of the prize.