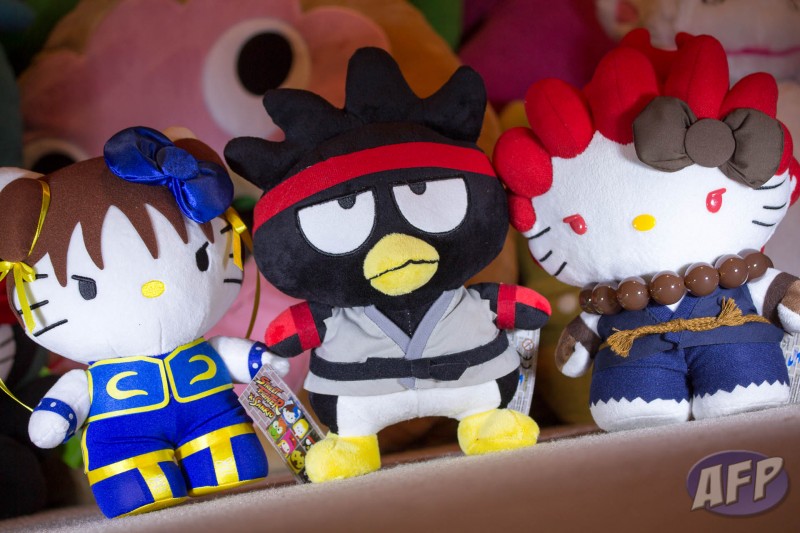 I like to think that we get a little more Comic-Con savvy every time we go. Last year my wife missed out and had to pick up the Toynami Hello Kitty Street Fighter Chun Li on eBay. This year, on Preview Night, instead of previewing, she lined up at the Toynami booth and picked up this year's Badtz Maru as Ryu and Hello Kitty as Akuma. I was lined up at Hasbro, which was right next to the Toynami booth, and I probably walked around that booth at least 15 times over the course of the show.
When I watched Toynami's Comic-Con video, I realized I'm still as Comic-Con dumb as ever – I'm always so caught up in taking pictures / getting to panels / trying to get SDCC exclusives that I miss so much of the show. Sandman was more on top of things than me, and took some pics of the Toynami booth.
Did you miss out on the San Diego Comic-Con this year? Check out our newest video for a look at what we brought to the big show, as well as the exquisite insanity that is Comic-Con International: San Diego!

The official YouTube page for Toynami, the source for collectibles from FUTURAMA, NARUTO, SKELANIMALS, NARUTO SHIPPUDEN, SHOGUN WARRIORS, MACROSS, ROBOTECH, BLEACH and many more!
It's great that there's a video to catch me up on what I missed from the booth, but in truth I'm just glad my wife was able to get that Badtz Ryu and Hello Kitty Akuma. It looks like the retail Hello Kitty / Street Fighter mashup plush dolls are all going to be Hello Kitty – I'd much prefer using all the Sanrio characters over just Hello Kitty. My wife was less concerned about that, but was disappointed that Toynami has gone to plastic vs embroidered eyes and eyebrows. Still – Badtz Ryu kicks ass!