Because we can't get enough of the Iron Babes, here's another pic of them from Play Imaginative's own booth pics. We've also swiped a few pics of toys, too. 🙂
Play Imaginative blasts into STGCC 2013!

STGCC fans were treated to a full preview of Play Imaginative's upcoming Super Alloy Iron Man Collectible Figures!

Over 100 display prototypes (in 1/4 and 1/12 scale) from Marvel's Iron Man, Iron Man 2, Iron Man 3 and The Avengers movies, unveiled at the Super Alloy by Play Imaginative booth H3.

Fans also got autographs from acclaimed comic artist Adi Granov, who has worked on illustrations in the Iron Man comics and movies. Flying in all the way from UK, this visit is a treat!

A highlight was the life-sized Iron Man Mark 42 figure sitting on a couch, and fans queued non-stop to chill with him!

Prototypes of 5 upcoming Super Alloy 1/6 Scale Collectible Figures from DC Comics' The New 52 Justice League were also revealed. Fans got an up-close look at prototypes of The New 52 Superman, Green Lantern, Batman, The Flash and Cyborg, each standing at 12 inches (approx. 30 cm) tall.

Over at the Play Imaginative booth, a crazy wide range of newly arrived vinyl collectible figures released, from licenses such as Disney, DC Comics, SpongeBob SquarePants, Paul Frank, Happy Tree Friends, and TO-FU Oyako.
And The Devilrobots flew in from Japan to meet with fans!
via Play Imaginative blasts into STGCC 2013!
Iron Man
I can't wait to see how these diecast quarter scale Iron Man figures turn out, even though they're priced way out of my league.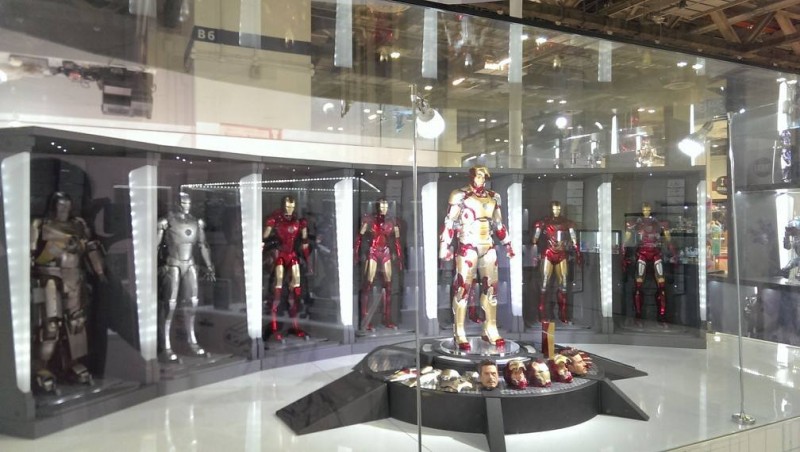 Play Imaginative is really going after Hot Toys on their own turf – the 1/6 scale Iron Man line. In addition to all of Tony Stark's main suits from the Iron Man and Avengers movies, the Mark 42 was shown with Pepper in the armor, via a Gwyneth Paltrow head sculpt. Jedd got a great shot of the Pepper head in his Play Imaginative Iron Man update.
Not content with 1/4 and 1/6 scale offerings, Play Imaginative is venturing into 1/12 scale territory that no one's approached with a premium diecast line – Iron Man 2 Hammer Drones.
DC New 52 Justice League
Jury is still out for me on that Batman head on the new New 52 version. I'm loving how Green Lantern turned out in particular.
There's many more pics in the Play Imaginative blasts into STGCC 2013! album.