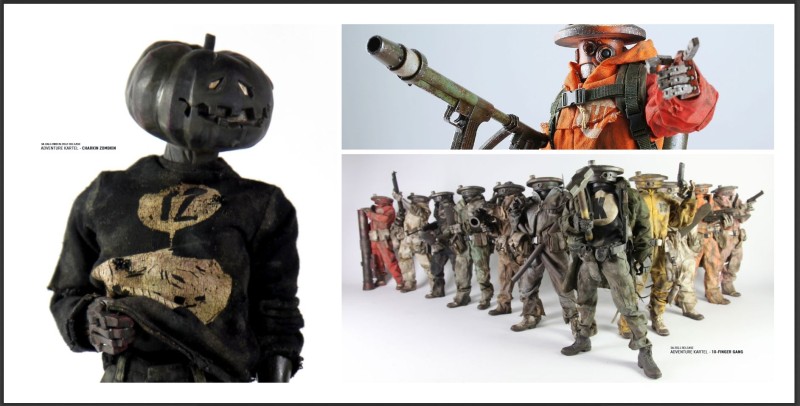 For the past couple years, 3A Toys has had a Halloween toy release, and they're carrying on the tradition with another figure that's got connections to his predecessors. In the past, we've had the Zombkin, a pumpkin-headed monster that came in both 1/12 and 1/6 scale. After that there was Charkin in 1/6 scale – he was the burnt to a crisp Zombkin. This Halloween, we've got the flamethrower-toting Hot-Foot. And, you guessed it, he's the one who turned Zombkin into Charkin.
Hot-Foot is also a former member of the 10 Finger Gang, but apparently was tossed out because, well, you just can't have eleven fingers. I've got the gang in 1/12 scale, so I hope we'll eventually see Hot-Foot get smaller. The 1/6 scale Hot-Foot goes up for sale on October 30 at 9PM EST at Bambaland. Will we see a secret drop too? Nobody knows if 3A will trick or treat.
Adventure Kartel HOT-FOOT

1/6th scale Adventure Kartel HOT-FOOT, JUST LIKES TO BURN SHIT.Ashley Wood commenting about the figure:

"You remember Charkin, well HOT FOOT is the bot that made him, well charry.. Kicked outta the 10 Finger gang, as 11 finger gang didn't sound as cool.. plus he kept setting fire to shit….."
Adventure Kartel Hot Foot #LOOKBOOK3A is up and available for download here:

http://www.threeaonline.com/blog/wp-content/uploads/2013/10/Lookbook3A_Issue005_AK_HotFoot_v004.pdf

Pre-order starts on October 31st, 9:00AM Hong Kong time, at www.bambalandstore.com price: 145USD shipped
via 3aVOX.