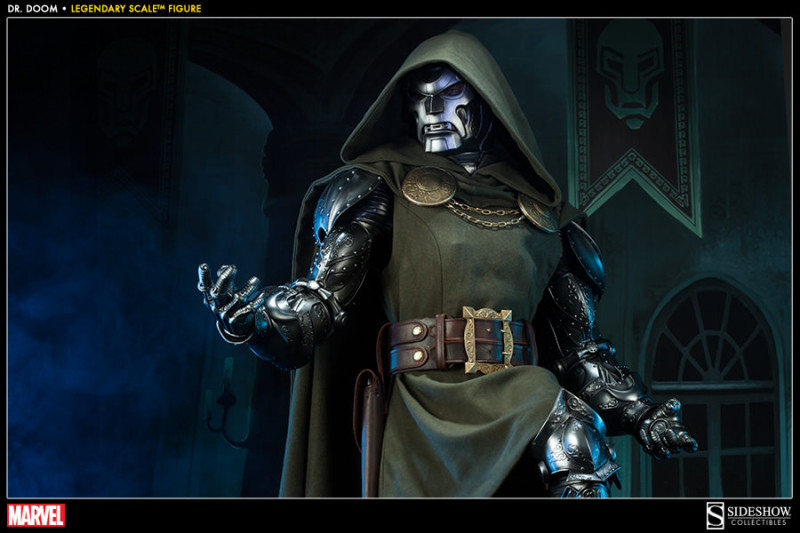 Yeah, I'm just doing some pretty legendary wishful thinking this weekend, looking at this Legendary Scale Doctor Doom by Sideshow Collectibles. It's over four feet tall. It weighs 35 pounds. Doom comes with classic, modern, and scarred head sculpts. Damn you, Reed Richards! Over 15 artists contributed to making the figure. Wow.
It's up for pre-order for the low low price of $1,999.99 – and that's before tax and shipping. So only the biggest Dr. Doom fans with a toy budget the size of Latveria's GDP would be really thinking of getting this figure. Who dares order Dr. Doom? Not me – as much as I fear Dr. Doom, my wife is scarier.
Doctor Doom Legendary Scale™ Figure by Sideshow Collectibles
Kneel before Doom!

Sideshow Collectibles is proud to present one of the greatest Marvel villains of all time, the Doctor Doom Legendary Scale™ Figure.

Archnemesis of the Fantastic Four, the monarch of Latveria strikes a commanding pose on a stone corner pedestal reminiscent of his castle refuge. Celebrating the popular villain's comic book evolution, Sideshow's artists have crafted two interchangeable masks for classic and modern interpretations, which can be removed and displayed separately to reveal Victor Von Doom's scarred portrait beneath.

Each flourish and rivet has been artfully embellished on Doctor Doom's titanium armor battle suit, the primary source of his vast array of scientific gadgets and mystical weaponry. His costume is layered with the trademark hand-tailored fabric billowing green tunic and cape, held fast and finished with ornate metallic clasps and chain, and durable broad buckled belt.

Measuring in at a colossal four feet tall, the eye-catching Doctor Doom Legendary Scale™ Figure makes the ultimate centerpiece for any Marvel collection. Underestimate him at your peril!
via Marvel Doctor Doom Legendary Scale(TM) Figure by Sideshow Co | Sideshow Collectibles.