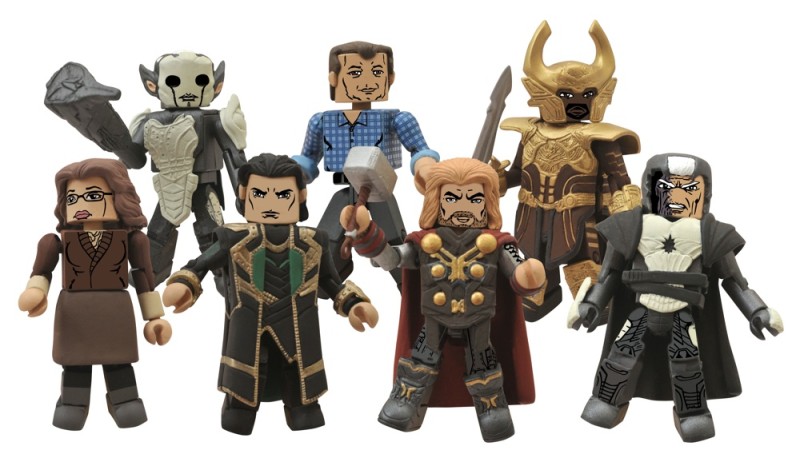 If you were looking to fill the void that the non-existent Thor Marvel Legends has left in your heart, perhaps the upcoming Marvel Minimates from Thor: the Dark World will do so, 2-inches at a time. This wave of Minimates will round out the supporting cast that returned from the first movie, with Heimdall, Darcy, and Selvig. Selvig will come with his No Pants Friday alternate legs.
Darcy and Selvig will come with army builder Dark Elves, and Thor, Loki, and Malekith round out the assortment, naturally. These Thor Minimates are expected at comic book shops and specialty retailers in just a few weeks. Thor accepts your surrender.
Thor: The Dark World Minimates Packaging Revealed!

Thor: The Dark World is in U.S. theaters today, and while the series of Marvel Minimates based on the film is still a ways off, we couldn't wait to show off the packaging in our new YouTube video broadcast! Check out the four two-packs in Marvel Minimates Series 53: Thor vs. Malekith, Loki vs. Heimdall, Selvig vs. Dark Elf and Darcy vs. Dark Elf!

Standing 2 inches tall with a bunch of interchangeable parts and accessories, this series will be available in early December, but only at comic shops and specialty stores — these figures will not be at Toys "R" Us!
via Thor: The Dark World Minimates Packaging Revealed! | Art Asylum Blog.