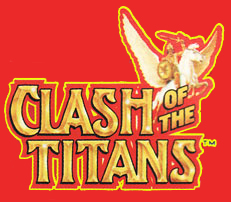 The year is 1982 and the world's imagination has been captivated by the daring cinematic exploits of PERSEUS, CALIBOS, PEGASUS and the deadly KRAKEN!
CLASH OF THE TITANS is a run-away success and toy-maker MATTEL has decided to expand their highly-popular CLASH OF THE TITANS toy line with all-new offerings!  Kids of all ages can now relive their favorite moments from this epic fantasy of good versus evil!  Collect them all!
FIGURE ASSORTMENT
PERSEUS (HERO)
The hero Perseus comes equipped with a brand-new Golden Sword and his loveable sidekick BUBO THE OWL.  BUBO can clip onto PERSEUS' arm!
CALIBOS (LORD OF THE MARSH)
With all-new arms and paint, CALIBOS is ready to serve up some evil doing!
AMMON
PERSEUS' mentor and the poet of Joppa.
PERSEUS (MEDUSA'S LAIR)
This brand-new PERSEUS figure is outfitted with his red toga, his Golden Sword and new Golden Shield and an all-new BUBO THE OWL.
ANDROMEDA
The Lovely ANDROMEDA is added to the CLASH OF THE TITANS collection.
CALIBOS (SCORPION ATTACK)
CALIBOS features an all-new forked hand and whip accessory.
ZEUS
PERSEUS' father and Ruler of Mount Olympus.
PERSEUS (HELMET OF INVISIBILITY)
PERSEUS features his special Golden Sword and an all-new head sculpt featuring his amazing Golden Helmet.
SPECIAL MAIL-AWAY FIGURE OFFER!
Collect all 8 of the all-new CLASH OF THE TITANS figures and mail all of the UPC symbols to MATTEL to get the special INVISIBLE PERSEUS figure.
BEAST ASSORTMENT
MEDUSA
The evil half-human, half-snake woman MEDUSA comes with (non-firing) bow and features a bendable snake body and a secret removable head!
CEREBUS
The 2-headed guard dog from MEDUSA'S island.
GIANT SCORPION
Born from the blood of MEDUSA, these creepy crawly beasts are on the attack.
MEDUSA'S LAIR PLAYSET
Relive the thrilling adventures of PERSEUS, THALLO, MEDUSA and all of your other CLASH OF THE TITANS FIGURES with the all-new MEDUSA'S LAIR Playset.  This amazing Playset includes an all-new exclusive STONE SOLDIER figure.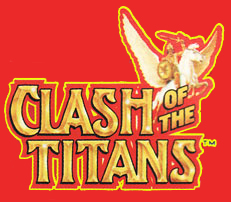 CLASH OF THE TITANS!  An epic movie for all ages!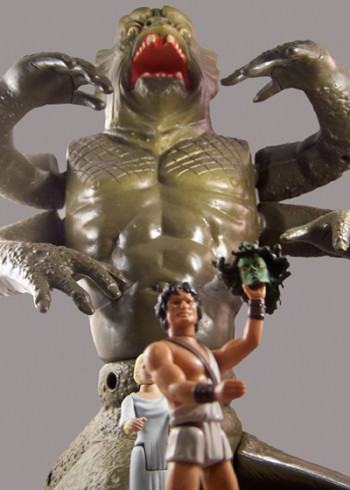 ---
Entry by: Joshua Izzo
More CustomCon