It's "When did I get so old?" time – Quentin Tarantino's Pulp Fiction turns twenty this year. That's twenty years since John Travolta's career was revitalized so he could get out of movies like the Look Who's Talking franchise and go on to star in fare like Michael (the angel movie) and Battlefield Earth. Ok, so maybe Pulp Fiction was more of a blip on his career path.
To capitalize on our nostalgia factor, two companies – Funko and Diamond Select Toys – have jumped onto the Pulp Fiction license, and are producing four separate action figure lines to capture our collector dollars.
Funko has two of those figure lines. Pulp Fiction might be a decade past really fitting into their Kenner-style retro 3.75-inch ReAction line, acquired from designer Super 7 – but since it's a play on nostalgia we'll let it pass. They're producing eight figures (are you kidding me – a figure of the Gimp?!) to be released in the July time-frame. Entertainment Earth has them available for pre-order:
They are also producing figures in their "we have every license in the world" line, their Pop! Vinyl collection, with four figures. The Quentin Tarantino Jimmie Pop! Vinyl is not yet fully baked, but should be available with the rest in April:
Diamond Select Toys has the other two figure lines. First, DST has added Pulp Fiction to its list of classic movies to appear in its Art Asylum Minimates line.
They've opted to go with box sets, due in the fall. Two are 4-packs themed with two of the main plot lines of the movie. The "Vincent Vega and Marsellus Wallace's Wife" set comes with Vincent Vega, Mia Wallace, Lance, and Jody – you know, "The one with all the shit in her face?"
"The Bonnie Situation" comes with Vincent Vega, Jules Winnfield, Winston Wolfe, and Jimmie Dimmick. And, you couldn't really expect to have a Pulp Fiction line without Jules and Vince in their black suits – in a 2-pack.
Photo credits: ToyArk.com – many hi-res pics of Diamond Select Toys Minimates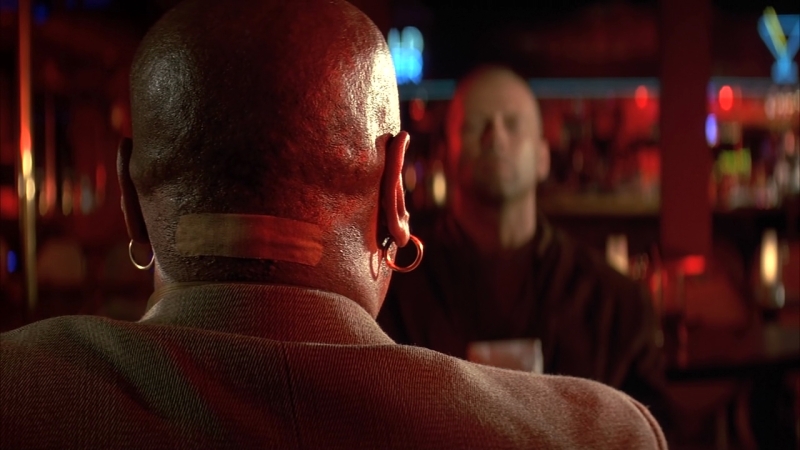 DST is also adding Pulp Fiction to its "movie" Select figures. Although these were not available to be photographed, Pulp Fiction Select was reported to have figures of Butch Coolidge, Marsellus Wallace, and Vincent Vega. I guess you *can* have a Pulp Fiction line without Jules and Vince together – I'm not sure if the omission of Jules was due to the rush to get painted prototypes to Toy Fair, or an intentional split for the longevity of the line. For reference, DST's Sin City Select line is also running with three figures in the first wave.
When pictures of Pulp Fiction Select are eventually released, I'm expecting them to be glorious. As they have on many of their Select lines, DST is partnering with Gentle Giant on these, so these should have great detail and articulation.
And for those of you keep track, every Pulp Fiction line of figures (and every wave, in the case of Minimates) will feature Vincent Vega. Maybe John Travolta deserves a little more respect than I gave him. What do you guys think?