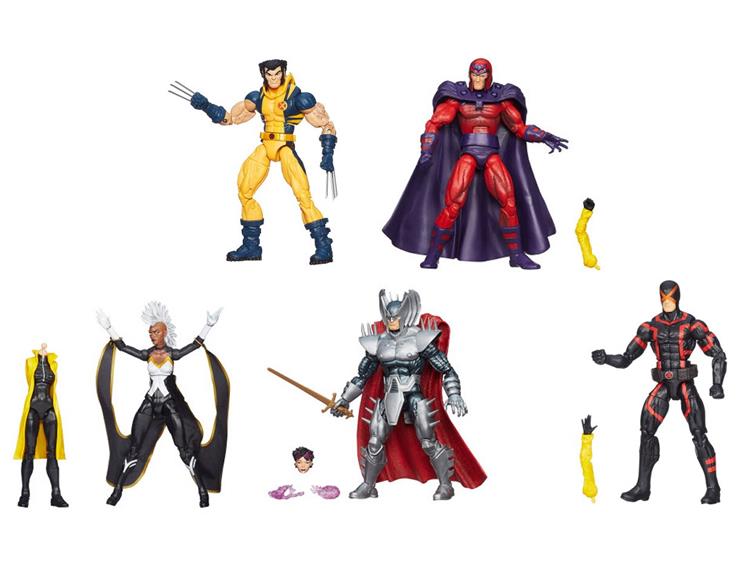 New pre-order listings at Entertainment Earth and BigBadToyStore have revealed an upcoming X-Men Marvel Legends wave as a Previews exclusive. This five figure wave features Wolverine, Magneto, Storm, Stryfe, Cyclops, with a  Build-a-Figure Jubilee. First revealed a few weeks back in a Japanese magazine, this wave had been widely reported as a Toys R Us exclusive. With these listings, however, it appears that the X-Men will go the same route as the Wolverine Legends wave. As Previews exclusives, these will set you back – $179.99 for a case from Entertainment Earth and BBTS – $22.50 a figure. BBTS has a 5-figure set for $149.99 – a whopping $30 a figure.
It's great to see the mini-BAF Jubilee that we first saw at San Diego Comic-Con last year and the Stryfe figure teased by the Hasbro Marvel team way back when finally make their way to shelves – but I will be missing the other figures that had been shown as part of the Jubilee wave. With themed waves being the norm now, it's a challenge to see how those figures will get released.
I'd like to be a little more enthused by the individual figures – but there's something nagging me about each of them. I was never a fan of Stryfe and suppose I will be forever bitter about the X-Men vs. Avengers comics that turned Cyclops into a villain and spawned the costume he is sporting here. Storm looks great in a mohawk – but I'm a fan of her more classic looks. And the simple paint apps are making those facial sculpts on Magneto and Wolverine look a bit stark. And the use of Drax / Super Soldier Captain America for Magneto gives him some odd proportions.
Am I nitpicking? What do you think of these figures?