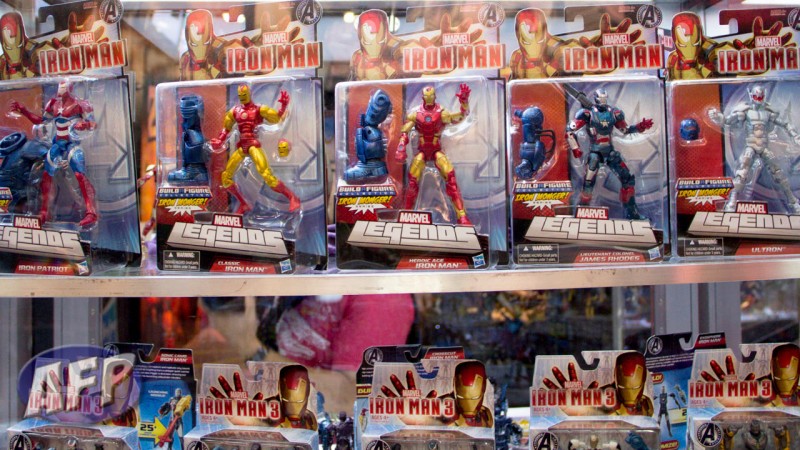 Hasbro's 6-inch Marvel figures have steadily improved during their tenure – and since the relaunch of Marvel Legends last year, Hasbro has consistently had a great showing during San Diego Comic-Con. Preview Night featured a new series of Marvel Legends, a surprise set of three new figures for the 6-inch Iron Man line, and a look at some packaged figures from the Wolverine Legends line.
In Marvel Legends, Hasbro brought out the next wave after the Rocket Raccoon mini-BAF wave. At Toy Fair they had teased Batroc, Blizzard, Moonstone, and Songbird. To continue the villain-heavy theme that's been running strong starting with the Thunderbolts SDCC exclusive, the wave also includes Radioactive Man and Tigershark, both of whom look stunning. Jubilee and the Flash Thompson Venom round out the wave. I didn't get to ask if there's a Build-A-Figure planned.
One piece of bad news / good news has to do with the running change variants from earlier waves, like Blade, Iron Fist, Savage She-Hulk, and Iron Fist. The distribution scheme that had worked (more or less) with the first couple of waves has faltered with the more recent ones – so I wouldn't hold my breath to see them at retail, at least as planned. Hasbro's Dwight Stall did tell me that they're working on alternate plans to get them into our hands. One hypothetical is a retailer exclusive box set, for example. But nothing is confirmed on them yet.
Iron Man and Wolverine Legends represent additional 6-inch Legend waves for this year. I was surprised to see three new figures from the Iron Man line – as we've already seen the second wave that completes the Iron Monger BAF. The new wave includes a Pepper Potts Rescue that's been popular with customizers recently, the pre-Iron Patriot War Machine Mk 2 that got cut from the movie, and a quite recognizable Ben Kingsley Mandarin.
On the Wolverine front, the packaged samples confirm a couple of things. First, Emma Frost and Rogue will share a single package (although the news about running change variants raises some doubts). Also, it looks like there's no cape for Emma, despite what some people had heard back during Toy Fair. Finally, Puck comes in three BAF parts with Sabretooth, Emma / Rogue, and Cyclops / Phoenix Force Cyke (presumed – he was not shown) – Wolverine, who probably will come in a couple different variants, does not have a BAF piece.
I have some time allotted on Saturday to talk with the Hasbro Marvel team. Please leave any questions you might have in the comment section below, and I'll try to get answers. Thanks!