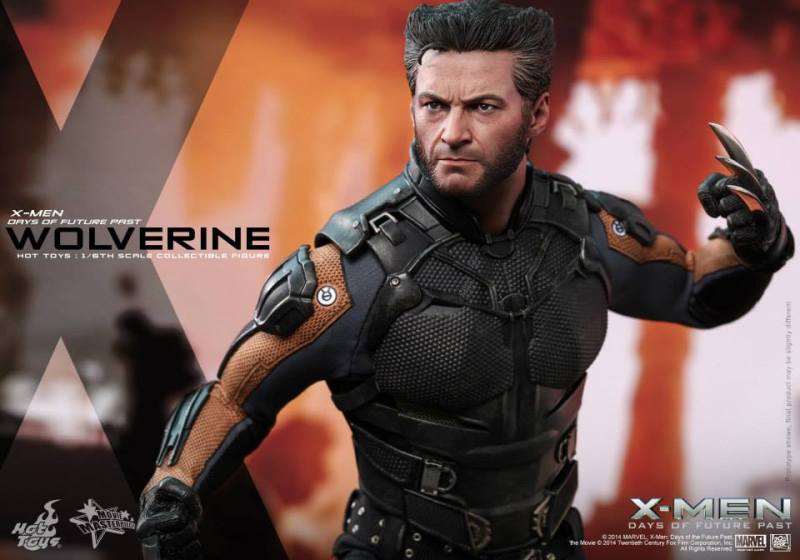 If you take Iron Man and his endless armor variants out of the running, then Wolverine would be the Marvel hero with the most Hot Toys figures. They've made variants of Logan for a few of the X-Men movies and his two solo endeavors, and now this subtly-aged version from this summer's X-Men: Days of Future Past. Given his popularity from the comics and movies, another Hot Toys Wolverine shouldn't come as a surprise – and yet I wasn't fully expecting one.
One recurring theme from both San Diego and New York Comic Cons has been about rumors of Marvel Studios leveraging Marvel's licensing agreements to withhold support for the movie licenses they let get away to Sony and Fox. Some have pointed out that Marvel is doing it in-house by cancelling the Fantastic Four comic books, and there have been no mass market toys to accompany DOFP – that would feel like a missed opportunity for Hasbro.
Perhaps Hot Toys, as a foreign licensee, is immune. Maybe it's that high end collectibles are still fair game. Or maybe the Marvel Studios conspiracy theory is just theory. Whatever the case may be, you can pre-order the Hot Toys Wolverine from Days of Future Past from Sideshow. Do it now to save yourself from the impending Sentinel attack!
X-Men: DOFP: 1/6th scale Wolverine Collectible Figure

The X-Men has returned onto the big screen earlier this year with the critically-acclaimed and highly-popular X-Men: Days of Future Past! With the mutant race being exterminated by powerful Sentinels in the future, Wolverine was sent back to the past in order to stop the war before it began and save his kind from the terrible fate.

To celebrate the launch of this hit movie's DVD and Blu-Ray, Hot Toys is delighted to present the new 1/6th scale Wolverine Collectible Figure from X-Men: Days of Future Past. The movie-accurate collectible is specially crafted based on the image of Hugh Jackman as the future Wolverine in the movie featuring a newly developed head sculpt, specially-tailored future Wolverine battle suit with armor parts and Wolverine's signature metal claws.