Remember the good (or bad, depending how you fared) old days when there were toys that you actually wanted to buy on Mattycollector on their monthly sales dates? Those toys would sell out in hours, sometimes minutes. And while that truly meant missed opportunities through lost sales, the quick sell-outs became the barometer for successful products.
Fast forward to today. We're a couple of days past the Mattycollector sale for October, and looking at the sale page, there's not a single item on the page that's sold out. There's not even a single item that's marked with the "Almost Gone" tag that Mattel would add to give you a sense of urgency to grab up those soon to be sold out toys. And for a company whose marketing team is so fond of saying "We'll keep making them as long as you keep buying them," I've got to wonder how much longer Mattel will keep making them, because we certainly not buying them – at least not like we used to.
So, what are the problems with the Mattycollector offerings, and what can be done to turn it around?
1) The product is too reliant on nostalgia – innovate to create new or grow existing product lines.
Consider two of the latest product offerings – the Giant MOTU figures and the DC Super Powers figures. Both trade almost entirely on the nostalgia factor to drive sales. In the case of the MOTU giants, all Mattel has done is take a 30 year old product and resize it. (One may argue that this has worked for Gentle Giant, but that touches on another point I'll make.) For Super Powers, it's rehashes of the most heavily re-released figures, with arguably inconsequential or inane repaints.
When Mattel first offered Masters of the Universe Classics, they offered a lot of innovation. Yes, the line relied on nostalgia from the cartoon fans and toy collectors from the previous lines, but there was a lot more substance to grow the business. There was an updated aesthetic, new levels of articulation and paint… and the opportunity to expand on the Masters lore in an unprecedented way.
In comparison, the current offerings seem one-dimensional and tired – and cater primarily to the hardcore collectors, a much smaller segment of the market. Mattel needs to get back to real product innovation if they want to create new and sustainable product lines.
2) The value proposition has been destroyed – re-examine the economics of decreasing price to increase volume.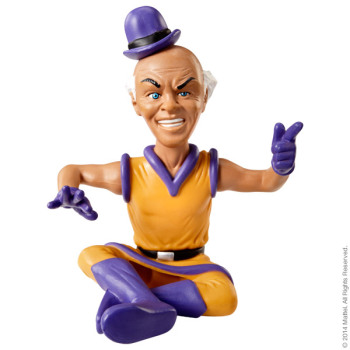 There's lots of things we've heard ad nauseum from Mattel – that oil and labor costs have increased; that one day they would have to price things above what collectors would be willing to pay. I really think that is defeatist thinking – collectors will be the ones to keep buying even if you've priced out the mass market… as long as the value proposition is there.
But Mattel has effectively destroyed the value prop across its product lines. Their answer has been to increase prices *and* lower their costs – and the result is a vastly inferior, unappealing set of products. Take the Super Powers Mr. Mxyzptlk as the worst offender here – relative to the other figures in the line, it is tiny; it has a measly four points of articulation; and yet it costs $30, the same as the other figures.
Like all of Mattel's businesses, Mattycollector is measured on its financial results. It's an unforgiving way to evaluate a business, but the upside to that is that all the bean counters care about is hitting the targets – they don't care how you get there, as long as you do.
This means Matty shouldn't be limited to the high price / low volume approach. They should absolutely look at tweaking the variables to increase the value prop – that means either 1) keeping our price high but putting more into the figures, thereby increasing their costs, or 2) lowering our price and maintaining their costs. Both would result in lower margins at the individual unit level, but finding the right sweet spot could increase margin at the aggregate level.
Remember – it's the numbers at the aggregate level that count the most. So even though all businesses want a high margin product at the unit level (think iPhone), you can still have an attractive business generating profit with more volume. Mattel at its roots is a mass market oriented company, but for some reason Mattycollector wants to be fundamentally different. More on that…
3) High prices alone don't make a premium product – add quality to make truly premium products.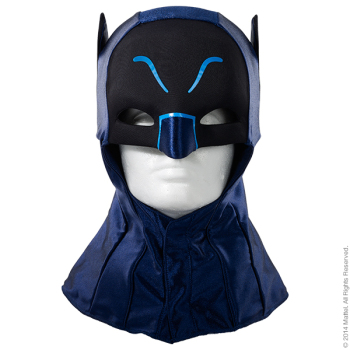 Faced with MOTUC and DC Universe Classics on the downswing, Mattycollector has tried a dramatic pivot, introducing the Movie Masters Epic Creations line. This would be a truly transformative shift for the Matty business – away from its mass market roots and into a segment where they could leverage the most price-insensitive segment of collectors for big profit at low volume. And they got part of the equation right – creating a product line aimed at prop collectors and cosplayers and jacking up the prices. But they missed the other essential component – making the stuff worthy of the price. The result? Without any traction, Epic Creations won't last.
MOTU Giants are another example of this. Taking vintage products and up-sizing them has worked for Gentle Giant with Star Wars, so why hasn't it worked for Mattel? I heard many comments while looking at these at San Diego Comic-Con asking why the sculpts weren't true to the original figures. While Gentle Giant has taken painstaking steps to make their products accurate to the originals, Mattel took an easier path. There's still a high margin business in this segment of the market, but it requires a higher investment in the product to align with customer expectations. With Mattel's core brand tied to mass market, they have to try harder to overcome the perception barrier that creates for collectors at the high end.
4) Shipping costs completely have become completely unreasonable – consider alternative fulfillment partners.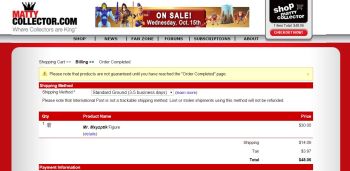 Digital River has been driving collectors away from Mattycollector from day one, and no amount of complaining from the customer base has motivated Mattel to fix it. And it's never been as bad as it is now. For me, shipping costs have doubled since Mattycollector was created. And unlike the underlying costs (oil and labor) of the product itself, there is no fundamental reason why shipping costs should have increased so dramatically – other than Digital River milking this arrangement for anything and everything they can.
Mattel should explore the other options for fulfillment. NECA has had an Amazon storefront for years, and customers can take advantage of pre-ordering, free shipping on orders over $25 (not restricted to just NECA products), and Amazon Prime. BigBadToyStore has the Bag of Loot option to take the sting out of shipping costs. It really makes me wonder what has made Mattel's arrangement with Digital River so sacrosanct that they won't consider options that are clearly better for their customers.
5) The existing customer base has been alienated by the new products – bring back the Four Horsemen.
Product lines have a life cycle, and it's inevitable that they "get old" – but the question is, do you have to let them die, or can they be refreshed and brought back to the start of the cycle? Fundamentally, collectors are the ones who will keep a line on life support, and they'll be the first ones to slap the new baby on the ass when it's time to get it breathing again… provided you don't switch the baby on them.
It doesn't take much of a change for collectors to disown a line after a refresh. Look at what happened to Marvel Legends after Hasbro took over the line, which had been riding high at retail. It was a painful lesson for them, but when they were able to bring the line back to retail, Hasbro brought the core features back to Marvel Legends that collectors loved from the good old Toy Biz days – and brought back most of that built-in base to jump start the new life.
I fully expected DC Universe Classics to follow the same pattern as Legends. I thought Mattel would rest the line at retail for however long it took, and in the meantime, keep the collector segment alive and on the hook with Mattycollector. When Club Infinite Earths tanked, Mattel's myopia blinded them to the falling value proposition and shipping costs, and instead came to the conclusion that the product was fundamentally dead. The result? Everything has been heralded as the end of the Four Horsemen products, because they've concluded people don't buy the Four Horsemen stuff anymore.
Instead, we've got a hodge podge of crap across Mattycollector and retail – none of which retains the core features that the existing collector base will identify as their babies. Mattel sees how Hasbro managed to launch Marvel Universe at retail with collector support, but launches their four-inch Multiverse line with fundamentally the same features that failed just a few years earlier. And since that switcheroo should work for the DCUC folks, why not take the Justice League Unlimited fans and get them onto Total Heroes at 6-inches, and slap that stuff on Mattycollector for the extra gravy? (Short answer: because they'll hate it too.) Mattel should be asking themselves this simple question – if they can't sell it to the most hardcore fans, what makes them think they can sell to the casual fans?
It's the same nonsense happening on the MOTU side too. MOTU giants and Mini Masters take the Four Horsemen style out of the picture – and Mattel may not like it, but for collectors, DC, MOTU, and the Four Horsemen are inextricably intertwined. It's not just because the 4H have done a kick-ass job with design – Mattycollector chose to sell the 4H as a key feature – they're a fundamental part of the value prop now.
Alright – let me wrap this up by saying that I'm not a Mattel-hater; this is not Mattel bashing. I just find it so disheartening that the company that captured lightning in a bottle just a few years ago has managed to fundamentally miss the mark on what ought to keep the collectors buying. They need to look a little below the surface to be able to turn it around. If Mattycollector does meet its demise after 2015, they've only themselves to blame.
I've had my say. Now it's your turn. What would Mattel need to change at Mattycollector to keep your business? Leave your comments below.