In the grand tradition of Rambo the Animated Series and Robocop the Animated Series comes… OMEGA ACTION TEAM!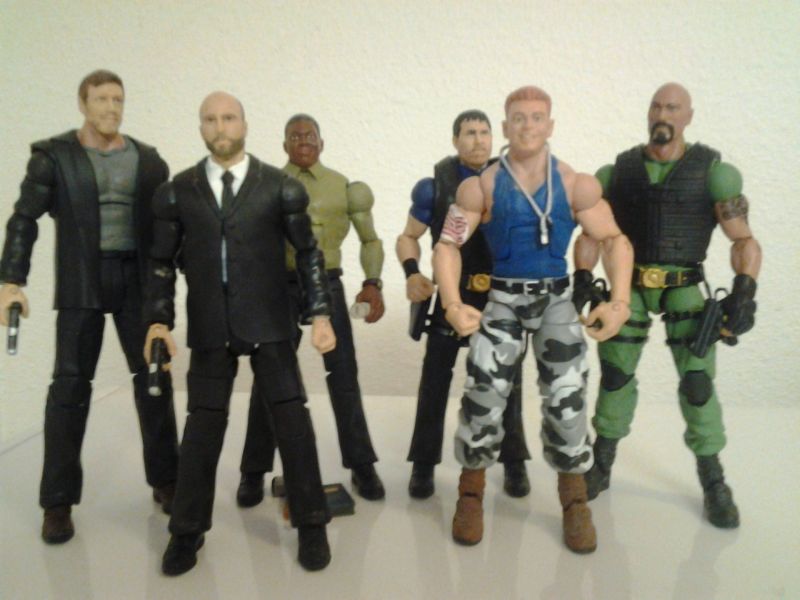 Coming this fall to Cartoon Network is a new series where your favorite action heroes team up to fight evil! Mattel is proud to announce that we will be doing a toyline to celebrate this!
Colonel William Guile, played by Jean Claude Van Damme, from Street Fighter. He's the leader of the group.
Specialty: Motivation speeches.
Frank Martin, played by Jason Statham, from The Transporter.
Specialty: Transportation
Bryan Mills, played by Liam Neeson, from Taken.
Specialty: Interrogation.
Mike Banning, played by Gerard Butler, from Olympus Has Fallen.
Specialty: Infiltration.
Bob McCall, played by Denzel Washington, from The Equalizer.
Specialty: Analysis.
Roadblock, played by Dwayne Johnson, from G.I. Joe Retaliation.
Specialty: Heavy weapons
Also included in the group is Letty from The Fast and the Furious, but she doesn't get an action figure, because eww girls.
---
Entry by: Death Weed at the Fwoosh
Recipes:
All were painted with Apple Barrel paints. Unless otherwise stated, all parts came from Mattel WWE figures.
Frank:
Michael Cole body
Antonio Cesaro head
Bryan Mills:
Daniel Bryan head
Booker T pants
Paul Heyman arms
David Hart Smith Torso
Undertaker coat
Green Stuff used to sculpt collar
Roadblock:
Roman Reigns body
Roman Reigns flak jacket
Rock head
Rock arms
Undertaker gloves
Diamond Select Barney Ross belt
Green Stuff used to sculpt collar and beard
Mike:
Paul Heyman pants
John Laurinaitus torso
Curtis Axel head
Curtis Axel arms
Diamond Select Barney Ross gun holster belt
Palisades Phil Ken Sebben shotglass
Bob:
Shelton Benjamin head
David Hart Smith arms
Booker T torso
Paul Heyman pants
Diamond Select Barney Ross watch
Triple H hammer
Guile:
Alex Riley head
Bushwacker Butch body
Nikolai Volkoff arms
John Cena dog tags
Flag stamp
Green Stuff used to widen tanktop
More CustomCon