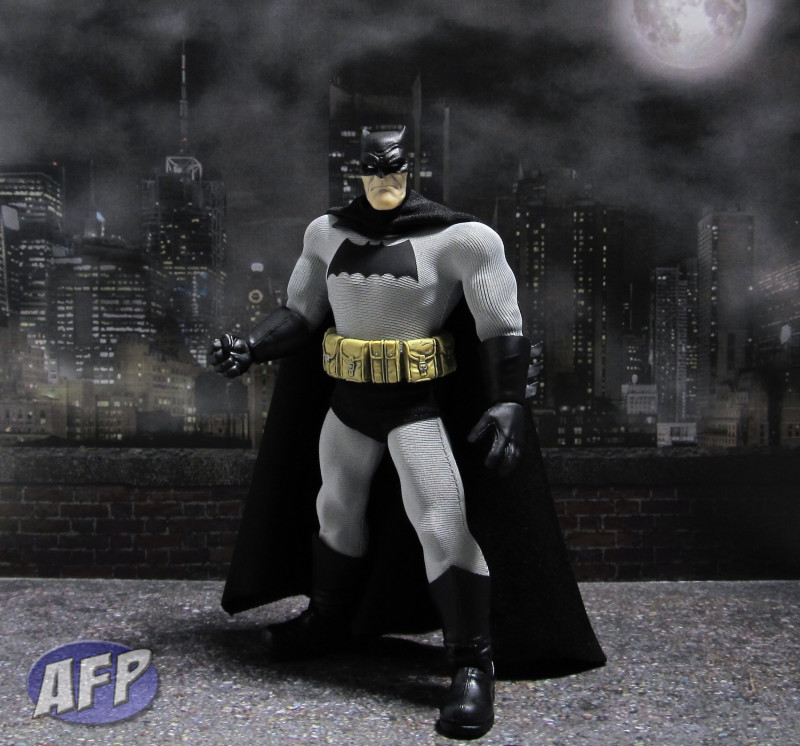 The long wait is over – the Mezco One:12 Collective Dark Knight Returns Batman is finally shipping, and mine has been delivered!
Packaging
Per Mezco – "Each figure is packaged in a deluxe, fifth panel window box with translucent acetate slipcover. Designed for collector convenience, the packaging has been especially engineered to allow for both maximum protection without sacrificing ease of removal for display."
And it is a beautiful package which invokes the Frank Miller DKR aesthetic and will look awesome on your shelf as well as protecting your figure and his accessories when he's not out on display.
The Dark Knight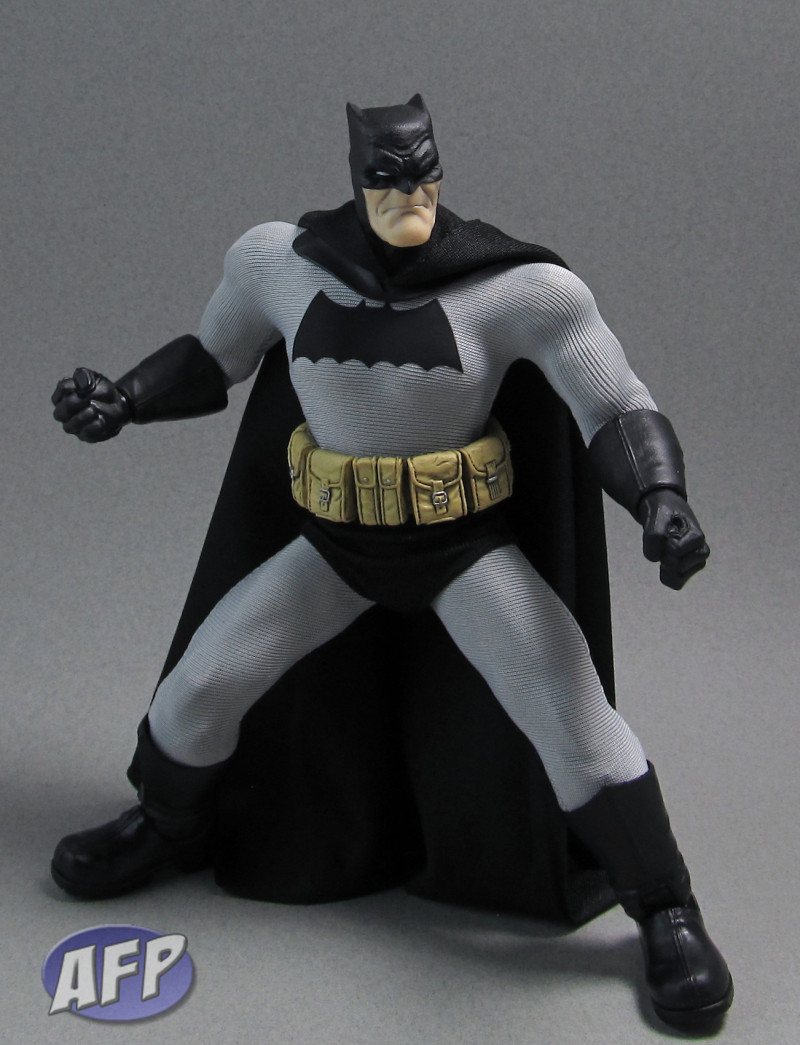 I never, ever thought I would like cloth on a 1:12 scale figure! I always believed it would be impossible to pull it off without looking clumsy and doll-like. Mezco has managed prove me wrong and I'm at peace with it.
The big question out there is; does the costume affect the range of articulation? The only spot I found where the costume hinders articulation is at the double jointed elbows and that is due to the gloves, not the cloth, but the hinderance is minor.
Accessories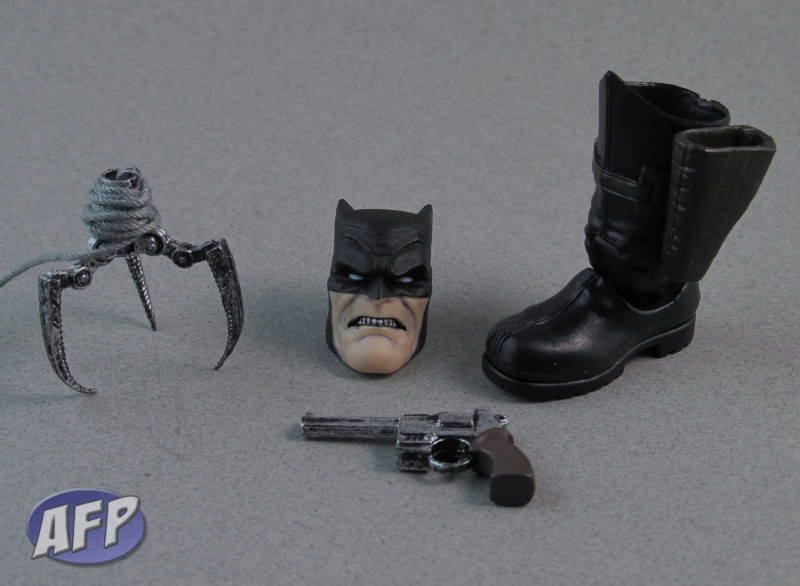 I love the simple and sturdy peg design for the interchangeable hands and boot which makes for easy swapping of parts. Better yet; they don't feel loose or like they are prone to falling off. The grappling hook and pistol are made of good sturdy plastic, with no warping. Suffice to say; Mezco did not skimp on the extras!
The Stand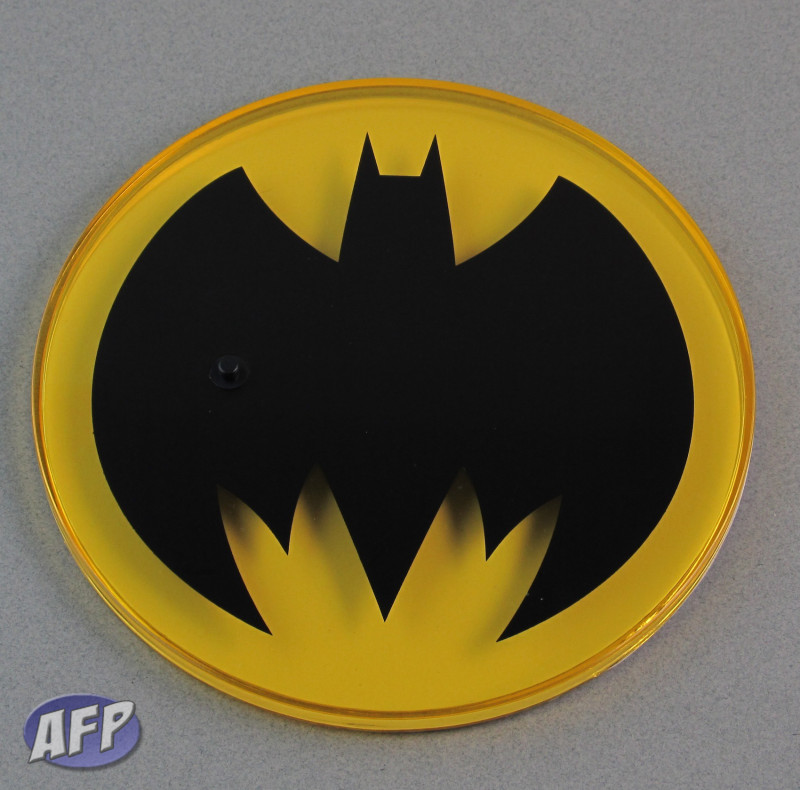 One thing Mezco should have done was include some kind of instruction sheet for assembling the Posing Stand. After researching some pics on line; I figured out that the foot peg pops out of the Bat-Symbol base and the stand inserts into it.
The Posing Stand is articulated and has phillips head screws for tightening the joints after making adjustments and the cape posing accessory clips onto top behind the claw. I really haven't had much success in using the cape posing accessory, it's not as intuitive as one would think. If I can master it, I'll put together a follow up article.
More Pics!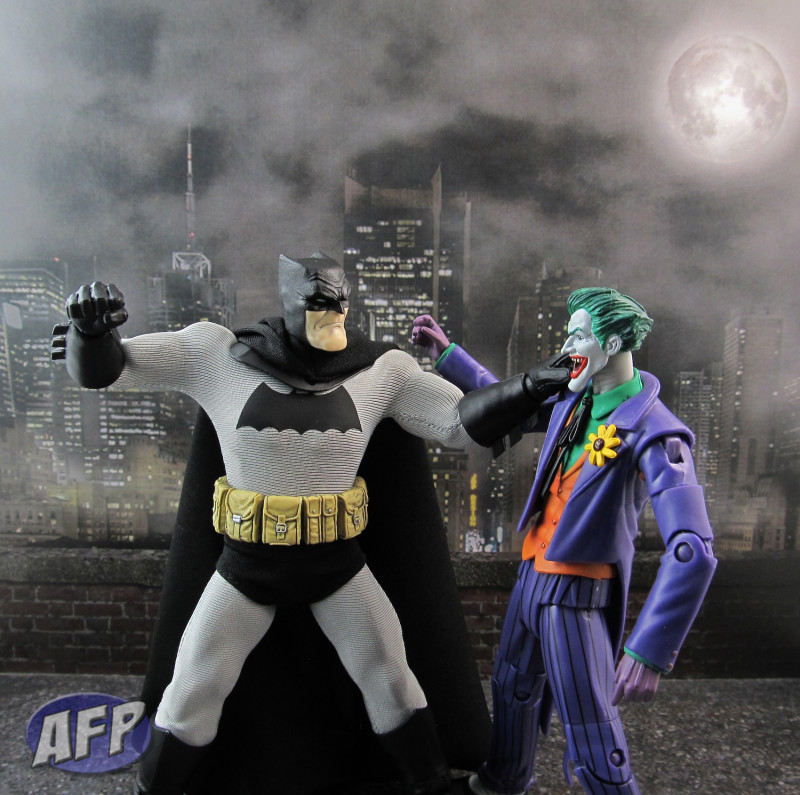 If you couldn't tell already; my overall feeling about the One:12 DKR Batman is that Mezco has hit this out of the park. The figure is substantial, well made, super articulated, loaded with great details, tight paint apps, quality accessories and comes in a beautiful, collector display package. Hard to ask for more even at the $65 price.
Now that Mezco has hooked me with this line; I'm impatiently awaiting the shipment of my Mezco Exclusive (Dark Blue & Gray) DKR and very excited to see how Judge Dredd and the other characters Mezco has licensed for One:12 turn out.
One thing I'd like to say directly to Mezco is; please, please, please, get the license for Robert E. Howard's characters or at least Conan! I think this format would be perfect for a physical rendition of Tomas Giorello's version of Conan. A man can dream…