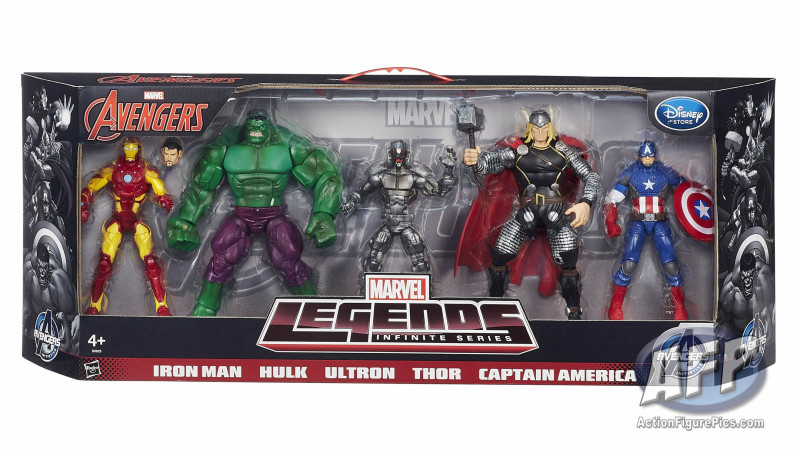 A short while ago we came across an Instagram post of this Avengers-themed Marvel Legends 5-pack. With the Disney Store marking, we learned it was to be exclusive to the retail chain, but only in the European Union stores. Since the exclusive is comprised of re-issued figures, its exclusivity outside the United States wouldn't raise much interest or concern. However, keen observers noted that a new interchangeable head for Tony Stark was included with Iron Man. Hard to imagine that the smallest piece in this pack could be the most sought after, but stranger things have happened.
Hasbro has shared high res pics of the set with us.
The Bleeding Edge Iron Man and Ultron were originally part of the Iron Man Legends line that came out in 2013. Iron Man was part of the first series. Ultron, who gets a more metallic deco in this set, was part of the second. The McGuinness Hulk was part of the Marvel Legends 2-packs (with Valkyrie) from way back in 2010. These were some of the last Legends Hasbro produced before putting the line on hiatus. Thor was part of the line dubbed (Return of) Marvel Legends, which corresponded with the end of that hiatus. And the Marvel Now! Captain America was from just last year, after Hasbro rebranded the Legends lines with the movies, with the Cap-themed Mandroid Build-a-Figure wave.
Finally, here's the Instagram post (which I subsequently tweeted) that brought this to our attention: