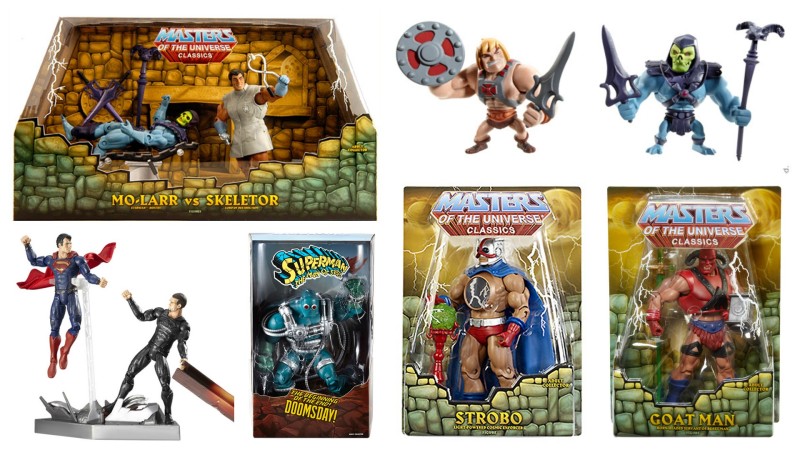 Mattel is continuing to clear out remaining inventory at Mattycollector – on sale tomorrow for 20% off are DC Universe and Masters of the Universe Classics figures from San Diego Comic-Con and the "traveling conventions." Most of these are from the past two years – but I'm surprised that Matty still has some of the Mo-Larr vs Skeletor 2-packs from way back in 2010 in stock. I'm a Robot Chicken fan, but maybe the Eternian Dentist was too much of a stretch for the hardcore He-Fans.
The sale at Mattycollector starts at 9AM PST tomorrow, April 2nd. It lasts for 24 hours, but judging from previous sales, your best bet is to get there at the opening bell if there's something you really want. No April Fools, and happy shopping!
24-Hour #TBT Convention Sale on 4/2
Hot Figures from Past Cons at 20% Off!

July is just a few months away and with it comes the mother of all conventions, San Diego Comic Con. But before we dive head first into the insanity, we're taking a moment to look back at past cons with a special 24-hour sale.

Not only are hard-to-get favorites included, they're all 20% off! Some of these items are available in extremely small quantities, so there are no exchanges, refunds only. Here's the full list of items we'll have:

#TBT Convention Sale 4/2 9 a.m. PT – 4/3 9 a.m. PT

Masters of the Universe® Classics Goat Man™
Masters of the Universe® Classics Hordak™ with Imp
Masters of the Universe® Classics Mini He-Man® & Skeletor® Figures
Masters of the Universe® Classics Mo-Larr vs Skeletor®
Masters of the Universe® Classics Strobo
BATMAN Classic TV Series Batman™ Batusi Batman™
Batman™ Arkham Knight Batmobile
DC Comics Total Heroes™ Ultra Cyborg
DC Man of Steel™ Movie Masters® Superman™ vs. General Zod Movie Pack
DCU Classics Doomsday
DCU Signature Collection "Shazam!" New 52
The whole thing only lasts 24 hours and with limited quantities available, you'll want to get there early to ensure the best selection. And remember, this is just the beginning of the 2015 con season and there's plenty of big news coming so check back often!
via Matty | News.