Bandai reveals the Iron Man Mark 45 armor and teases an upcoming Hulkbuster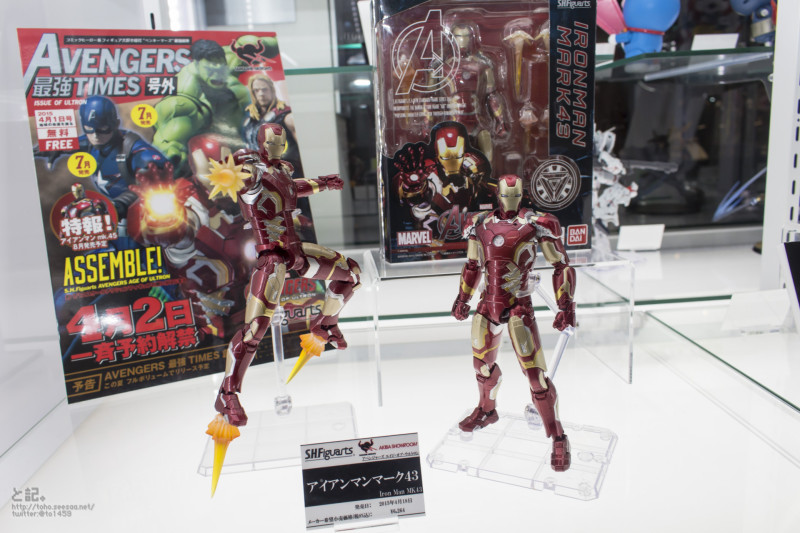 Thanks to Japanese photo blogger to ho (blog at seesaa.net | Flickr) we've got a really nice look at the upcoming Avengers: Age of Ultron figures due from Bandai's S.H. Figuarts line. to ho took a whole bunch of pictures at the Akiba Showroom, Bandai's official showroom for Tamashii Nations. Knowing how much fun I have looking at Bandai's stuff with the limited display space they have at shows like San Diego Comic-Con, I can only imagine how awesome it is to see a whole showroom filled with their stuff.
Bandai had previously revealed four Avengers: AOU figures:
Iron Man Mark 43 (due out in April)
Captain America and Hulk (due out in July)
Thor (due out in September)
However, to ho also shot pics of a previously unannounced figure – the Iron Man Mark 45, who was standing alongside the rest of the Avengers figures.
The last shot includes the teaser for the Hulkbuster Iron Man. You can see it on the placard behind the group in the section just to the right of the Mark 45. The sign for the Mark 45 is also visible in the shot but hard to make out – I think it lists August as the release date for the Mark 45. One reason it may not have been officially announced was to hold back the armor until the movie comes out. As far as the design is concerned, I think it's a winner. It's got a much more organic feel to it. I'd like to see if that somehow ties into the themes in Age of Ultron, with Stark's over-reliance on technology to solve the world's ills.
The Avengers: Age of Ultron figures from S.H. Figuarts will be a new alternative in the 6-inch scale. Iron Man, Cap, and Thor clock in at around 6.1 inches, while Hulk will be close to 8 inches. I imagine the Hulkbuster will be even bigger. For a ton more pics, check out to ho's Flickr stream. Scroll past the creepy blue-eyed dolls in the main photostream, or head to the last couple of pages of to ho's S.H. Figuarts album – there's over two thousand pics in there!