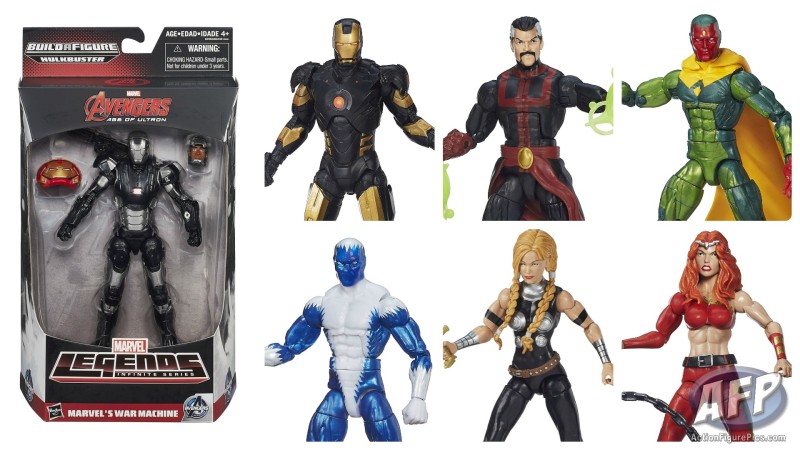 Hasbro has released hi-res pics of the upcoming Hulkbuster wave of Marvel Legends, and we've got them here in all their glory. The wave consists of War Machine from Avengers: Age of Ultron, the Marvel Now! Iron Man, Doctor Strange, the Vision, Blizzard, a re-do of Valkyrie, and Thundra from the Lady Liberators.
It looks like you'll have to pick up all seven figures to make the build-a-figure Hulkbuster – not a surprise given its size. Pre-orders have not yet hit for the wave, but I'll keep searching for Marvel Legends at Entertainment Earth and Amazon, for where I usually find the best deals on cases and individual figures respectively.
Hasbro sticks with the standard packaging we've seen this year, but it's interesting to note that there's three different sub-brands in play. War Machine gets "Avengers: Age of Ultron," Iron Man gets a straight-up "Avengers" tag, while the rest get "Marvel." I wonder how these get determined – you could easily argue that Strange and Vision could fall under the Avengers sub-brand.
Also of note, Valkyrie and Thundra get a generic "Fearless Defenders" name tag – a naming practice that's persisted despite the distribution strategy of variant swap-outs being phased out. Saves on packaging artwork, I suppose.
As expected, the wave features a lot of planned reuse. War Machine is an Iron Patriot repaint and had originally been planned as part of a third wave of Iron Man Legends. (The Mandarin and Pepper Potts Rescue are still MIA.) Iron Man is a straight up repaint in the Marvel Now! black and gold. Strange, Vision, and Blizzard all make good use of the Bucky Cap body. Valkyrie and Thundra look to have new torso parts on the Moonstone body.
Each figure gets unique BAF parts, so all seven must be acquired to build the Hulkbuster Iron Man. Hasbro didn't release pics of the Hulkbuster BAF with this set, so check out our Marvel Legends report from Toy Fair to refresh your memory.