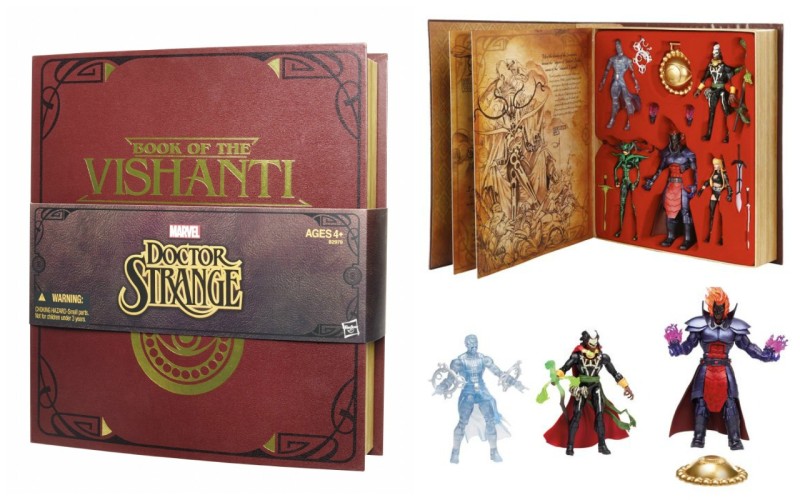 We've been anxiously awaiting news for Hasbro's Marvel exclusive for San Diego Comic-Con, and USAToday.com broke the news – it's a Marvel Legends box set built around Dr. Strange. With the Benedict Cumberbatch movie scheduled for November 2016, I'm guessing Marvel will do some teasers at their panel this year, but I wonder if this set may have been better suited for SDCC next year.
The packaging is a novel concept (no book-pun intended) – it's in the form of Dr. Strange's Book of the Vishanti. In the pages preceding the figures, the Book will feature artwork and profiles for the five figures included. We'll get to them momentarily, but first wanted to highlight that included with the book is another prop – the mystical talisman, the Eye of Agamotto. With the Book of the Vishanti and the Eye of Agamotto in your possession, all you need to add is your own Cloak of Levitation, and you could be the next Sorcerer Supreme.
The figures themselves are a strange mix (also no pun intended.) The ones that make sense to me are Dr. Strange, in a translucent deco variant from the one that will ship with the Marvel Legends Hulkbuster wave; Brother Voodoo, who succeeded Strange as the Sorcerer Supreme; and Dormammu, Strange's arch-enemy and ruler of the Dark Dimension. The inclusion of Hela and Magik (in her Marvel Now Darkchylde armor) seem tacked on. It may be lack of comic knowledge on my part, but I don't know when Dr. Strange has had any significant interaction with the Goddess of Hel from Thor's mythology or with the mutant sorceress and ruler of Limbo. While I'm not complaining to get either, I think the box set would have been stronger with Clea and Wong as supporting characters for Strange.
At $104.99, these sets are seeing a small price creep – the Thanos Imperative set from last year was $99.99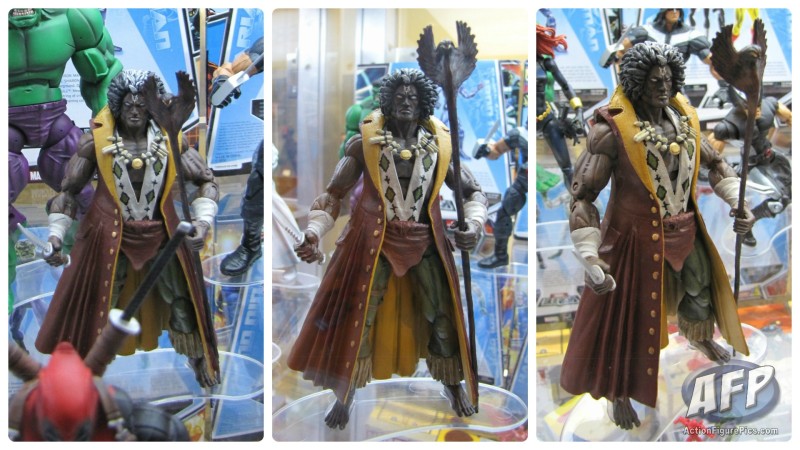 Long-time Marvel Legends fans, you may remember that Brother Voodoo was one of the ML Fan Choice figures put up for votes by Hasbro at San Diego Comic-Con in 2009. The figure was based on his earlier appearances, while the one in this new box set is from his appearances as the Sorcerer Supreme in New Avengers, coincidentally from 2009.
Doctor Strange comes to Comic-Con as a toy

Eagerly awaiting Benedict Cumberbatch as Marvel's on-screen Sorcerer Supreme? Then by the hoary hosts of Hoggoth, it's time to start prepping with some Doctor Strange action figures.

A set of Marvel Legends toys based on the Marvel Comics magic man and his supporting cast will be available from Hasbro next month at San Diego Comic-Con. Priced at $104.99, the collector's edition comes packaged in a box resembling the Book of Vishanti, Stephen Strange's major magical tome.

Among the 6-inch figures are Strange in his blue astral form, ally Brother Voodoo, mutant sorceress Magik, the Asgardian goddess of death Hela and Strange's arch nemesis — and ruler of the Dark Dimension — the dreaded Dormammu.

Note for the Cumberbatch faithful: The Doctor Strange figure is not based on him but instead of the comics he's been appearing in since 1963. (Folks will probably be able to get their Cumber-toy around the time the Doctor Strange movie, directed by Scott Derrickson, arrives in theaters Nov. 4, 2016.)

Also included is a wearable role-play Eye of Agamotto, arguably Doctor Strange's coolest accessory.

A limited number of Marvel Legends sets will be available at HasbroToyShop.com following Comic-Con.
Source: Doctor Strange comes to Comic-Con as a toy
Additional Images: Marvel Legends summons SDCC-exclusive Doctor Strange set – Robot 6 @ Comic Book ResourcesRobot 6 @ Comic Book Resources