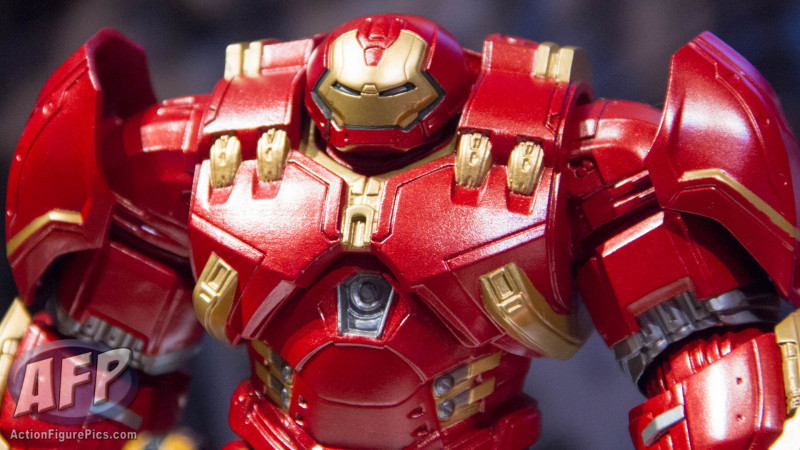 I don't want to jinx it, but the last time I felt like this coming out of a Marvel Legends showroom was the year that Toy Biz announced that Marvel had signed the licensing agreement with Hasbro. They had ambitious plans for that final year, and it showed. If they were going to let the license go, they were going to go out with a bang.
This time around, it feels like it's Hasbro that's got something to prove – that Marvel Legends is their line, and no one can do it better. How do you think they did?
The rebranding of Marvel Legends to the Marvel Legends Infinite Series has paid off. They continue to get great media support from the Marvel Cinematic Universe. This year they are leveraging that into three more waves of Legends – the Thanos wave (following the All-Father wave), the Hulkbuster Iron Man wave, and the Ultron wave (aka Ant Man Legends).
Thanos wave – Spider-Woman, Hellcat, Hulk, Batroc, Iron Man Mk 43, and Captain America
With Hulk, Iron Man, and Cap headlining this wave, it should be a strong draw in the 2nd quarter as Avengers: Age of Ultron hits theaters. Spider-Woman improves greatly on the old Toy Biz release – she looks great on the Moonstone body. I'm not as enamored with the smaller Hellcat body – I think if any figure will warm pegs at retail it's this one. And Batroc is the first of many of the orphaned Legends from a few years back to find a home in the line.
Hulkbuster Iron Man wave – Blizzard, War Machine, Valkyrie, Marvel Now! Iron Man, Dr. Strange, Vision, Thundra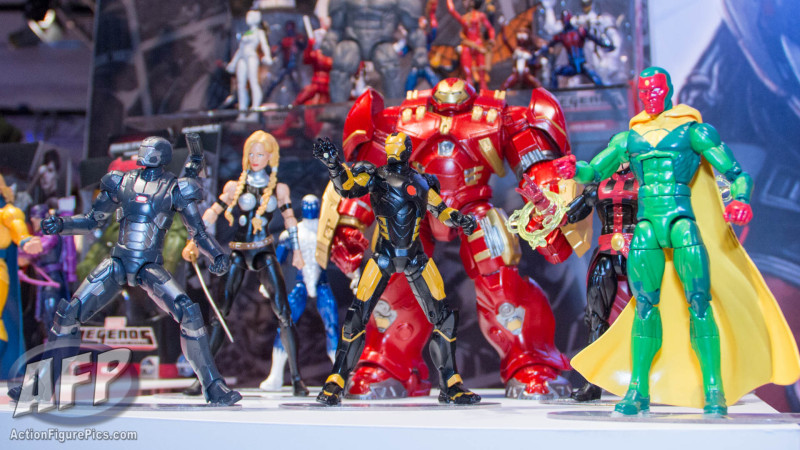 The Hasbro reps won't ever admit this, but I think they're actively looking to redo old Toy Biz figures and do them better than before. In this wave, Hulkbuster Iron Man, Dr. Strange, and Vision are worthy successors to the ones that came before them. Hulkbuster is so big that he'll dwarf the old version, and Dr. Strange and Vision use the Bucky Cap body that gives them more substance than they had previously. It took some convincing from Hagop that Valkyrie is the same size she was when we saw her before – getting another look at her has me liking her better, and it's saying something that Thundra is somewhere in the top 5 of the ML reveals today. I mean, that Thundra is drop dead gorgeous, but still isn't the top of the heap.
Ultron wave (aka Ant Man Legends) – Tigershark, Ant Man, Wasp, Giant Man, Bulldozer (finally!), and Grim Reaper
With Tigershark and Bulldozer, Hasbro's knocked off another two of the "lost" figures from a couple of years back. The remaining orphans are: Blade (Hasbro may put him on an updated body), Dani Moonstar, the Moonstone variant, Song Bird, White Phoenix / AOA Phoenix, Rescue, and the movie Mandarin.
Hasbro mentioned several times that Grim Reaper will introduce a new medium heavy body type that falls between the Bucky Cap and Hyperion bodies. They mentioned wanting it to be about a quarter inch taller than it turned out, but I can still see how this will fill the gap between the two existing workhorse bucks. They also intend to phase out Bucky Cap after this year – but I'm not really sure why – I think that continues to be one of the better bodies they've got, and wouldn't mind if stays in the rotation. [Update: There was confusion and consternation over Bucky Cap getting retired. So we wrote Hasbro and got official confirmation that it's the Iron Fist body, not Bucky Cap, that's going bye bye.]
Ultron will be the BAF for this wave (very apropos given Hank Pym's appearance here) but wasn't shown in the showroom.
While no one at Hasbro can comment on this, the embargo on Fox's movie licenses continues. When asked about Age of Apocalypse and Fantastic Four, Hasbro says they'd like to be able to cover the entire Marvel universe but have different deals for different parts of it. In other words, don't expect a Marvel Legends line to support either movie.
But Spider-Man, who remains with Sony but is now being repatriated into Marvel Studio's MCU, continues to be the exception to that rule. They get a second wave of Legends this year with Rhino as the BAF.
Hobgoblin wave – Anti-Venom, Daredevil, Spider-Girl, Spider-Man 2099, Spider-Man, and Ultimate Spider-Girl
Rhino wave – Ghost Rider, Kraven, Misty Knight, Scarlet Spider, Superior Venom, and White Tiger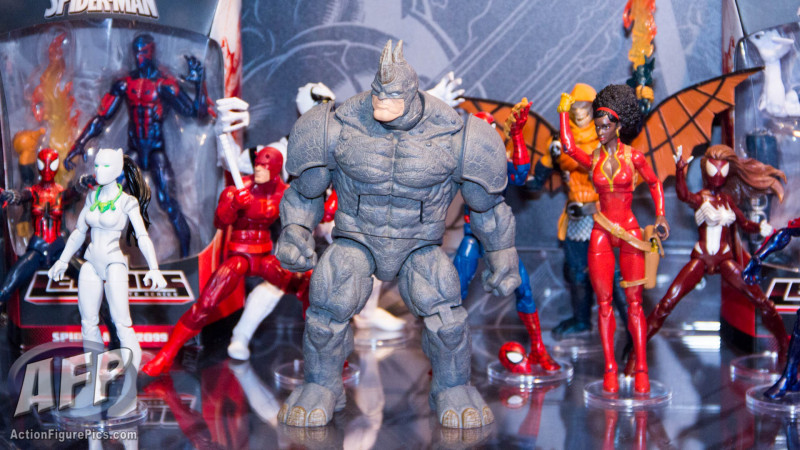 The Spider-Verse gets the nod as one of the primary inspirations behind this wave, but the biggest surprise for me was the Heroes for Hire Misty Knight. As much as I love her inclusion in this wave, there's still a small part of me that wishes she got the bigger body. White Tiger gets the nod here due to her appearances in the Spider-Man animated series, and while he wasn't present in the showroom, Chameleon was looking good in the slide presentation, with Hammerhead and J.Jonah Jameson alternate heads.
And speaking of alternate heads, the Rhino BAF will also come with a classic "no cowl" head.
Retailer exclusives – SHIELD Directors 3-pack (Coulson, Fury, and Hill) for TRU; Avengers 3-pack (Hulk, Ultron, and Vision) for Target; and Avengers 4-pack (Hawkeye, Black Widow, Thor, and Bruce Banner) for Amazon
We saw some of the TRU exclusive back at San Diego Comic-Con, so I didn't get pics of the packaged sample behind the Thanos wave in the showroom. Coulson, Hill, and Fury are looking more polished than the 3D printed samples at SDCC.
After the Cap, Radioactive Man, and Ms. Marvel 3-pack, I wasn't sure Target would go back to the well. Hopefully, with the stronger ties to movies and TV, the Hulk, Ultron, and Vision 3-pack will move a little better.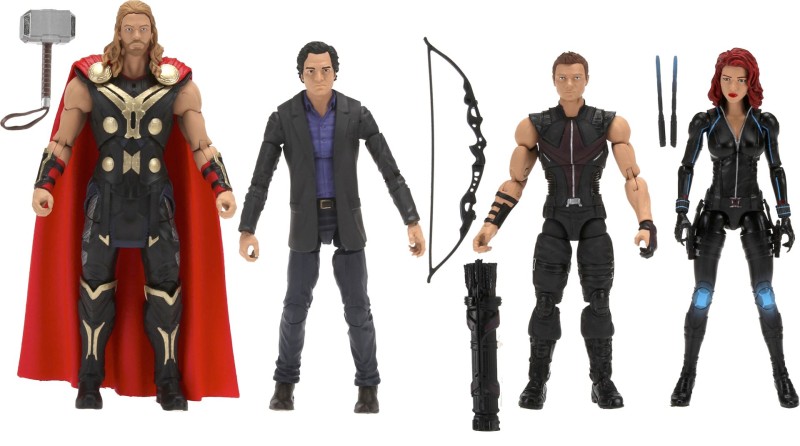 I'm not sure if Amazon has ever had an exclusive ML pack before. Although it was not in the showroom, this one will give folks the opportunity to complete movie Avengers in 6-inches if you missed them before. And we've never had a Mark Ruffalo Banner in Legends before (although we did get a not so close facsimile of Eric Bana with the Ang Lee Hulk figures way back when).
Some folks asked if Walgreens would be back with more Legends exclusives. The official word right now is "stay tuned" and remember, there was mention of a Guardians of the Galaxy 5-pack to follow the Legends wave from last year. Could Walgreens be the destination?
In summary, if 2015 goes according to Hasbro's plans, we'll see at least 4 Build-A-Figure waves and possibly more. In addition to diving deeper into Marvel's roster, we're seeing Hasbro redo Toy Biz (and some of their own) figures and raising the bar further. The line should continue to flourish, as long as Marvel Studios continues generating hits at the box office. Excelsior!