Get both form and function with the Mochibags Drawstring Backpack and the Kendal & Hyde Classic Leather Satchel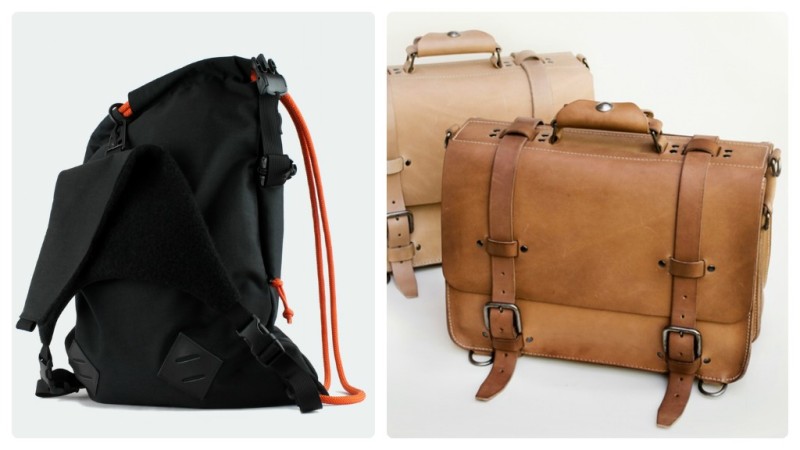 I am on the go a lot these days – almost as much as during my earlier days as a salesman and then as a consultant. Sure, instead of customer calls or client meetings, now I'm going to SDCC, Toy Fair, or other conventions, making the occasional real-world toy runs, and visiting family and friends all over the place. But whether it's a day trip or much longer, what hasn't changed is the need to take stuff with me – computer and camera gear, clothes, and the occasional action figure.
Because of all this, what I use to carry my stuff is nearly as important as the stuff itself. I want it to be easy to use and to protect the stuff inside. And, it doesn't hurt if it looks good in the process.
It just so happens that the Drawstring Backpack by Mochibags and the Classic Leather Satchel by Kendal & Hyde fit the bill in those regards. I've backed both projects on Kickstarter. They've both exceeded their funding objectives. And coincidentally, both projects funding periods end this Friday evening – so you have to act fast if you want to back them.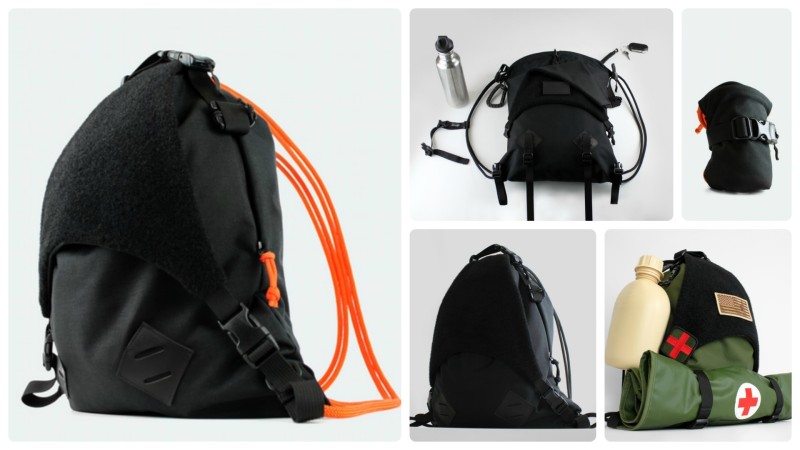 I backed the Kickstarter for the original Mochibag back in 2013, and when my dad borrowed it (it turns out permanently), I bought myself a second one from the Mochibrand online store. The two things that attracted me about the design were:
The innovative way they anchor the drawstrings – unlike cheaply-made drawstring backpacks, these never get uneven with the drawstrings longer on one side versus the other.
The way you can bundle up the backpack to the size of your fist – this is really great for when it's not in use, because it saves on space. When I'm going away for a few weeks, the compact bundle takes very little room in my bigger luggage.
Once I had the bag in my hands, I was also really impressed with the quality of materials used and the sturdy construction.
The current campaign, dubbed "the most advanced" drawstring backpack, builds on all this goodness. It adds a compression lid for extra protection (it's also removable for when you don't need it), even more durable fabrics, and an internal liner. Backers have also unlocked three key stretch goals, so all the new bags will also come with weather proof urethane zippers for the internal pocket, those pockets will be lined with micro fleece, and the lash tabs for strapping other gear to the bag will be upgraded to bonded and reinforced hypalon.
There's four color options for this campaign. For the bag color you can get black or green, and for the drawstrings you can get black or orange. This time around I'm going for the black bag with black drawstrings.
If you ever had a job that provided you with a laptop, you know the crappy computer bags you often get from the IT guy when he hands the laptop to you. They are these cheap fabric things that fall apart faster than your laptop gets obsolete. Now that I'm older and wiser, I want a bag that will carry my computer and camera gear (or whatever I will happen to need) that will protect it. I also want it to look good now, and age well. Over time, when cared for, a leather bag will develop character. I took enough psychology classes to know that what I want from this satchel is what I hope is possible for me, as I continue the inevitable march to old age. 😀
What I like about Kendal & Hyde is their passion for the craft of working with leather. The Kendal & Hyde classic leather satchel is the latest in a series of Kickstarter projects they've run. I have no idea how I found their earlier project for a leather belt, but I can tell you after wearing many crappy leather belts that disintegrate over time, theirs is the last one I'll ever need (barring some drastic weight gain on my part). It's hard to imagine being excited about a belt – but if you had theirs around your waist you'd know what I mean. If you take a look at the comments on their previous projects, you'll see a chorus of happy backers who are ecstatic about the leather bags, wallets, belts, and (soon) boots they've gotten from Kendal & Hyde.
The satchel is an update from the one in their first Kickstarter project. They took the most popular bag and have improved it by adding inner compartments – one for a laptop and one for a tablet – and designing a modular system of accessories that you can mix and match to really make the bag your own. The medium satchel will hold and protect my 13-inch laptop, my DSLR camera, an extra lens, and a bunch of other stuff – with room to spare. There's also a large and small size, depending on what you plan to carry. The leather experts at BestLeather.org just posted their first impressions of a pre-production satchel from K&H. (Spoiler: they love it!)
Once the campaign ends, the hardest decision will be what color to pick. Do I want a black bag, or a brown or natural one that will darken and develop its own character over time? Tough choices. 😀
Both the Mochibag Drawstring Backpack and the Kendal & Hyde Classic Leather Satchel projects close their funding periods on Kickstarter this Friday, June 19. They're both young companies, but having backed them both in the past, I can vouch for the quality of their wares. Let me know if you end up backing either, or both!