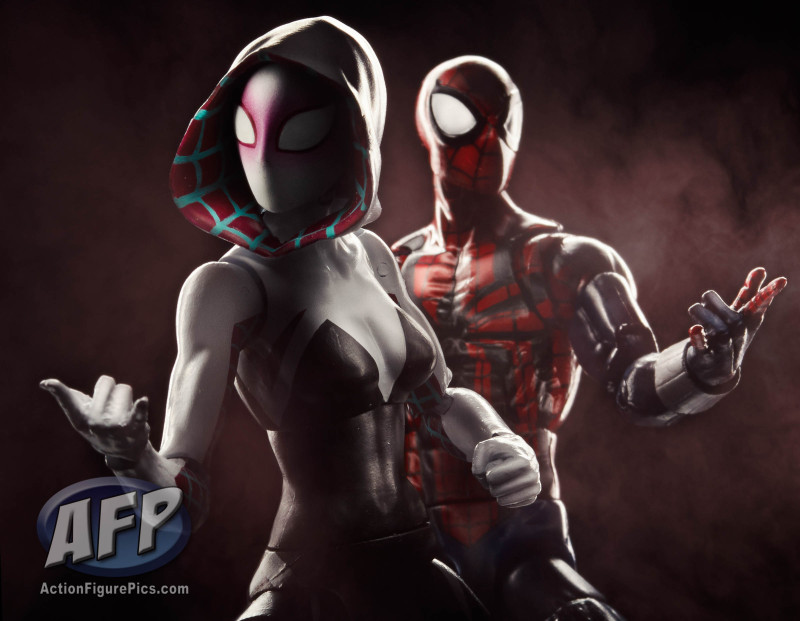 Hasbro held its Marvel panel yesterday (video coming soon to our YouTube channel) and showed off figures planned for the first waves of Captain America and Spider-Man-themed Marvel Legends in 2016. Now, we'd already been introduced to the full Spider-Man wave with Absorbing Man as the BAF at the morning event on Thursday, and a trio of figures from the Cap wave on Friday. But Hasbro still had a few surprises in store for us.
After the panel, Hasbro sent us pics of nearly all the Marvel Legends reveals from the panel. Not just the typical white background product pics – they also included some really gorgeous drama shots. Kudos to the team that shot those!
Spider-Man wave 1 2016
I wonder if these pictures are intended to be used in the product photos sent to retailers.
These shots are really a huge step up from the standard product pics. I wonder if this is actually where they're going for their card art, as depicted in the last shot in the set. If so, that will be a pretty fun change.
And by the way, did you notice that one of the drama shots for shows Carnage instead of Ben Reilly – Hasbro has the parts to turn Ben Reilly Spidey into that Carnage.
Captain America wave 1 2016
More standard white background shots…
That's more like it! The final reveal for the Cap wave was Nuke.
And for icing, Hasbro gave us two more bonus reveals, Namor and Abomination. Dwight admitted that the first Namor that Hasbro produced was pretty ad, so this vested version is to make up for it. Abomination was shown only in a grayscale 3D sculpt rendering. He will share some parts with the Rhino BAF from that Spider-Man Legends wave. While that should give you some indication of size, Dwight suggested that Abomination may end up a little bigger due to some parts.
Great showing, Hasbro!