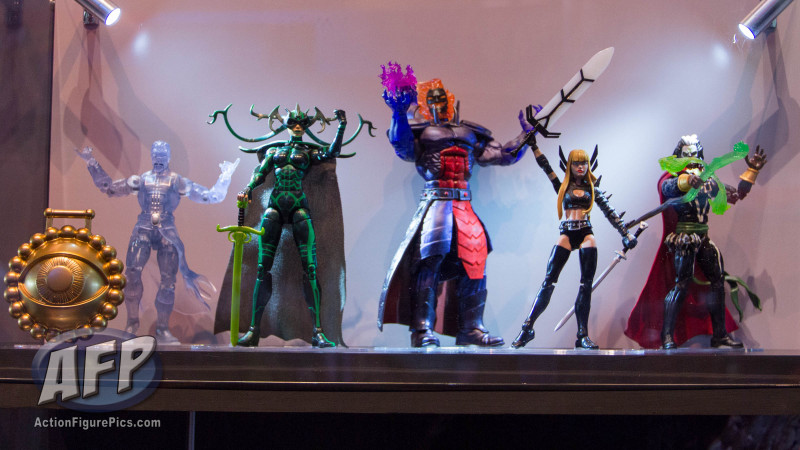 It's Preview Night at San Diego Comic-Con, and one of my first stops was the Hasbro booth to check in on Marvel Legends. Hasbro has spent a little to upgrade the display cases throughout its booth, with clear glass cases and spotlights that provide dramatic backlighting that is bright enough to allow for clear pictures. This comes at the trade-off of less display space. What the Marvel team put out on Preview Night was mostly what we had seen and heard about at Toy Fair. But there were a few figures that we saw in person for the first time, and a couple of ones that snuck out that were surprises.
We previously saw press pics for the Dr. Strange 5-pack, which is the Marvel Legends exclusive for SDCC. In preson they look even more impressive – I'll take some more pics when I get my own set. Dwight Stall was rattling off the base figures – aside from the obvious Dr. Strange redeco, I heard She-Hulk for Hel, but not much else (too much sensory overload.) Dormammu is built on a previous BAF – I may be mistaken calling out Terrax, but it's hard to tell since he's also sheathed in new pieces covering up most of the body. Magik may be on Jubilee, and I think Brother Voodoo is on a standard Bucky Cap body.
The "regular" retail waves have been a known quantity since Toy Fair. Most people at Preview Night expressed to the Hasbro team that they've really hit their stride with Legends. I think that's proven out with what we're seeing in stores. I asked about the Hulkbuster BAF, which should be in our hands soon. I think Hulkbuster is the first time we've seen a BAF that really demonstrates what we can get in value with the build-a-figure concept. Dwight Stall told me that while he loves Hulkbuster, they're not all going to be as massive moving forward. But he did hint that there's one in the pipeline that will rival the Hulkbuster.
For those of you who hoped to see more of the retail waves, there is a special Hasbro event tomorrow morning away from the Convention Center – we'll be there, and Dwight tells me they'll have a Marvel Legends reveal for us. And of course, the Hasbro Marvel panel is Saturday. So stay tuned!
The retailer exclusives are where we saw some new figures tonight. The Toys R Us "Directors of SHIELD" (my name for it) 3-pack has been out for a while, but the rest we're seeing for the first time in person. I think some people were mixed on the Guardians of the Galaxy set that's exclusive to Entertainment Earth (and EE's distribution partners) – because we'd already seen Star Lord and Drax from the comics as single-carded figures, Rocket Raccoon as a mini-BAF, and Groot in his movie form as the BAF for that movie wave. I'm one of the ones that happily pre-ordered the set, and am looking forward to the new head sculpts for Rocket and Groot, and the bigger body for Drax. And Gamora – she looks great, but for me at least, I do wish she was in her Guardians blue outfit which is very similar to the green costume she's sporting.
This is also the first time we're seeing the Amazon Avengers: Age of Ultron 4-pack – this one will complete your movie Avengers that started with the Thanos BAF retail wave a few months ago. Dwight says that these are imminent – they've already been produced and packaged. I think they all look pretty good, and will have to get more pictures of them.
The Target 3-pack with Vision in his West Coast Avengers white look, Hulk, and a more comics-base Ultron is also coming soon, although I didn't hear as much imminence for it. Don't take that as uncertainty that the figures won't make it to Target – just that the timing is still just "this fall." Same with the two figures I didn't know were going to be Walgreens exclusives – Daredevil in his original yellow colors and Ant-Man, whom I believe is a more current Eric O'Grady costume. The Marvel PR said the Ant-Man would be up for pre-order on July 20 – we'll be watching for it.
We'll get more pictures of the newer stuff over the next few days, but stay tuned on Instagram / Twitter / Facebook tomorrow morning as we provide updates on the new Marvel Legends reveals. Then come back in the evening for the bigger pics here on the AFP website.