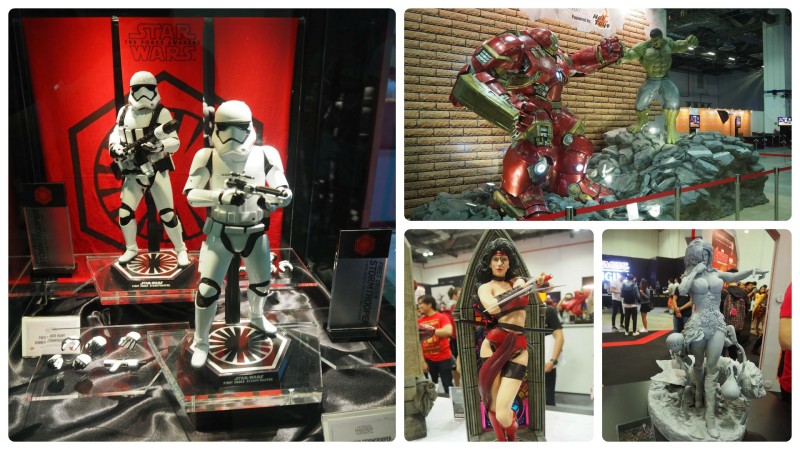 Our good friend Jedd was at the Singapore Toy, Game, and Comic Convention this past weekend, and sent us this update.
I just got done with STGCC 2015! I've attached some booth photos, as with every year, Hot Toys has some impressive dioramas and displays up, with more of a Star Wars bent this year due to the imminent release of The Force Awakens. We also had a giant life-sized Hulk vs. Hulkbuster statue. The photos of Marvel statues (Elektra, Daredevil, Iron Man, Black Bolt) are from XM Collectibles. I'm not really sure who made the Poison Ivy statue prototype but I thought it was pretty enough to include. Then there are the actually levitating DeLorean and hoverboard models from KidLogic.

The local Star Wars collecting community did up a few dioramas, including the LEGO Simpsons family watching a performance of Jizz (yes, we've all heard the jokes) by the Bith musicians at Mos Eisley Cantina, and Hasbro Black Series figures lining up to get some satay from street food vendor Jabba the Hutt.

Here are links to my annual Mega Picture Posts:
We'll have more from Jedd soon, as he was able to interview toy designer Jason Freeny, famous for his anatomical cross-section toy sculptures. Stay tuned!