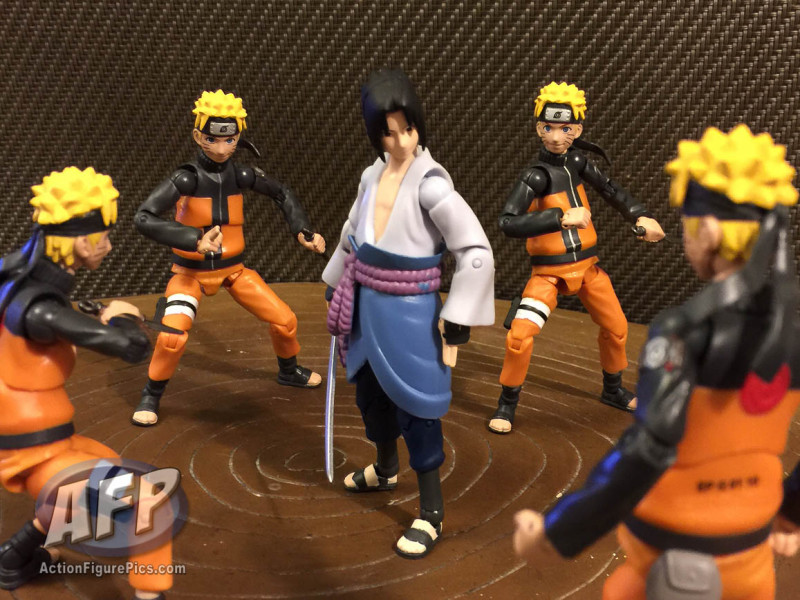 Naruto Shippuden does not have a lot of action figure representation, so when Toynami came out with their 4-inch, articulated action figures a couple of years ago, I was ecstatic! I grabbed all of series 1 and the SDCC exclusives. I was enjoying the line and was disappointed when series 2, which was supposed to be comprised of Sasuke, Gaara and Deidara, never came out.
The Toynami Naruto Shippuden line wasn't perfect, the size was quite odd being in between 3.75 and 6 inch scales, and the sculpts weren't perfect, but I did enjoy the articulation that they were able to get into the figures, which was the first I've ever seen been done with Naruto Shippuden characters. I quite enjoyed the SDCC Exclusive Toad Sage Naruto and Minato, and I thought their Kakashi from series 1 was an awesome figure.
Now, through OMAKASE's Naruto Shippuden box (available to pre-order by subscribing before January 23), we get a chance to finally get the Sasuke figure that Toynami had first shown as part of series 2 at SDCC a couple of years ago. Let's have a look at the figure!
Packaging
The packaging is the same as the series 1 design, with a Sasuke illustration at the top right. He shares the same Sharingan logo beside his name like Kakashi's.
This is great for collectors who keep their figures in-package, as this figure in-package can blend right in with their existing collection.
The back has a short bio on Sasuke and some figure pics. There is an added OMAKASE logo at the bottom of the package beside the Viz and Toynami logos.
Sculpt
Let's start with the headsculpt. I think Sasuke has a decent headsculpt. Just like Naruto's it's not perfect but I can see the likeness there. I do wish his hair poked further out at the back like in the anime, but I'm thinking since this was originally a mass market line, the hair sculpt needed to be not too sharp for safety reasons. His mouth is a little softly sculpted but that's me being a bit nitpicky.
Sasuke is wearing the outfit he wore at the beginning of Naruto Shippuden. I think Toynami did a good job with the sculpting of his outfit. The sleeves are sculpted with creases and folds, but I do wish they hollowed out the insides of his sleeve ends instead of keeping it flat. (They did the same with Itachi's sleeves).
The blue cloth that covers his stomach to his knees (I'll call it a waist cloth) with the thick rope sash is sculpted nicely. I just wish that they used a softer plastic for this part like they used with Itachi's Akatsuki coat, as it hinders a lot of his leg articulation (more on that later).
Sasuke comes with 2 sets of hands: 2 open handed sculpts for both sides, a left hand in a seal form sculpt, and a right sword holding hand. The sculpts on these are nicely done. I would have loved the addition of hands sculpted in his fireball jutsu pose!
He also comes with a sheathed and an unsheathed sword, which is nicely straight and stiff. The sheath slides into the rope sculpt behind his back.
Paint
The paints on my figure for the most part are good. The only parts I find some small paint slops are on his sandals and hands. There's also some chipped off paint on the left side of his rope sash.
Articulation
Sasuke can pull off some cool standing poses. You can also do some nice poses of him holding his sword.
Sasuke has the pretty much the same articulation as the series 1 Naruto, the only difference is instead of having the ball jointed articulation in the middle of his torso, he has it at the base of his waist. There's not a lot of forward movement due to the sculpt of the waist cloth he has. There's a little backward movement and it swivels around as well.
Let's talk about that waist cloth. The plastic that they used for this part is a stiffer type of plastic, which greatly hinders the articulation of his legs. All of the useful leg articulation is there, but due to the stiffness of the plastic you won't be able to use most of it. The most I can do is just shift the legs slightly when he's standing. You really can't do any wide leg stances or running poses. This is probably my biggest issue with the figure.
I wish they had used a softer plastic like they used with Itachi's coat and created a cut between the front folds so you can do some leg spread poses.
His head, shoulders and ankles have great range of motion due to the "revoltech" style joints (sans the ratchets) that they used. His single-hinged elbows bend at 90 degrees. The rocker ankles would've been great if I could get him into wide stances!
Size
Sasuke is a smidge taller than Naruto, his shoulders fall slightly higher than Naruto's, but the height difference is not as obvious because of Naruto's spiky hairdo.
Sasuke looks great standing next to his brother Itachi, and I quite like the way he looks with the rest of the line.
I did not get to take a picture of it, but he's too small for the S.H. Figuarts Naruto line, being around the 4-inch scale compared to the Figuarts 6-inch scale. For a moment I thought about using him as a younger version of Figuarts Sasuke, but he's just too small.
Overall, I think Sasuke is a nice addition to the Toynami Naruto Shippuden collection. He blends right in with the rest of the line, and let's face it, if you're a big Naruto fan, no Naruto figure collection is complete without Sasuke. I only wish that Toynami/OMAKASE chose to use a softer plastic for his waist cloth so that he could have been more poseable from the waist down.
Now, you won't be able to pick this figure up at retail. OMAKASE, which is a website that provides anime streaming and other services, will be including this figure with their Naruto Shippuden box, which is the first offering in their 2016 subscription. The Naruto Shippuden box also contains a Golden Naruto Minininja (which I love), and a few other yet-to-be announced Naruto items. You can subscribe before January 23 to get the exclusive Sasuke, Golden Naruto Mininja, and the rest of the box package, which has yet to be revealed.
Now I wonder if they have any plans to get other figures out like Gaara and Deidara through their subscription packages. Could new figures also be possible? I don't know. We'll have to ask OMAKASE and Toynami, I guess!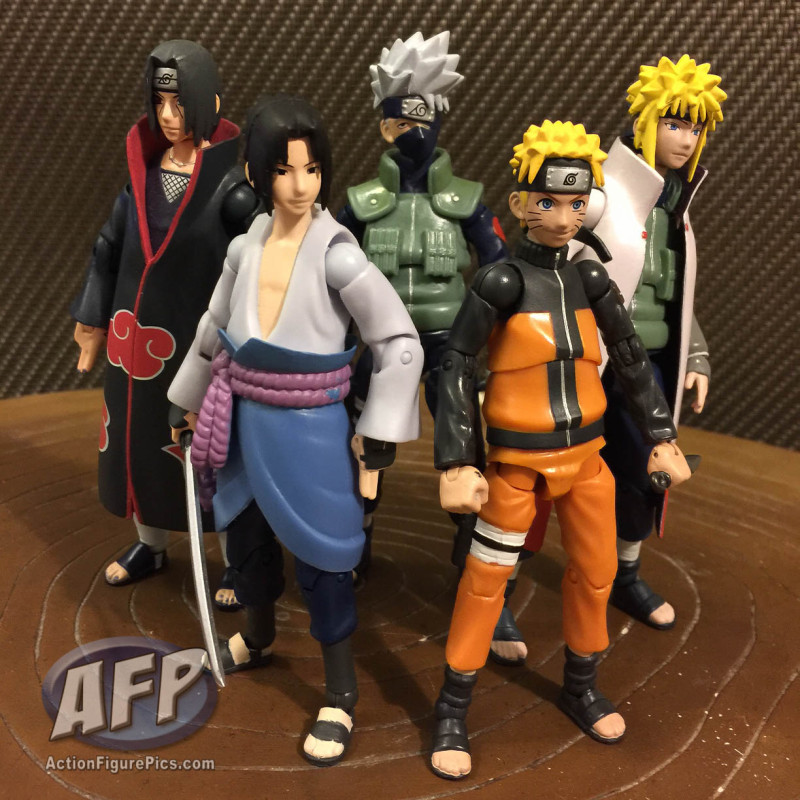 Thank you to the folks at OMAKASE for providing this preview figure for our review!