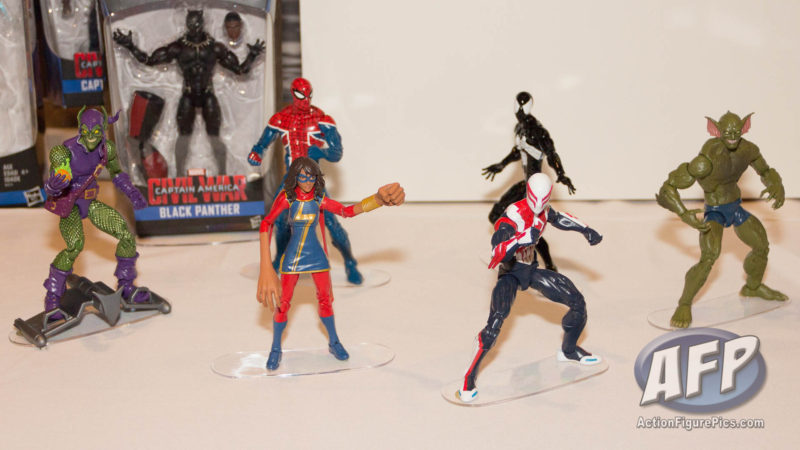 Hasbro kicked off San Diego Comic-Con 2016 with their Brand Preview Breakfast. This included reveals for Star Wars, Transformers, My Little Ponies and more, but I focused primarily on the new reveals for Marvel Legends.
The reveals included a wave of Spider-Man Legends consisting of Green Goblin, Spider-Man U.K., Ms. Marvel (Kamala Khan), an updated black-suited Spidey, Spider-Man 2099, and Jackal. Hasbro also had two Dr. Strange movie figures – the Benedict Cumberbatch Dr. Strange and Chiwetel Ejiofor Baron Mordo.
I wish I took more pictures of Green Goblin – the new head is absolutely fantastic, and it makes use of the new armored body we saw most recently on Hobgoblin. Spidey UK and Spidey 2099 both feature new base bodies – the Hasbro team hopes Spidey UK will be about the height of the existing Bucky Cap base body, so it will slot in as a slightly more buffed medium height figure, compared to the new heavier build they used for Captain America. The Spidey 2099 body represents a leaner build, filling another spot in the line-up.
The Kamala Khan Ms. Marvel continues to get a full-court press from Marvel. Her figure looks great. I will ask if there will be alternate hands, but the prototype didn't seem to have any cuts where they could be swapped in. I can't remember the last time I read a comic with Jackal in it, but since he was the villain behind all the Spider-clones, it seems fitting he'd finally get his spot in a Spidey wave. And to round it out, a new black-suited Spidey is a welcome update for those who have one of the older figures.
The Dr. Strange figures revealed at the breakfast are actual production pieces. With the movie coming out in November, these should start showing up on shelves in the August time-frame. For six-inch figures, I'd say the resemblance to Cumberbatch and Ejiofor are pretty striking. No word yet on how and where these will show up, but I'll ask.
We'll be talking to the Hasbro Marvel team this afternoon. Technology willing, we'll broadcast on Periscope. Follow @ActionFigPics on Twitter for the notification.