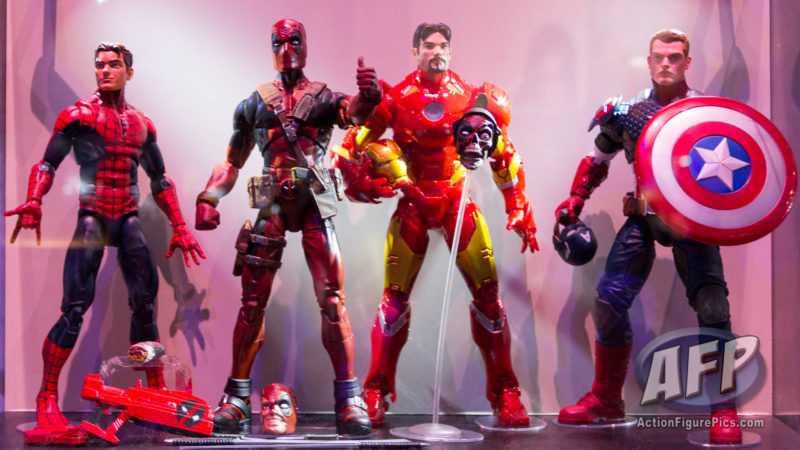 Hasbro may have jump-started SDCC 2016 by revealing the latest figures in the upcoming Marvel Legends Spider-Man and Dr. Strange waves, but they've continued to add goodness to their booth display each day. That's culminated with the official reveals during their panel discussion earlier today.
We'll have our video of the Hasbro Marvel panel, including the full Q&A, posted some time tomorrow. In the meantime, here's the latest on what's coming up for the Marvel Legends 6-inch line in 2017.
X-Men (1Q 2017)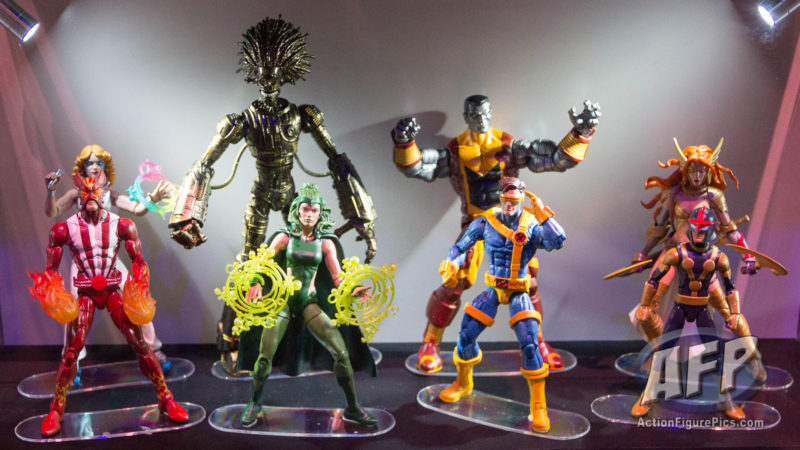 On Friday, Hasbro added a classic disco Dazzler to their display, promising more mutants to come as part of a new wave of X-Men in the first quarter of 2017. With a heavy slate of Fox movies in the works (including the final Wolverine with Hugh Jackman, Deadpool, and Gambit), there is enough mutant mania to deserve a continuation of X-Men Legends.
The trio of Sunfire, Polaris, and the Jim Lee Cyclops are among the most often requested characters. Hasbro did an exclusive Age of Apocalypse Sunfire early in their tenure with the Marvel license that was much-maligned – the classic Sunfire on one of their newer base bodies will be a welcome update. Polaris was originally planned to be paired with Scarlet Witch when she was released earlier in the line, but Hasbro felt she deserved her own release and have put her on the base body shared by Silk.
[Update – 7 pics I had overlooked when I first published this post]
I think folks will be pleased with Colossus's size – he should clock in at about 7.5 inches if production goes as planned. I'm not sure if his San Francisco-era costume that was introduced circa 2008 is among his most popular – I think I've heard more pleas for a Cyttorak / Juggernaut costume for him.
With some flavor of New Mutants planned for both the small and big screens, the New Mutants' Warlock gets the nod as the Build-a-Figure for the wave. That makes five figures and the BAF revealed for the wave, so stay tuned for more to come.
Guardians of the Galaxy (1Q 2017)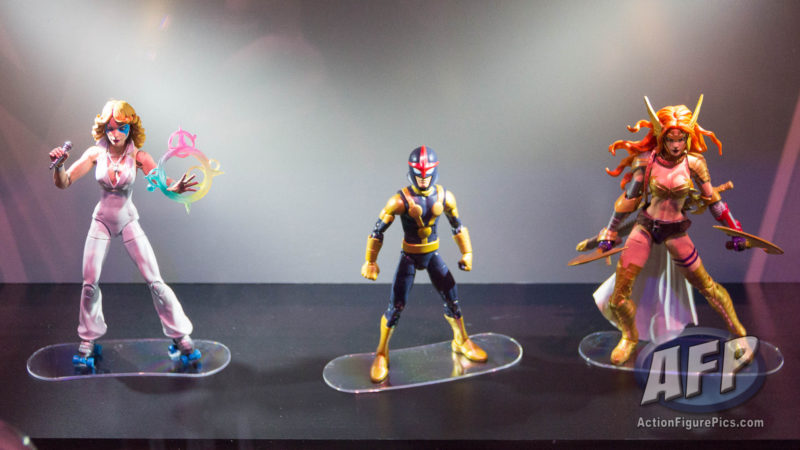 In addition to Dazzler, Hasbro put a Sam Alexander Nova and Angela into their display on Friday. They're the first two figures unveiled for a Guardians of the Galaxy wave to come in the first quarter of 2017. The "kid" Nova was met with some resistance when he was first introduced in the comics (it's tough to see long-standing characters lose their places), but those that read the books were pleased. Hasbro did a Richard Rider Nova earlier in their run and felt it was Sam's turn for a figure. With Rider returning to the comics, Hasbro's open to revisiting a figure for him – he could use an update.
Angela was the Fan Choice winner a couple years back. Hasbro had the option to include her with a potential Thor wave (more on that below) due to her new Asgardian lineage, but opted to get to her sooner since she's been hanging with the Guardians.
Vance Astro, Darkhawk, and Titus were revealed during the Hasbro Marvel panel as two more figures for the GotG wave. Vance Astro has served triple duty with the Guardians of the Galaxy in the comics, first appearing with the original team in 1969. He then had his Captain America moment in the second volume of Guardians, when he was found frozen with his shield. Most recently, he was reunited with the original team in Guardians 3000.
[Update – 12 pics I had overlooked when I first published this post]
Darkhawk has had a vocal group of supporters who are cheering his inclusion in the Guardians wave, although there's many places he could have found a spot. He's been part of the New Warriors and the Avengers, but his most recent appearances have been with the Rider Nova and in the War of Kings, which featured the Guardians.
Titus, who is the Build-a-Figure for the wave, was introduced in the comics more recently, as an antagonist for the Sam Alexander Nova. Members of the Hasbro team spoke of being inspired by some of Ed McGuinness's work featuring Titus on the Nova series. I paged through some of the original artwork at McGuinness's booth here at SDCC and can see why – I'm thinking about giving the series a try on Marvel Unlimited.
Hasbro also mentioned that thanks to tighter collaboration with Marvel Studios, they'll be able to include a couple of movie figures for GotG 2 in the first wave of figures. Because the prep time for producing action figures far exceeds that of the movies, traditionally the first wave of a movie-inspired wave includes only comics-inspired figures, so this will be a first. Unfortunately, Marvel Studios is not ready to reveal those characters, so we'll have to wait for the figure reveals as well.
Netflix Jessica Jones and Punisher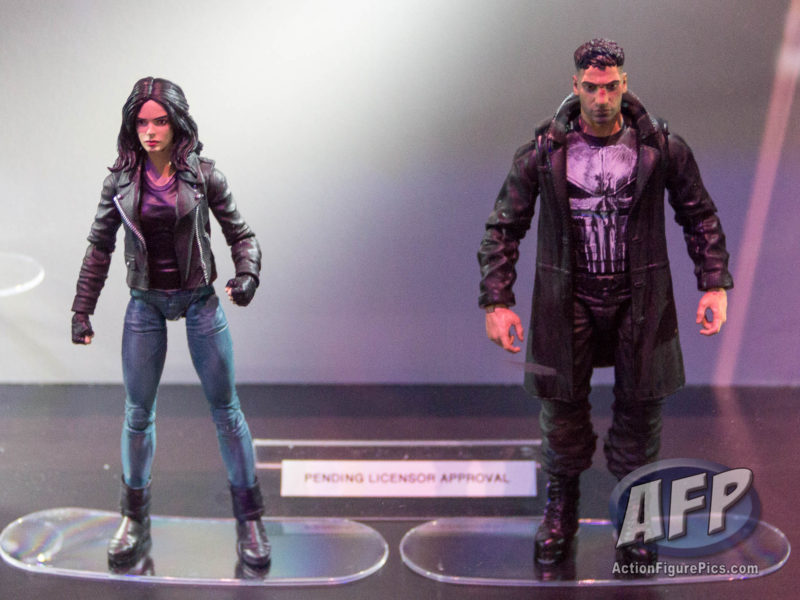 One of the consistent questions that Hasbro fields from fans is "When will we get figures from the Marvel TV series?" While they've dipped their toes in the water with some Agents of SHIELD, Phil Coulson was probably enabled by their ability to make movie figures. With the reveal of the Krysten Ritter Jessica Jones and Jonathan Bernthal Punisher, Hasbro has taken a big step to go through the additional licensing hassles of dealing with the various production companies.
Since different production companies are involved with each TV series, each one requires special licensing. In today's panel, one fan request was for an Agent Carter figure – Jesse Falcon answered that they'd get there. For those hoping for TV mutant figures from Fox's Legion and as of yet unnamed Bryan Singer New Mutants series, I wouldn't hold my breath. Even though Hasbro is making comics-based mutants, I think the Cold War between Marvel and Fox will mean the exclusion of Fox movie and TV figures.
Marvel Legends 12-Inch Figures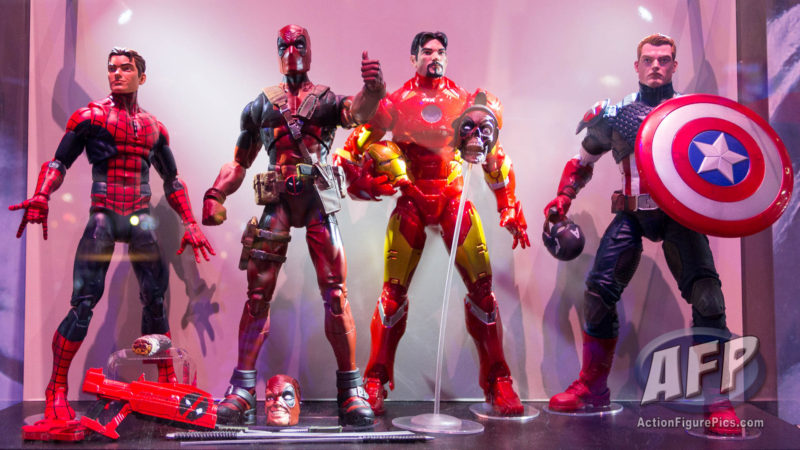 Hasbro introduced the spiritual successor to Marvel Legends Icons back at Toy Fair in February. The first 12-inch figures, including Spider-Man, Iron Man, and Captain America, will be hitting shelves pretty soon. At the start of SDCC, Hasbro had teased a big reveal for the line with the inclusion of a 1/6 scale burrito.
And of course, the burrito (shouldn't that be a chimichanga?) presaged the arrival of a 12-inch Deadpool. Mr. Pool was a popular request every time Hasbro talked to fans about this line. In addition to the burrito, he'll come loaded with a big arsenal of swords and guns, an alternate battle-damaged but grinning head, and a hideous Headpool accessory. I'll have to ask if that Headpool jaw is going to be hinged.
More 6-inch teases for 2017
I posted most of the teases for 6-inch Legends from the panel on the @AFPRon Instagram feed. Check them out there and when I get our video from the panel posted to our YouTube channel (hotel internet is so slow). Here's the highlights:
Thor and Hulk (Thor: Ragnarok) – the back of Thor's head, Mjolnir, and, presumably, Hulk's foot
Mary Jane Watson – 3D sculpt render showing a turnaround for MJ
Monica Rambeau Captain Marvel / Photon – 3D sculpt render
Daredevil – 3D sculpt color render of a battle-damaged Matt Murdock head
Dark Phoenix / Jean Grey – 3D sculpt color render – there is some ambiguity if this was 6-inch or 3.75-inch, but it was Dwight Stall that talked about the plan to produce the hair in translucent soft plastic with some paint apps, so you could get a good Phoenix effect with some backlighting
Fantastic Four Invisible Woman / Sue Storm – painted prototype with HERBIE – Dwight offered this as proof that Hasbro could do figures from Fantastic Four, but did not say if Sue would be part of a full F4 wave or part of something else
Finally, I talked to Dwight about how it seems like 2017 will be much bigger in terms of the number of waves / figures to be released in the year. Hasbro's plan, however, is to keep the number of waves and figures similar to what we've seen this year.