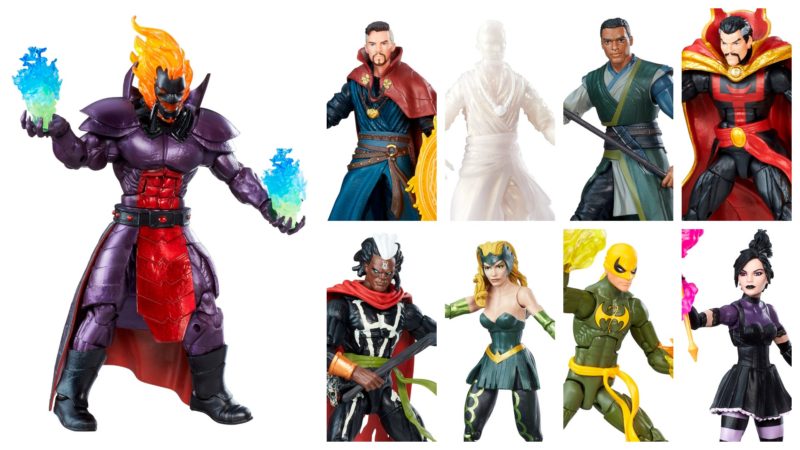 By the hoary hosts of Hoggoth, we're a couple of months away from Benedict Cumberbatch's Dr. Strange hitting theaters, on November 4 in the US. Online retailers have their pre-orders up for the Strange Marvel Legends wave, and they're expecting figures to land some time this month.
Here's where I recommend picking them up:
Unlike most Legends waves, this one has eight individual figures. You will not have any extras after you assemble the BAF, the dread Dormammu. EE has the benefit of free shipping, which makes a difference.
Individually, cherry pick the Dr. Strange wave at Amazon (http://afpics.link/2cdTJvT) for $19.99 with free prime shipping.
There is some overlap between figures in this wave and those from previously exclusive San Diego Comic-Con exclusive sets. The new comic book version of Dr. Strange is a reissue of the astral version from SDCC 2015's Book of Vishanti set. Brother Voodoo gets a redeco and different cape from that set. And Dormammu gets some recolored fireballs from that set, but otherwise looks the same. Enchantress looks to be the same figure as the Enchantress from this year's SDCC Spider-Man Raft set.
I wonder if we'll be seeing more reissues. Magik in an upcoming X-Men wave? Hela in a Ragnarok wave? Hasbro has played coy when we've asked them about this, but there is a pattern forming that is beneficial for those collectors who've had difficulty picking up the Con exclusives.
Let me know what you pick up. I can't wait for these figures, and I can't wait for this movie. May the Vishanti smile upon us all!