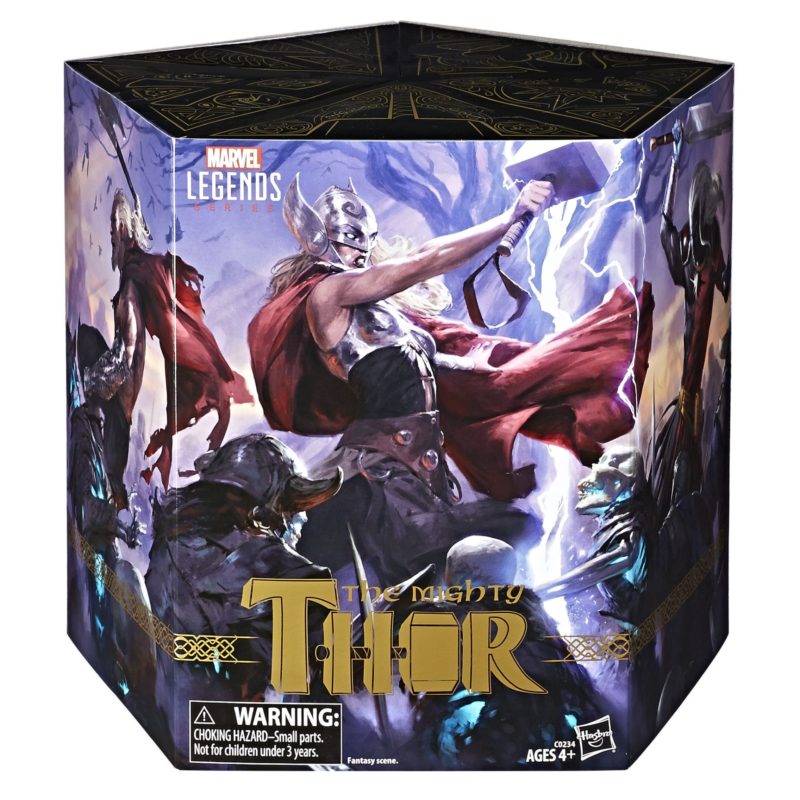 On the heels of their Marvel Legends 12-inch Daredevil, Hasbro has revealed a comics-based Thor box set as its 6-inch Marvel Legends exclusive for San Diego Comic-Con. The Mighty Thor: Battle for Asgard box set, unveiled at Nerdist, will include the Odinson (Unworthy Thor), his grandfather Bor, Malekith the Accursed, and Ulik the Rock Troll. But make no mistake -the headliner is the current wielder of Mjolnir in the comics – Jane Foster, aka Thor.
While all five are featured on the packaging artwork by Tyler Jacobson, Jane Foster is the central character. The inner package, which folds out to reveal individual picture windows for the figures, has a 5-part poem on the cardbacks dedicated to the Goddess of Thunder:
Set your fates, ye mortal souls
And resolve them to be true
For Midgard's mortal curses are naught
To she whose wants are grand – but few

So rise forth now Odinson,
And ally yourself with might
For the dawn of your time dawns with our world
And beside your successor, you must fight.

For she wields the mighty Mjolnir
Despite the toll it takes
Battling for Asgard's eternal glory
As her human body breaks

Drive back the enemies of the realm
The Rock Trolls as they roar
Make the Frost Giants small in defeat
And prove that lightning strikes once more

So set your fates ye mortal souls
For with the loss of his old name
The unworthy is challenged by the worthier
And Thor, Goddess of Thunder, is claimed.
The Jane Foster Thor was teased during Hasbro's Toy Fair presentation, but this is the first time she's been seen in the wild – not counting her early outings on eBay. 😉 Hasbro also teased a Thor 2-pack (maybe a callback to an earlier tease featuring Mjolnir and a Hulk-sized foot), so we know more Thor figures are incoming. With the Thor: Ragnarok movie due this November, perhaps Hasbro has enough momentum to release a full wave of Thor Legends for later this year. If so, maybe we'll see Ulik from this box set re-purposed as a Build-A-Figure.
The Marvel Legends Mighty Thor: Battle for Asgard box set will be available for $99.99 at the Hasbro booth at San Diego Comic-Con, and in limited quantities following the show at HasbroToyShop.com.