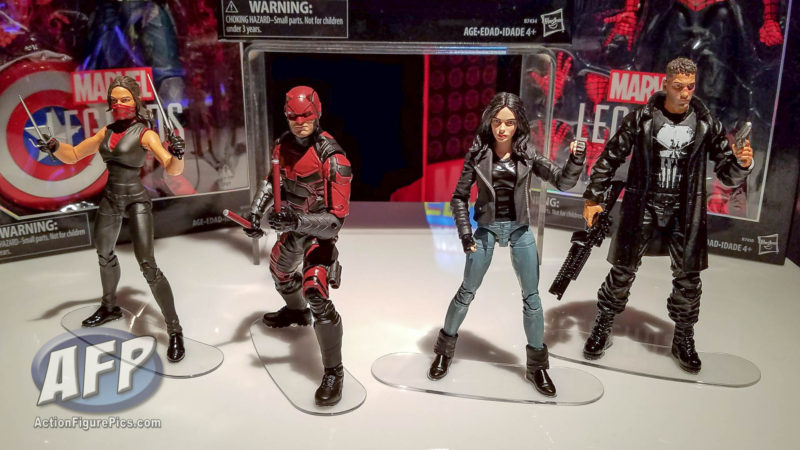 What's clear coming out of this year's Hasbro Collector Preview is that the Marvel team's decision to rebrand the Marvel Legends to tie to mass media has been a success. This year, Legends is being driven not only by three movie releases in the Marvel Cinematic Universe, but also by its extended TV properties on ABC and Netflix and several animated shows. The result is a healthy line-up that spans mass retail releases and exclusives for both traditional and online specialty retailers.
And what about those properties that still fall outside of Marvel Studios control? Hasbro is still finding a way to leverage them with comics-based figures.
Guardians of the Galaxy Vol. 2
Volume 2, the sequel to the 2014 blockbuster hit, opens May 5 this year. Hasbro first revealed Angela, Darkhawk, Nova, Vance Astro, and Titus (the Build-a-Figure) for wave 1 back at San Diego Comic-Con. Then in the fall, they revealed movie figures for Drax, Star-Lord, and Yondu, to complete the wave.
At New York Comic Con, Hasbro revealed Death's Head II and Adam Warlock (who we learned will come with an interchangeable Magus head), but didn't tell us where they were landing. As we expected, they'll be joining wave 2 of GotG Vol. 2, alongside Ex Nihilo (from Jonathan Hickman and Jerome Opena's run on Avengers) and movie figures for Nebula, Gamora, Star-Lord, and Rocket Raccoon, who comes with more articulation and the line's only Baby Groot.
We speculated that Death's Head II would be a BAF since he's so large – but wave 2's BAF is a movie figure Mantis. The team explained that since Death's Head reuses the Colossus sculpt, converting it to a BAF would require new tooling. Instead, they took this opportunity to introduce new tooling for Mantis, who otherwise would probably not have made it into the wave.
GotG2 also gets a retailer exclusive at Entertainment Earth, featuring Kurt Russell's Ego and Star-Lord in a Marvel Legends 2-pack, already available to pre-order. The 2-pack will feature two heads each for Ego and Star-Lord. And for those of you wondering if you'll be inundated with Star Lords, they'll each be different. Wave 1 has a masked head with short coat. Wave 2 has a smiling head with a long coat. And the 2-pack will have a different unmasked head – which should look most screen-accurate, since Hasbro has had more reference and time to work on it.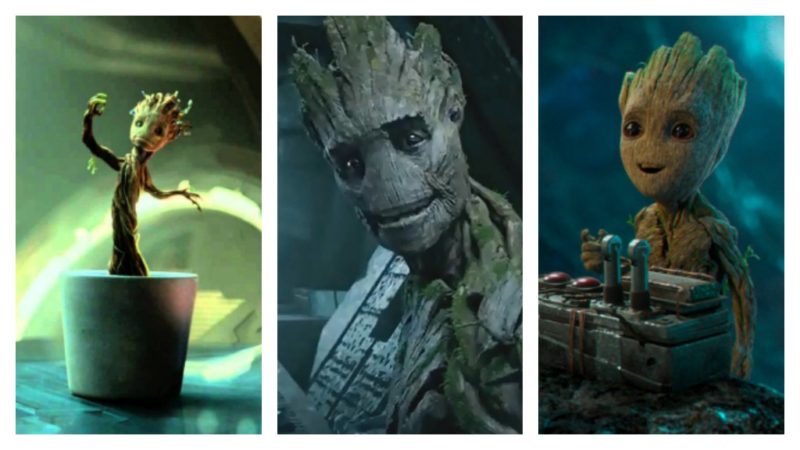 Last, but not least, Toys R Us will be getting an exclusive Legends Evolution of Groot 3-pack, which traces his growth from potted plant to full-grown Tree king.
Spider-Man: Homecoming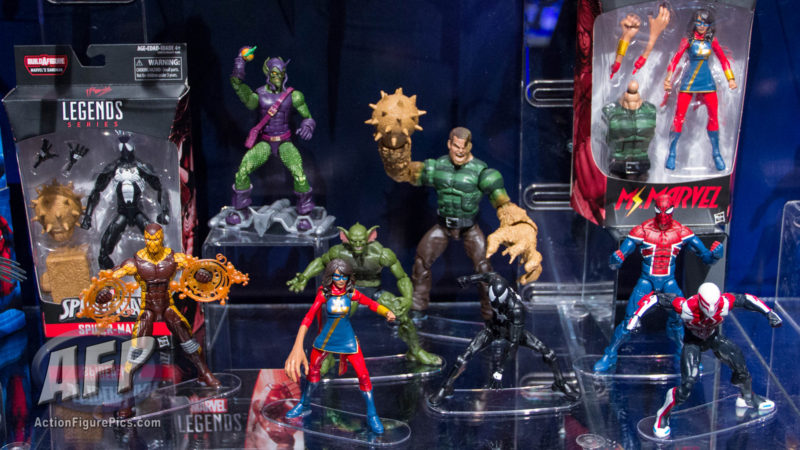 The reconciliation between Sony Pictures and Marvel Studios has brought Spidey back into the MCU fold, and as a result, we'll see movie figures from Homecoming in support of its July 7 opening this year. In the meantime, wave 1 has already started to hit retailers. It features on the hero side the first Kamala Khan Ms. Marvel, Spidey U.K., Spider-Man 2099, and a welcome revisit of the black-suited Spidey on a current body. On the villain side we've got Green Goblin, Jackal, Shocker, and Sandman as the BAF.
Wave 2 has a similar make-up. On the hero side, we've got Cosmic Spidey and Marvel Now Moon Knight joining two Spideys from Homecoming. The first features what is presumably Peter Parker's homemade Spidey costume, and the second his Tony Stark enhanced costume with web wings and an alternate head showing off his expressive eyes. The villains get Tombstone's first appearance in Legends, a classic Beetle (finally, on the 4th try), and Homecoming's villain, the Vulture.
Each of the seven figures in the wave will come with the first Build-a-Vehicle – Vulture's wings. While we weren't allowed to play with the one on display, we were told that the articulation on them is amazing.
Homecoming will also get a mass market release of a Spider-Man and Iron Man 2-pack. This will be the only way for you to get a Tom Holland unmasked head sculpt for your movie Spider-Man.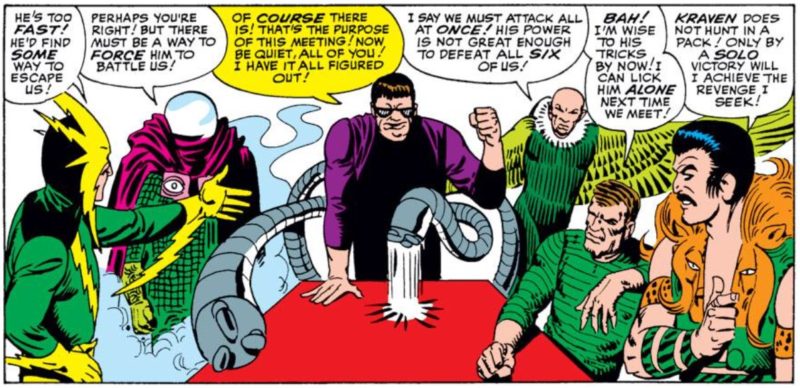 Spider-Man will also get a few retailer exclusives. Amazon will have a massive Sinister Six set in the classic vein. (Update: the Sinister Six has been confirmed to be a 3.75-inch set). Toys R Us will get a comics-based Spidey and Mary Jane Watson 2-pack. And Wal-Mart will get a Spidey and Vulture 2-pack, which will come with both classic and Ultimate heads for Vulture.
Netflix Marvel Knights Etc.
At SDCC we saw reveals for Jessica Jones and the Punisher from the Marvel Netflix series. And we were wondering when we'd get to see the hero that kicked it off – the Netflix Daredevil and season 2's Elektra will join them in a mass retail wave that will hit this Fall. Elektra has a newly-sculpted hand that will allow her to hold a sai in something other than a bang your spoon on the dinner table pose.
Hasbro hasn't revealed how many figures will be in the wave, but we've been told that it's not just Netflix – so suffice to say that we're expecting at least some of the remaining figures to be from the comics. The wave will feature a Build-a-Figure. Again, no clues from Hasbro, but some buzz is circulating that a shambling creature who actually had a movie over a decade ago will spread his burning touch to those who feel fear. Would I bet on that? Stranger things have happened, I guess.
X-Men
Fox and Marvel are still very much frenemies when it comes to their movie licenses, and as a result, Hasbro is much more limited in what they can bring to bear on our favorite mutants. But the success of the X-Men: First Class-rebooted franchise and the R-rated Deadpool has afforded them the ability to deliver a wave of X-Men Legends this year, just like last year's Juggernaut wave.
This year's wave includes Polaris, Sunfire, Colossus (who will come with a bearded alternate head), Cyclops (Jim Lee 90's), Shatterstar, Old Man Logan, Dazzler, and the New Mutants' Warlock as the BAF. I asked the team if they felt they missed out on X-23, given her prominence in the upcoming Logan movie. They revealed, that unlike their relationship with Marvel Studios, they do not have an advanced look at what's coming from the Fox Studio movies. But now that X-23 and the Reavers (a favorite of Hasbro designer Dwight Stall) have been revealed, all bets are off for future waves.
Toys R Us will be getting an exclusive classic Cyclops and Dark Phoenix 2-pack. Phoenix will be on a newer body, so while they are trying to make the multiple heads she'll come with interchangeable with the green Phoenix released earlier in the line, there's no promises yet. Her hungry hungry Phoenix head will feature translucent hair with an overspray for some awesome backlighting potential. She'll also be getting at least one other head in a less menacing, downright calm look.
Thor and More
We're still a ways out from Thor: Ragnarok, but Hasbro did tease us with a hint of an upcoming Thor 2-pack (perhaps referencing an earlier tease featuring Mjolnir and a Hulk-sized foot), and a first look at the upcoming Jane Foster Thor. Gender-swapping has been a staple of recent refreshes in the comics, and I've been waiting for them to make their way to the action figures.
No word yet on a Riri Williams Ironheart from the Invincible Iron Man comic, but we will be seeing some girl power in an A-Force 6-pack that will be exclusive to Toys R Us. It will include She-Hulk, Lady Loki, Lady Sif, Monica Rambeau, Singularity, and Elsa Bloodstone. The great thing about this set is that there's a lot of A-Force characters, given the large cast, that have already been released in the Legends line.
Walgreens will continue to have Legends exclusives this year. The Human Torch, Johnny Storm, will join his sister at Walgreens – which is shaping up to be the place to get your Fantastic Four fix.
And finally, in full-on tease mode, Hasbro dropped hints that we'll see something in the Legends line for Marvel vs. Capcom. We asked for more; they said they've already said too much. 🙂
Marvel Legends 12-Inch Continues
I was a big fan of the return of 12-inch Legends last year, and was a little concerned to see them offered a big discounts in the winter season. But the line has been well-accepted and returns with three new figures in 2017. Hasbro revealed Deadpool last year (woo woo!) and 2 massive figures in Hulk and Thor will join him in this year's line-up.
Both will feature interchangeable heads and hands. Hulk fans will be glad that two fists will be an option. I'm happy that Hulk has both modern and classic heads. Thor will come with a powered-up and regular Mjolnir, and his hair and helmet are also interchangeable, so you will have the option of going with or without helmet on both heads.
If you haven't given this line a try, do so. The design team has found ways to improve the articulation, so these aren't just scaled-up 6-inch Legends figures.
Deluxe Role Play Continues
If you were a fan of 2016's Captain America shield and Iron Man helmet (both now at discounted prices), you'll be psyched for a voice-activated light-up Mjolnir (ask it if you're "worthy") and a Bluetooth enabled Star-Lord helmet for your favorite mix tape.
Both items are available for $99.99 as a pre-order from Amazon as a New York Toy Fair special:
These are scheduled to ship on August 1 this year.
That wraps it up for our Marvel Legends Report for Toy Fair 2017. Please let us know if you have any follow-up questions, and we'll see if we can get some answers. Excelsior!