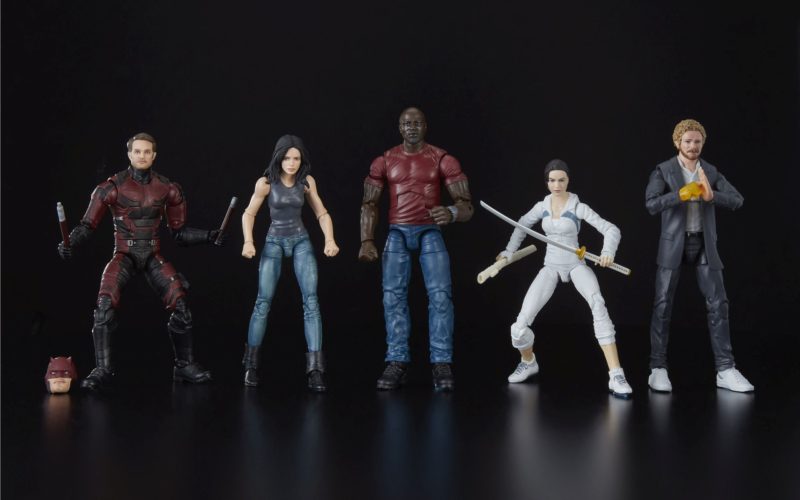 The Marvel Legends exclusive for San Diego Comic-Con is finally official. The Hollywood Reporter revealed, and then quickly retracted, the first look at the exclusive on June 19. Now it's back!
The "Marvel Legends Series Defenders Rail Authority 5-Pack" features Daredevil, Jessica Jones, Luke Cage, Colleen Wing, and Iron Fist, as they've appeared in the various Marvel Netflix series.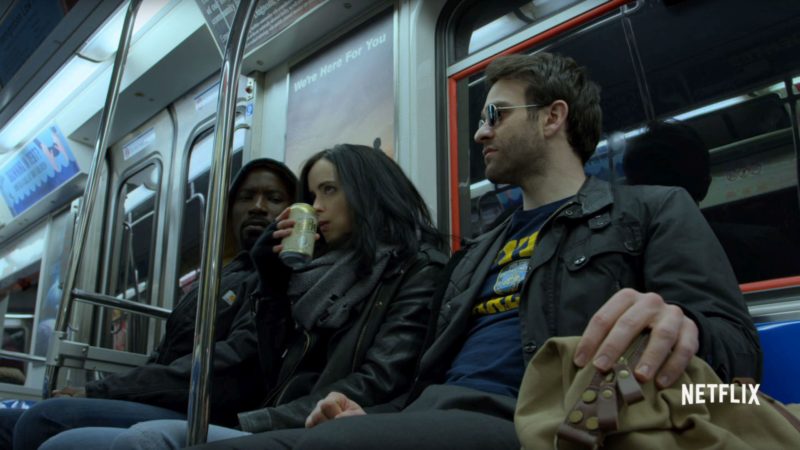 While the New York Subway car packaging hearkens back to scenes that first appeared in the 2nd trailer for the Defenders, the pack takes some creative liberties – adding Colleen Wing and Danny Rand, and changing the outfits on the other three.
Daredevil and Jessica Jones are reissues from the Netflix / Man-Thing wave. However, DD also comes with a new, unmasked Matt Murdock head. Jessica loses her jacket and gloves for a tank top.
With this exclusive, the Netflix versions of Luke Cage, Colleen Wing, and Iron Fist make their first appearance in the Marvel Legends line. I'm a little surprised that Luke isn't in his hoodie – I think the maroon t-shirt is from his own show's first season. Colleen is in the jumpsuit that was featured in her cage match from Iron Fist season one. I haven't been a big fan of Danny's various looks from Iron Fist and the Defenders, but I suppose that his business suit with sneakers and no tie beats out his homeless hobo and shirtless training outfits.
I wonder if some of these characters will see re-releases in other looks in retail-bound Marvel Legends waves next year. That's been the case with SDCC exclusives from the past few years. I hope that we see another Netflix wave, because that might be the only opportunity for us to get a Netflix Misty Knight. And maybe the second season of Iron Fist will have some green spandex in it.
MARVEL LEGENDS SERIES DEFENDERS RAIL AUTHORITY 5-PACK
(HASBRO/Ages 4 years & up/Approx. Retail Price: $124.99/Available at Booth #3329 at Comic-Con International in San Diego)
Imagine JESSICA JONES, LUKE CAGE, DAREDEVIL, IRON FIST, and COLLEEN WING defending New York City with the MARVEL LEGENDS SERIES DEFENDERS RAIL AUTHORITY 5-PACK. Each figure features multiple points of articulation and premium, detailed styling, and comes packed out in an original package designed to look like the underground public transportation of New York City. Includes five 6-inch figures and five accessories. The MARVEL LEGENDS SERIES DEFENDERS RAIL AUTHORITY 5-PACK will be for sale at San Diego Comic-Con 2018. Limited quantities of this item will be available at select conventions and select online retailers after the convention in the relevant market (including HasbroToyShop.com where available). Good while supplies last.