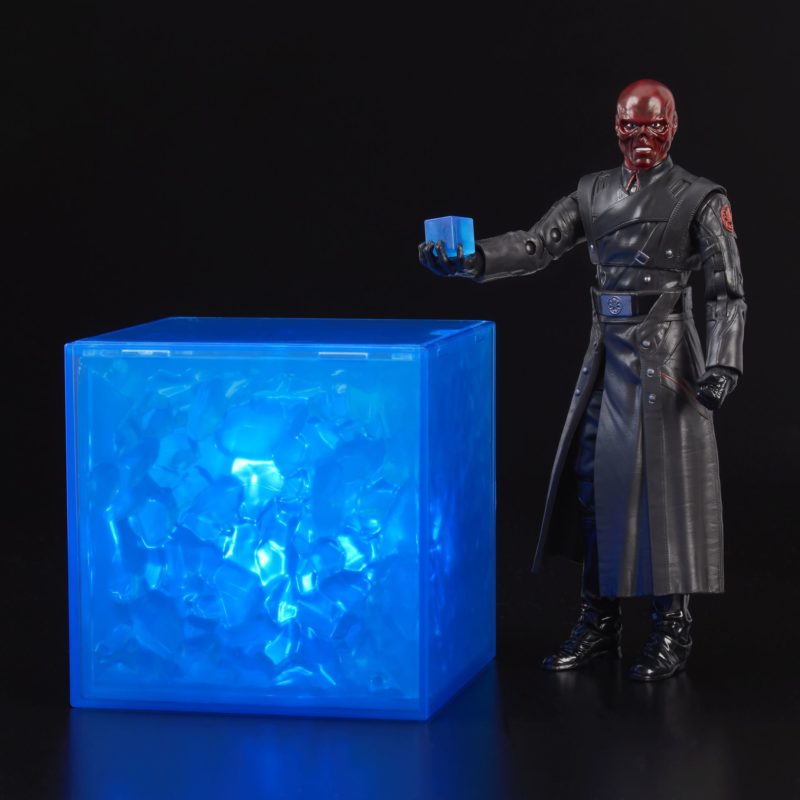 To help celebrate ten years of the Marvel Cinematic Universe, Hasbro is going back to the beginning with its Marvel Legends Red Skull exclusive for San Diego Comic-Con. At least, that's according to the historical timeline within the MCU. Johann Schmidt, AKA the Red Skull, was the big bad in Captain America: The First Avenger. This was actually the fifth movie released (after Iron Man, The Incredible Hulk, Iron Man 2, and Thor), but the first in the timeline, with World War II as the backdrop.
The exclusive is packaged with the Marvel Legends Cinematic Universe 10th Anniversary branding. Hasbro announced at Toy Fair that there would be a series of 10 such products, each tied to one of the films released in Marvel Studios first 10 years. That line-up already included a Marvel Legends Red Skull (recently available to pre-order). While both look to be based on the same underlying base body, there are some notable differences:
Retail release – grimacing head sculpt, short coat, alternate HYDRA heads and tactical vest, rifle, weapon-gripping hands and a cube-holding hand (but no Tesseract)
Exclusive – resting bitch face head sculpt, long coat, cube-holding hand and fist, 6-inch scaled Tesseract for Red Skull, life-sized / light-up Tesseract for you and me
To underscore the exclusive's place within the MCU 10th Anniversary branding, the packaged is labeled #0 – although I had not noticed a numbering scheme on the rest of them. It will be available for $59.99 at San Diego Comic-Con, with a limited number released later at HasbroToyShop.com, Fan Expo Canada, and selected online retailers.
MARVEL LEGENDS SERIES RED SKULL & ELECTRONIC TESSERACT
MARVEL STUDIOS: THE FIRST TEN YEARS #0
(HASBRO/Age Adult/Approx. Retail Price: $59.99/Available at Booth #3329 at Comic-Con International in San Diego)
Fans can commemorate 10 years of epic blockbusters with new MARVEL LEGENDS SERIES figures in the MARVEL STUDIOS: THE FIRST TEN YEARS collection! Imagine JOHANN SCHMIDT claiming the title of RED SKULL and controlling the power of the TESSERACT. Comes with a 6-inch-scale RED SKULL figure, featuring movie-inspired design from CAPTAIN AMERICA: THE FIRST AVENGER and premium articulation and design. The TESSERACT lights up and features alternating light patterns, as well as a seamless battery install for an authentic look and feel. Includes figure, accessory, and electronic TESSERACT. The MARVEL LEGENDS SERIES RED SKULL & ELECTRONIC TESSERACT will be for sale at San Diego Comic-Con 2018. Limited quantities of this item will be available at select conventions and select online retailers after the convention in the relevant market (including HasbroToyShop.com where available). Good while supplies last.