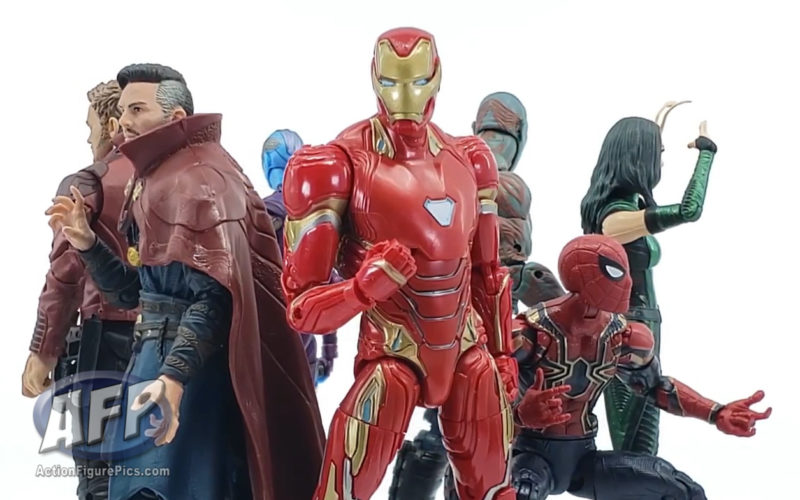 Marvel Studios is celebrating 10 years of movies in the Marvel Cinematic Universe, and it's fitting that Avengers: Infinity War brings together most of the heroes from those movies. Considering how many characters are in Infinity War, I find it amazing that Hasbro has delivered so many of them in the Marvel Legends line. This video includes all of the Marvel Legends figures I have from the final battle in the movie. Thanks to Hasbro for sending me several of the figures in this video!
There's twenty-four figures in total, including four Build-A-Figures (Mantis, Thanos, Cull Obsidian, and the Hulkbuster Iron Man). Five different Legends sub-brands are represented (Avengers, Black Panther, Dr. Strange, Guardians of the Galaxy, Iron Man). And there's also a few from retailer exclusive multi-packs and single-carded figures.
From my recollection, this means there's only a few supporting characters that are missing from my collection: Black Panther's Shuri and M'Baku have not been made in the Legends line. Everett Ross (from Captain America: Civil War and Black Panther) is coming in a 2-pack with an unmasked Killmonger.
In addition, I've misplaced my Bruce Banner from the Amazon-exclusive Movie legends 4-pack – but I was ok with his omission since he's supposed to be inside the Hulkbuster armor. And I don't have the most current War Machine from the Target-exclusive 2-pack.
Let me know if I've missed any, or if there's a better choice of Legends figure for the final fight, since some characters have multiple figures to choose from. Excelsior!
(Theme music from: https://www.youtube.com/c/NCMEpicMusic)