On the eve of New York Comic Con, I'm doing a bit of catch-up on a piece that our good friend Jedd sent in several weeks back, during the Singapore Toy, Game & Comic Convention. It's a great interview with designer toy icon Frank Kozik. Be sure to check out Jedd's own site, The Movie and Me, for his full coverage of STGCC and much more.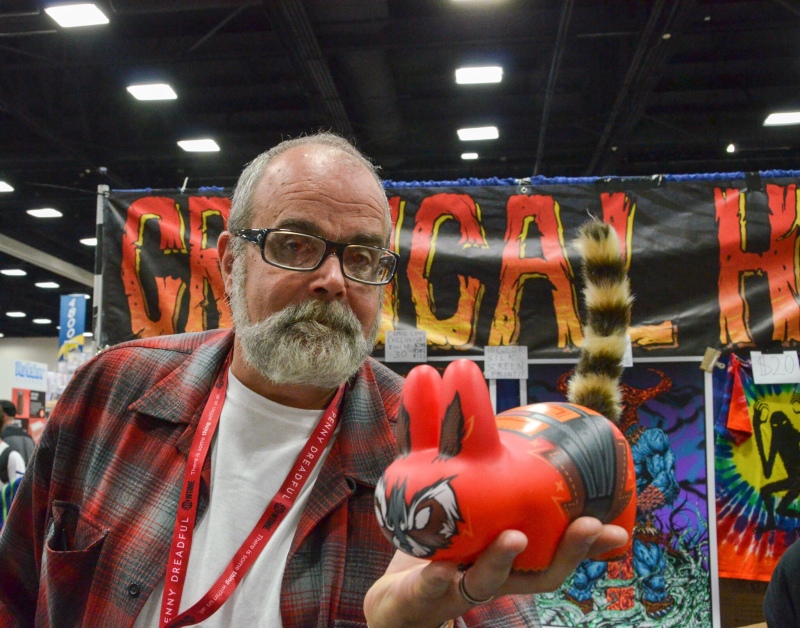 Artist and designer Frank Kozik is known in collectible art circles as the creator of the Labbit, but it also famous as a poster designer who created artwork for bands such as The White Stripes, Pearl Jam, The Beastie Boys and Nirvana. The commercial artwork he has done includes work for Nike, Swatch and MTV. Kozik was in Singapore as a guest of the Singapore Toys, Games and Comics Convention (STGCC) and I got to sit down with him to discuss his work. He was somewhat intimidating and frank and off-the-cuff, giving a detailed description of how Labbit came to be (it involves booty calls) and offering a surprising, piece of advice to aspiring artists.
Jedd Jong: What was the genesis of Labbit; how did you conceptualise that?
Frank Kozik: That's an interesting story. In the mid-90s, I was going to Japan quite a bit, I was working with the people there. When I went over there for the first time, I was really in Sanrio products, was really into like Hello Kitty and Keroppi and stuff, I thought it was very interesting, the stuff they were doing. I liked how they did the characters, it was like super-perfect. What's interesting is in Japan then, it was just something for low-class people. These were are sort of like snotty Shinjuku fashion dudes, right? And they're like "what do you want to do, do you want to do cocaine on top of a mountain?" and I'm like "no, I want to go to Kitty Land!" And they all just thought I was crazy, they were like "what?!" They couldn't understand, it was such a low thing for them. And I tried to explain it, I said "look, there's something really interesting here. It's like super-perfect way to develop a character," like you got to get beyond who buys it. In the US, it became a really big cult thing.
Continue reading "STGCC 2014: Frank Kozik Interview by Jedd Jong"