Like many of you, I have begun to rely increasingly on pre-orders from online retailers for my action figure fix.  So when I got an email on Monday from Big Bad Toy Store (one of the sponsors at AFP and the Fwoosh) saying that they wouldn't be able to honor my preorder for DC Universe Classics Wave 9 because of a Mattel shortfall in production, I was suitably distressed.  After all, the point of pre-ordering was so I didn't have to worry about having to deal with the hassle of hunting them down.
If you're in the same position, here's some tips you may find helpful to find DCUC Wave 9:
Tip 1: Check your local comic book store. Although Diamond was reportedly shorted, just like everyone else, shipments are showing up at the LCSs.  I was lucky enough to be meeting NYC Fwooshers GrownNerd and Hagop09 at one of their local stores, Midtown Comics, tonight.  And they had *just* put out their shipment right before we arrived.
As an aside, GN showed me the differences between the amount of bubbles in the Chemo Collect & Connect torso and head that comes with Wildcat.  Some folks have theorized that this is a variant, but after seeing it side by side, we're convinced it's a production error.  There is an inside shell with more bubbles that some of the Chemo torsos are missing.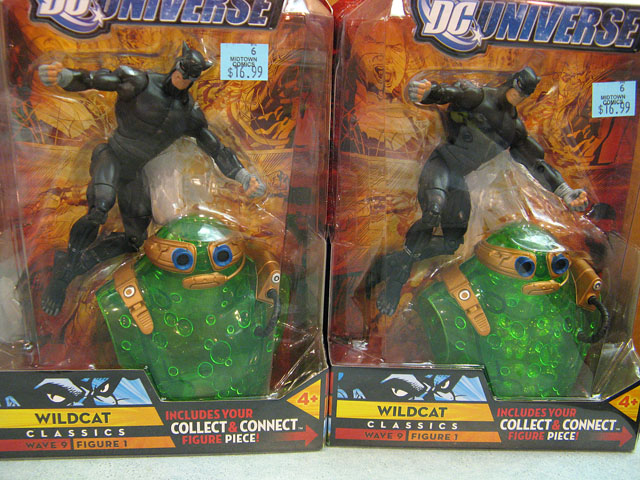 As you can see, the number of bubbles is not based on which version of Wildcat you get.  These are both the black-suited version – and if you can't tell, the properly assembled Chemo piece is in with the figure on the right.  Based on our tiny sample – GN and I bought these two tonight, and Hagop had bought one earlier – missing the inner set of bubbles may be a fairly common, as two out of the three we had bought had the inner piece missing.  It won't affect constructing Chemo, but it's something to check for.
(All photos credit to GrownNerd.)
Tip 2: Pick up the heavily-packed figures through the online retailers. The early case packouts had Black Adam, Deadshot, and Guardian more heavily packed than the rest, so the retailers that were selling sets may have these three figures left over. When I got the news about my BBTS order being canceled, I went to check out Enchanted Toy Chest (another sponsor at AFP and the Fwoosh) right away. They have those three figures available on their DCUC page for $14.99 each.
Update – Tip 2.5: Check the other online retailers.
Tip 3: Check out Amazon.com for "DC Universe Classics Wave 9" – and search for ones that qualify for their free shipping option. While the figures are typically priced higher than you'd pay at retail, you can cut out some of the cost by combining it with a book, CD, DVD, or even other figures to eliminate any shipping charges.
Tip 4: There's always the Ebay option. Search for "DC Universe Classics Wave 9" and look for Buy It Now deals with reasonable cost and shipping. From my cursory viewing, it looks like Green Arrow will be the toughest to get.
And finally, Tip 5: Wait for them to show up on Mattycollector.com. Toy Guru has said in the Ask Matty Q&As that wave 9 would be available on Mattycollector.com individually, about a month after the wave has hit retail. Since people are finding them in big box stores already, maybe they'll be listed on Matty before October is out. Update: Unfortunately, Toy Guru said in the latest round of Ask Matty Q&As that their allotment of wave 9 figures were reallocated to brick and mortar retailers.

Of course, there's always the old-fashioned ways – finding them in the stores or trading for them. Regarding the latter, when collectibles suddenly become more scarce, there's the tendency for the scammers to come out of the woodwork, looking for an easy buck. Just use common sense when sizing up your trades, and remember, if a deal is too good to be true, it probably is.
Using these tips, I completed my DC Universe Classics Wave 9, barely a day after I got the news of the production shortfall.  You can too!  Good luck in your hunt, and check back for more pics soon!