It looks as though the answers to our questions for this round may have been lost in the cloud, so if my colleagues will indulge me, I'll pick five of the best questions and answers from around the internet toy community.
The first answer may not have been that informative, but it had Jitsu. 😀
1. Figures.com – The Four Horsemen did a fantastic job with the Jitsu 200X staction. Is this character on tap for the near future or do fans have a long wait ahead of them?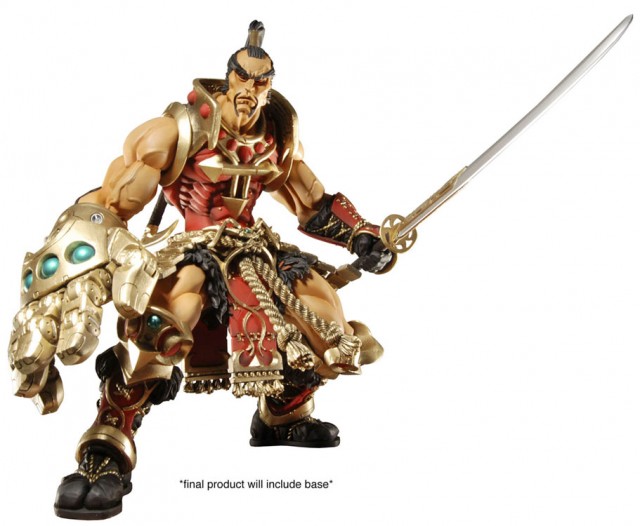 We can't comment on unannounced figures, sorry! Jitsu is a favorite around here too.
via Mattel: Ask Matty December 15th, 2009 – Figures.com Forums.
2. He-Man.org – Darkspecter: We have been told that female figures will use the one-piece outfit. Would Mattel consider making it a two-piece outfit instead so they can use the waist-twist feature, especially for female figures that have distinct waists, skirts, pants, etc?
We went right to the Four Horsemen for this one:
This is something that we will look into the next time we get to a figure that has an applicable design. We also want to see how the softer material works out on the Adora figure before we make any big decisions. The biggest issue that we have is that the body design was built for a one piece outfit. We are not 100% sure that we can make it work without a complete tooling overhaul. We will keep you posted as we move forward. Just keep in mind that since we work so far ahead that you may not see the results for a while!
via Answers to WTFWTK 2.28! – He-Man.org Forums.
3. Kastor's Korner – With the Legion having such a large roster, Matty, what era is your favorite? Any characters from the team that are your favorite besides the big names (Lightning Lad, Saturn Girl, Cosmic Boy, Brainiac 5)?
When we do get to the Legion, we'll most likely lean toward each characters most well known appearance. Aside from the big names, Wildfire, Ferro Lad, Mon-El and Dawnstar are personal favorites of Toy Guru.
via Interview: Ask Matty 12/16/09 – kastorskorner.com.
4. It'sAllTrue.Net – Vault asks: The Supergirl & Lex Luthor 2pk is back on the schedule, but does it still include a special accessory as was originally intended? If so, can you give us a hint as to what it might be?
The pack will have 4 different colors of Kryptonite!
via Ask Matty – December 15th Edition « It'sAllTrue.Net.
5. JoeAcevedo.com – Do you consider using parts across different toy lines or do prefer to sculpt new ones? Scareglow's head might be good for a DCUC Mr.Bones or Atomic Skull. The Batman: The Brave and the Bold armored Batman from the Gorilla Grodd set would make a nice S.T.R.I.P.E. for the DC Infinite Heroes. The Action League Black Manta head would go nice on a DC Infinite Heroes body. Consider playsets or vehicles that could be designed for the Batman:The Brave and the Bold toy line or Action League but also compatible with the DC Infinite Heroes figures?
We will occasionally mix parts between lines of a similar brand, but you won't see parts from a MOTUC figure being used for a DC figure or Ghostbusters character. Good suggestions though!
via My Corner – Blog.
Thanks guys!  And here's the rest of the Ask Matty sessions from around the web. (Links to be added as they come up.)
Poe Ghostal's Points of Articulation
BZZURKK
DC Hall of Justice
OAFE.net