We missed a Q&A round but are back with more Matty Questions and Answers – well, at least the answers they were able to give.  A couple this round probed a little too deeply.
1. Nice pictures of Battle Armor He-Man – he was one of my faves as a kid. Will he be the first to have a personalized white mailer box? When will I get to see one of those mailer boxes with Jitsu printed on it? 😀
Yes, Battle Armor He-Man will be the first with his name on the white box. Jitsu will also have his name on the box, but we have yet to announce when he will be available. (nice try!)
2. We're interested in how production of figures works. For a line like DC Universe Classics, do you work with one factory or with multiple ones? If you work with multiples, do waves of figures get split with certain figures going to one factory while others go to other factories? Or, does one wave go to one factory while the next wave goes to another?
Sorry, this is not information we can share.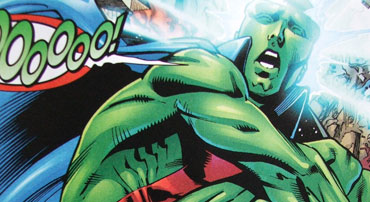 3. DCUC collectors have been foaming at the mouth for a Martian Manhunter figure since the line started – it's gotten to the point where some are getting rabid. Can you put these folks at ease and let us know if we should expect to see a DCUC J'onn J'onnz in 2010?
Sorry, we can't reveal past wave 12 for the time being. Wave 13 will be revealed in the next issue of Toy Fare magazine! J'onn is a missing part of our DCUC collection and we are eager to get to him in time.
4. Congrats on the launch of the Mattel Shop. Is that a partnership with Digital River like Mattycollector.com, homegrown, or a partnership with another firm? How far beyond 2010 does the partnership with Digital River go?
Sorry this is not information we can share.
5. Avatar figures are available now on Mattel Shop and will be on Mattycollector.com soon. Will Movie Masters be available on Mattycollector? And will we see more collector lines (like DCUC) sold on both shops, or are there lines that are exclusive to Mattycollector?
The Dark Knight Movie Masters will continue to be sold one per month on Mattycollector.com. DCUC will be available starting with Wave 11 on Mattycollector.com sold as a box set. Starting with Wave 13, DCUC will be available as individual figures on Mattelshop. See, you get the best of all worlds!
Here's a round-up of the other Ask Matty sessions from around the web. (Links to be added as they come up.)
CriticalMess.Net
DC Hall of Justice
Pendragon's Post
OAFE.net
Cool Toy Review