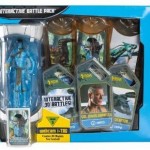 Some of Mattel's collector lines were featured on Attack of the Show earlier tonight in a "Gifts for Geeks" segment.
Featured were:
All this goodness was matched up with Lamp in a Box, making for some odd segues.
Fun stuff!
Holiday Geek Gift Ideas

We've got 2 weeks left until Christmas, which means it's time for Alison Haislip to show us the perfect gadgetry for the holiday geek, like a Lamp in a Box, WWE action figures, the Avatar Interactive Battle Pack and more. Forget everyone else, we might pick up some of this cool stuff for ourselves.