Here are some pictures and quick thoughts from Fwoosher Studmuffin. We both live in the San Francisco Bay Area, but he manages to find everything and I just get to be jealous. 😀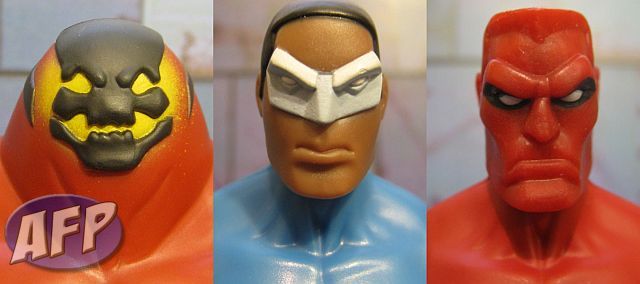 The second assortment of the Public Enemies' series came as a total surprise. The truth is, I wasn't expecting much and really was only interested in finally being able to build the elusive Apokoliptian instrument of mass destruction, Brimstone.
Mr. Major Force is, in my opinion, the very best from of this line. The head sculpt is flat out awesome; the facial expression looks mean, tuff and battle hardened. Which is appropriate considering the good O'l Major is a soldier. In any event, It's a great representation of the animated counterpart.
Surprisingly, I actually prefer the PE Black Lightning over the DC Universe Classics Wave 5 figure. The bigger PE buck, along with the Animated costume, seem help make the figure pop. He's definitely more intimidating than his wave 5 predecessor.
As far as Brimstone goes, I'd be lying if I said the wait wasn't worth it. He's awesome! Big and terrible. He's a good fit with the smaller DC Super Heroes Darkseid; they look good together.