Here's the latest Ask Matty Q&A.  Thanks to Toy Guru and Mattel!
1. Great reveal for the Wal-Mart exclusive Green Lantern 5-pack. Some quick questions: Is that Tomar Re or Tomar Tu? Is John Stewart's Mosaic costume the one that matches Katma Tui's from Wave 11? Will GL Sinestro have a mask, and if so, is it sculpted or just painted on?
It is Tomar Re. The other outfits and look of the remaining three characters will be revealed shortly.
2. A lot have people have commented about Wave 13's Blue Beetle's articulation, because double elbows and knees are different from what we've seen from the start of the line. How do you feel about the aesthetic and the movement of the new joints? Are we going to see them incorporated into more DCUC figures over time? What will determine which you'll use for each character?
This is something we will look into adding where appropriate. Blue Beetle made sense due to the nature of his armor costume. We don't like to break up the Horsemen's beautiful sculpts with unnecessary joints, but for some figures it makes sense to add extra articulation; much as we did for Green Arrow as well so he could hold his bow. We'll handle this on a figure-by-figure basis.
3. Alternate heads on Masters of the Universe Classics figures are always welcome, and thanks for making two heads for Whiplash. One of the great things about the San Diego Comic-Con MOTU 200X Keldor from a few years ago was a head in mid-transformation to Skeletor – any chance to get that included with the MOTUC Keldor?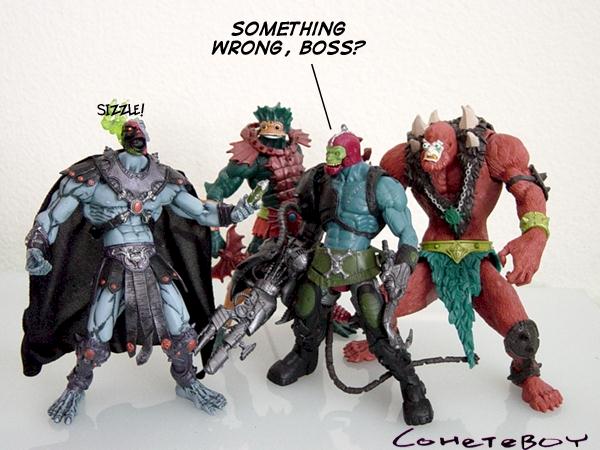 The SDCC flaming Keldor head was designed by the Horsemen as an artistic interpretation of Skeletor's origin. Now that Keldor was shown in Epsidoe 32 as being melded with an extra dimensional being to create Skeletor, it is less likely we will do a flaming head version. The acid vial from his fight with Randor only melted Keldor's good looks and mortally wounded him – it did not set him on fire and burn away all his flesh turning him into Skeletor as the SDCC toy implied.
We want to keep our stories straight and MOTUC is a great way to help streamline different conflicting tales. Still, it was a cool visual and maybe we will find a way to add it down the road. You never know!
4. I think the plan was to have 6 figures released in the 6-inch Ghostbuster line. With Peck and Venkman pushed back a couple of months, are we still going to make it to 6 figures? Aside from Peck, are any of the remaining figures for the year supporting characters versus the 4 main Ghostbusters?
The plan is to still have six figures this year and they will be released in the second half of the year. Peck is ideally the only non-Ghostbusters at this point. This might change based on approvals.
5. There were a lot of new products announced and as well as some shuffling. Can you provide us with the latest planned release dates for DCUC, MOTUC, and Ghostbusters?
The latest release schedule will be posted in a few days on the news section of MattyCollector.com!
Here's the other Ask Mattel Q&As from around the web (to be updated as they surface):
Cool Toy Review
DC Hall of Justice
He-Man.org
JoeAcevedo.com
SuperHeroTimes.com